Leadership outlines plan to fund existing public safety charities and unveils benefits for new FNA members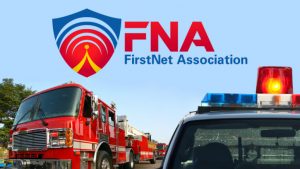 Las Vegas, Nev. (Apr. 17, 2018) – The FirstNet Association (FNA) is pleased to announce three new initiatives in direct support of the public safety community. The first program is designed to give back to three worthwhile, well established causes within the first responder community, including the APCO Sunshine fund, which provides financial aid to telecommunicators and immediate family members who are in need of support; the National Fallen Firefighters Memorial, which provides programs and resources for the families for fallen firefighters and for the fire service; and the National Law Enforcement Officers Memorial Fund which aims to make life safer for those who serve.
For every public safety professional who joins the FirstNet Association, 1% of that registration fee will be donated to the charity that most closely associates with his or her discipline.
"We sincerely appreciate the work our fellow organizations have done for those brave women and men who are responsible for keeping our communities safe, said Al Gillespie, President of FNA." "We are excited to contribute to these existing programs, and will continue to seek out new and innovative ways to give back to our brothers and sisters in the public safety space."
In addition to the 1% commitment, FNA is pleased to offer two exclusive benefits to individuals who join the association during the remainder of the 2018 calendar year. Signing up by December 31, 2018 will lock in an annual membership fee of $45 for the life of the membership. In addition, FNA will waive attendance fees for any FirstNet Association event until December 31, 2019.
"If, for any reason, FNA changes its dues structure, those individuals who register this year will be guaranteed our $45 annual fee for as long as they choose to remain a member," said Richard Mirgon, Vice President and Treasurer for the FirstNet Association. "Those same members are welcome to attend any event, free of charge, until the end of next year."
"Our goal is to reward our members who choose to step up and support us early in the development of our association," said Ray Flynn, Vice President and Secretary of the FirstNet Association. "We want to encourage FirstNet users to take part in the formation of the FirstNet network user community. To that end, we will make it as easy as possible to participate in our association, and enjoy everything FNA membership has to offer.
More information on the FirstNet association can be found here: http://www.firstnetassociation.org