"New Jersey is proud to take this important step for first responders in our state."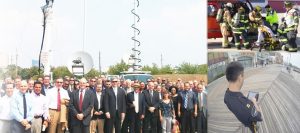 RESTON, Va., July 25, 2017 – Governor Chris Christie is helping transform first responder communications in New Jersey by "opting in" to FirstNet. With his decision, FirstNet and AT&T will deliver a specialized wireless broadband network to New Jersey's public safety community. This will make New Jersey one of the first states in the country to bring first responders advanced technologies that will help them save lives and protect communities.
"New Jersey is proud to take this important step for first responders in our state. The decision to join this network means FirstNet and AT&T will deliver a highly secure, next-generation solution for our public safety community, building, maintaining and operating it at no cost and no risk to our state," said Governor Christie.
AT&T, in a public-private partnership with FirstNet, will drive innovation and create an entire system of modernized devices, apps and tools for first responders.
This is one of the most economical and technologically advanced decisions Governor Christie will make for the State's first responders and the residents they serve. The FirstNet network will transform the way New Jersey's fire, police, EMS and other public safety personnel communicate and share information. Specifically, FirstNet and AT&T will:
Connect first responder subscribers to the critical information they need in a highly secure manner when handling day-to-day operations, responding to emergencies and supporting large events, such as game day at MetLife Stadium in East Rutherford.
Create an efficient communications experience for public safety personnel in agencies and jurisdictions across the State during natural disasters. This includes seasonal hurricanes along the New Jersey Shore like Hurricane Sandy.
Enhance network coverage in rural areas. This will benefit first responders and residents throughout New Jersey's topographically diverse landscape. First responders will also have access to dedicated network deployables for additional coverage and support when needed.
Drive infrastructure investments and create jobs across the State.
Usher in a new wave of innovation that first responders can depend on. This will create an ever-evolving set of life-saving tools for public safety, including public safety apps, specialized devices and Internet of Things technologies. It also carries the potential for future integration with NextGen 9-1-1 networks and Smart Cities' infrastructure.
"Opting in to FirstNet underscores New Jersey's commitment to ensuring first responders are capable of meeting constantly evolving challenges," said Jared Maples, Acting Director of the New Jersey Office of Homeland Security and Preparedness. "As one of the first states to opt-in, New Jersey continues to be a national leader of public safety technology innovation."
The FirstNet solution that will be built in New Jersey was designed with direct input from the State's public safety community. As a FirstNet early builder participant, New Jersey shared best practices for the network's implementation, especially as it relates to deployables. FirstNet has also been meeting with New Jersey's officials and public safety personnel for several years to address their unique communication needs. This includes:
Giving first responders access to a reliable network connection and extending coverage along the Jersey Shore and in the Pine Barrens as well as other areas throughout the state
Taking extra steps to protect the network in hurricane-prone areas
Improving interoperability for public safety across the state as well as with neighboring states
Providing feature-rich services at highly competitive rates
"New Jersey has been at the forefront of public safety broadband, and with Governor Christie's decision to join FirstNet, the state is once again leading the nation," said FirstNet CEO Mike Poth. "FirstNet and AT&T are pleased to offer a plan that surpasses the challenges that New Jersey's bravest face every day, and we look forward to delivering the network for public safety in the Garden State."
The decision enables FirstNet and AT&T to begin creating an entirely new wireless ecosystem for public safety communications. New Jersey's first responder subscribers will have immediate access to quality of service and priority to voice and data across the existing nationwide AT&T LTE network.
Preemption for primary users over the AT&T LTE network is expected by year-end. This means fire, police, EMS and other public safety workers will have dedicated access to the network when and where they need it – 24/7/365, like their mission.
"Governor Christie is making public safety a priority," said Chris Sambar, senior vice president, AT&T – FirstNet. "His decision will bring an entirely new communications experience to New Jersey's first responders. And it's our honor to equip the state's public safety community with the cutting-edge tools they need to help protect New Jerseyans every day and in every emergency."
FOR IMMEDIATE RELEASE:
July 25, 2017
News Media Contact:
Chrissie Coon (571) 599-4093