The nation's first dedicated first responder's communication network, FirstNet, was on display in a real way when Hurricane Florence dumped tumultuous rain on roadways, rivers and homes and ran sustained winds of 140 miles per hour over the Carolinas beginning last weekend.
By Christopher Vondracek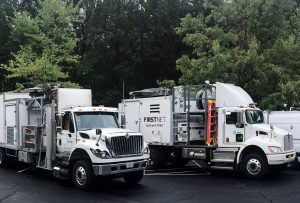 According to information releases from AT&T and FirstNet, in response to the Category 4 storm, AT&T added hotspots to devices in coastal Horry County, South Carolina for FirstNet subscribers; deployed a Satellite Cell on Light Truck or SatCOLT to Whiteville Fire Department in North Carolina; a Cell on Wheels or COW to Federal Emergency Management Agency staging areas across the American southeast; and got the Midway Fire Department in Georgetown County South Carolina back online after learning about service disruptions.
During Hurricane Florence and its aftermath, AT&T mobilized a cache of resources, including FirstNet dedicated deployables, over 50 drones to quickly assess damage and the potential restoration of cell towers and facilities, and 24 COWS and COLTs.  FirstNet also engaged with state and local emergency operation centers, said a release from AT&T, to "give public safety greater control of their network during the hurricane".
Hurricane Florence has been called the wettest tropical storm on record in the Carolinas and caused an estimated $17 billion in damages. FirstNet has impacted users not only in affected areas but also en route to damage-strewn regions as well.
News broke last month that firefighters battling California wildfires had their cellphone's data coverage "throttled", a term describing when carriers slow down service due to high-demand requests, but data throttling does not happen on FirstNet.  "While other carriers have lifted throttling for first responders," notes a spokeswoman for FirstNet in an email to AllThingsFirstNet, "this does nothing for the thousands of first responders traveling to support".
Prior to the hurricane making landfall, officials in the Carolinas estimated 1,000 rescue personnel would arrive in Raleigh, North Carolina alone to assist locals.
Christopher Vondracek is a freelance journalist living in Washington D.C., most recently with Courthouse News.