Last week's Public Safety Advocate discussed storms, wildfires, and other reasons it is so important for as many public safety agencies as possible to be a part of the FirstNet network and ecosystem. This week, weather hit the Carolinas hard with the arrival of Hurricane Florence and FirstNet (Built by AT&T) sprang into action. So far, reports coming out of the area via reporters, tweets, and other social media indicate that FirstNet moved in and met the challenges it faced.
According to the Federal Communications Commission (FCC) storm reports and verified elsewhere, 14 percent of the existing cell sites were out of service while more than 164,000 customers were out of cable, broadband services, and phones. Putting this another way, according to Tower Daily News and as reported by WWAY-TV, 86.4 percent of the cell towers remained in operation serving the public and the public safety community. As of last Sunday, the number of cell sites still down was reduced to 787, as compared to the 1,063 sites that were out of service a few days earlier.
In South Carolina, 98.3 percent of the 4,107 cell sites were operational going into last weekend, and by Sunday the number of sites down in the state had been reduced to 68 or 1.7 percent. On other communications services, the FCC's latest report shows that 47 TV stations were on the air with only four being down, and 100 FM stations were broadcasting with only 20 off the air. On the AM side of things, 28 AM stations were broadcasting, leaving only three off the air. It is important to realize information about the number of cell sites and other communications facilities are generally furnished by the site owners, station owners, or others with knowledge of the current situation rather than numbers that are generated by the FCC directly.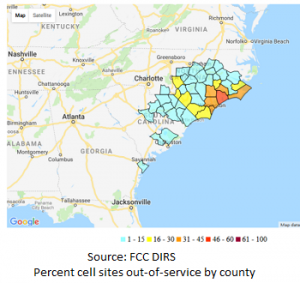 FirstNet and Hurricanes
This is the first true hurricane season in which FirstNet has been operational with public safety agency members (customers). Although FirstNet has already responded to multiple wildfires in a number of western states, Hurricane Florence was the first major storm test of the system. FirstNet appears to have been up for the challenge and reports that are coming in indicate FirstNet was indeed needed and the system responded well.
Like the rest of the network operators, FirstNet and commercial operators pre-staged personnel and equipment ahead of the storm reaching land. Cells On Wheels (COWs), Cells On Light Trucks (COLTs), drones, and other advanced network gear stood at the ready as did the people who would deploy it where needed. The public safety community was also prepared. As most citizens fled the area and headed away from the coast, the public safety community, FEMA, Red Cross, ponetwork operators, power companies, and others needed to restore services headed directly into the storm.
FirstNet people on the ground worked with first responders to set up hotspots around FirstNet-equipped vehicles so all public safety users, FirstNet customers or not, had access to the network via local hotspots to standard wireless devices. COWs and COLTs made their way to where they were needed and were set up in short order and made available. Cell-site crews moved into the area as they were  permitted and began restoring cell services including FirstNet service, and everyone pitched in to make this work.
Unfortunately, with all the flooding, many places that needed to be accessed were blocked. Entire sections of Interstate I-95 were more like rivers or lakes than roadways and state officials advised travelers to go around the state instead of trying to traverse it. From the FCC and Daily Tower News data it is easy to see how quickly many downed sites were returned to service. There is no way to know how many of these sites being down affected FirstNet but the priority was clear: Equip first responders with the communications resources they need and do it quickly.
Florence was a widespread event that affected virtually everyone who lives and works in the coastal areas of the Carolinas at first, and then flooding spread and continues to spread to inland areas as well. Countless rescues were requested since many of those trapped had access to Facebook or some other social media source and public safety responded to citizen's pleas along with the Coast Guard and the National Guard. It is irksome (to be polite) that some citizens in the area remained in harm's way even after repeated evacuation orders, discussions about the incoming storm, and pleas from state and local officials to leave. This, in turn, places the public safety community in danger every time crews head out to rescue a person or a family.
Some rescues were not anticipated. Hospitals and nursing homes many thought to be out of the danger zone ended up squarely in the middle of it. Public safety responded, as always, and FirstNet played a significant role in assisting them, providing coordination with FEMA personnel at their staging areas, in working with the National Guard, and more. FirstNet, for the most part, stayed up. Where assistance was needed with short-term fill-ins, the appropriate help was provided as quickly as physically possible.
As I said last week, FirstNet is to public safety what Facebook is to consumers. It is the place where the public safety community can communicate across agencies, across services, and with others including federal and state agencies. The network is still being built out, applications and devices are still being added, and agencies are still deciding if they should join FirstNet or wait. I hope this first of many storms will convince many more agencies of the need for coordination, cross-communications, and priority services FirstNet provides.
During events such as Florence, people use their cellular devices even more, reaching out to loved ones, sending pictures and videos of their situations, calling for assistance, and entertaining themselves when they lose power in their house since some cell phones and network connections are all that's left. During this time is when public safety finds that priority and pre-emption is a very important part of the FirstNet equation. Prior to FirstNet, public safety agencies' ability to use their cell phones was equal to that of any citizen, meaning they had to compete with everyone else trying to access the network. However, with pre-emption, when networks are jammed due to calling overload, public safety devices with their special SIM IDs still get through. This makes a significant difference during events such as Florence.
Updates
According to the Tuesday 9/18/18 FCC reports, there has been a lot of progress in putting cell sites back in service. The following is how it was reported in Daily Tower News, one of my favorite everyday reads to keep up with this fast-moving industry:
"The majority of cell sites in the Carolinas remained operating as of Monday, however the percentages of outages in some counties rose. North and South Carolina are still experiencing heavy flooding due to the storm that began as Hurricane Florence.
In North Carolina, out of the 5,790 total cell sites, 683 were not operational as of yesterday. That compares to 787 cell sites not working on Sunday.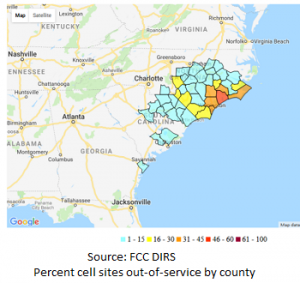 In Onslow County, 50.7 percent of the 227 cell sites were not working yesterday. That compares to 38.8 percent the day before. In Jones County, 38.3 percent of the 47 cell sites were offline, compared to 23.4 percent out the day before. Duplin County remained steady with 36 percent of 89 sites offline. Carteret County had the most cell sites out of service as of Sunday when 45.6 percent out of 103 sites were not operational. Monday, the outages dropped to just over 30 percent, with 31 sites out."     Continue Reading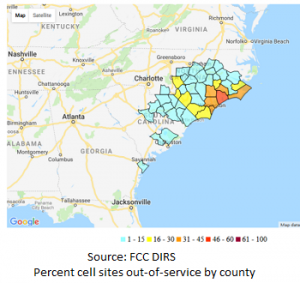 All of this is good news. This storm threw almost everything at the region—high winds, massive amounts of rain, storm surges, and more, including several tornadoes reported in the storm area. The fact that the cell industry has improved at building towers to withstand the worst is to its credit. And FirstNet being on hand the entire time and moving assets where needed when possible was a convincing indication of its commitment to public safety going forward.
Lots of water can do great damage as we all know. Generators don't run well underwater, that is a proven fact (grin), and waterproof equipment cabinets can only withstand so much water pressure. Water is like dust in the air, it seeps into everything in its path and leaves behind all sorts of unpleasant effects. While systems remain up and are being brought back up, the amount of work that remains to be done once the water goes away is almost staggering. Every cell site, equipment building or housing, bank of batteries, and generator will need to be checked, tested, and cleaned.
It will continue to require a large-scale effort to restore communications to the region. FirstNet is there maintaining public safety community service where at all possible. Land mobile radio systems techs are on scene too, working side by side to keep both LMR and FirstNet systems on the air. Having dual systems, especially in this type of situation, provides public safety with two communications paths, not one. Both are vital during this type of event and both will be needed for a long time.
FirstNet is the new kid on the block and now has passed the first real hurricane test with great results. More needs to be done and more agencies need to join FirstNet. The ideal situation is for all public safety agencies to have the same broadband system for sharing data, video, and even push-to-talk services during times of havoc such as Hurricane Florence brought to this region. There will be more to report after the final work is done and the Carolinas are back to normal (which will take a while), but at this point, I give FirstNet all A's for this one.
Andrew M. Seybold
©2018 Andrew Seybold, Inc.