Michael Poth 'appeals to all' for support of network based on AT&T wireless tech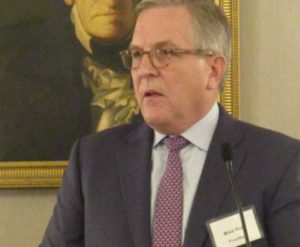 Establishing an integrated first-responder communications system is all about the details, not just the big picture overview and goals.
That reality became obvious as Michael Poth, CEO of The First Responder Network Authority (FirstNet), explained the agency's objectives to a Media Institute monthly luncheon in Washington on Feb 15.
Poth (pictured) cited "improved situational awareness" as a keystone of the FirstNet project, but also acknowledged that the near-term requirement is "getting technology to first responders using the technology that now exists."
"Our biggest concern is that it [the FirstNet system] gets built out and the technology gets into the hands of first responders," Poth said. His short presentation listed the value of a nationwide, uniform, interconnected service to assure that police, fire, emergency medical crews and military units are congruently aware of situations they are resolving. FirstNet is a nationwide public safety broadband network for local, state, regional, tribal, and federal first responders.
READ FULL ARTICLE