Fire Department had to pay twice as much to lift throttling during wildfire response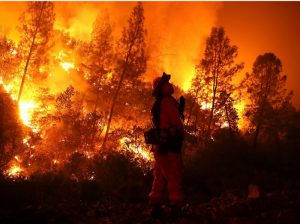 SOURCE: arstechnica.com
DATE: August 21, 2018
Verizon Wireless' throttling of a fire department that uses its data services has been submitted as evidence in a lawsuit that seeks to reinstate federal net neutrality rules.
"County Fire has experienced throttling by its ISP, Verizon," Santa Clara County Fire Chief Anthony Bowden wrote in a declaration. "This throttling has had a significant impact on our ability to provide emergency services. Verizon imposed these limitations despite being informed that throttling was actively impeding County Fire's ability to provide crisis-response and essential emergency services."
Bowden's declaration was submitted in an addendum to a brief filed by 22 state attorneys general, the District of Columbia, Santa Clara County, Santa Clara County Central Fire Protection District, and the California Public Utilities Commission. The government agencies are seeking to overturn the recent repeal of net neutrality rules in a lawsuit they filed against the Federal Communications Commission in the US Court of Appeals for the District of Columbia Circuit.