Captain Justin Schrek considers himself a bit of a tech junkie. 
By Christopher Vondracek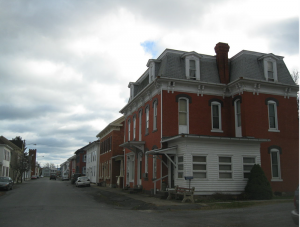 "I'm sorry, I can't smash that stereotype for you," he said.   But his wife, also part of the 35-member volunteer fire department in rural, central Beaver Springs, Pennsylvania, is not and she has found FirstNet easy to use.  "It's really become just a regular part of her job."
Schrek prides himself on becoming the first early adopter of FirstNet in Pennsylvania. He's an emergency dispatch services employee by day, but he's also the captain with Beaver Springs Fire Company, a fairly rural and hilly area.  "It was something I'd been researching ahead of time and just waiting for FirstNet to be rolled out, even before the governor had opted in," said Schrek by phone last week.
He'd seen email blasts about FirstNet shortly after AT&T was awarded the contract for the nation's first mobile network for first responders and thought, "Whoa, what's this?"  "It has interested me a lot because what we do is move digital reports," said Schrek. "It's all done online. We need that connection, and I'm also looking forward to NextGeneration 911 and how from the perspective of the field-users, FirstNet is going to fill that gap."
Snyder County also receives a lot of search-and-rescue calls in the hilly Appalachian region, and cell service can be touch-and-go. Schrek said FirstNet will provide greater dependability in these traditionally harder-to-reach areas and increase efficiency.  "We run approximately 130 calls a year as the fire department, but our ambulance has quite a bit more," Schrek said. "It's required to have a phone on each ambulance to call medical command. We just recently switched the phone in the ambulance to FirstNet. Not only is it saving us money each month, we believe the service is more reliable both now and in the future."
The radio network, Shrek said, is "somewhat dated" and is in the process of being "updated."  "It's not 100 percent. If we're in a building my pager doesn't always go off because the radio signal doesn't get through."  But he said the use of mobile devices helps fill the gap. Moreover, the ability to ask AT&T to deploy a Cell On Light Truck (COLT) during a large-scale incident excited him.  "We haven't used them yet, as it's not a resource we now have."
Ultimately, Schrek says, getting others in his fire department to join FirstNet will require time and actually seeing the product used successfully.   "It's a conservative community," he said. "They need time to see that it's going to work and see people are going to get their monies worth."   It's a task this tech-savvy rural firefighter is up for.  "I look forward to showing people these things really work."
Christopher is a freelance journalist living in Washington D.C., most recently with Courthouse News.