Chief Cassell says despite FEMA's report on 1 October, which recommends FirstNet, it was already on the department's radar because of its benefits.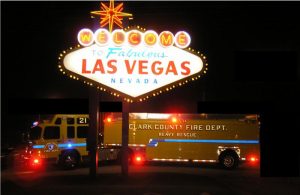 SOURCE: LasVegasNow.com
DATE: August 30, 2018
From wildfires on Mount Charleston, and flooding in the valley, to shootings on the Las Vegas Strip and dangerous crashes on major roadways; a new broadband network is meant to help first responders save lives during all those situations with more efficient communication.
It's called FirstNet.  In a report regarding 1 October released earlier this week, FEMA recommended it for public safety departments here in the valley.
"The dropped phone calls; the text messages were delayed," said Chief Greg Cassell, Clark County Fire Department.