Emergency medical services (EMS) personnel soon may leverage information from myriad medical devices and reliable broadband connectivity from FirstNet to provide better initial treatment to patients, as well as unprecedented situational awareness to others in the healthcare ecosystem, according to FirstNet board member Kevin McGinnis.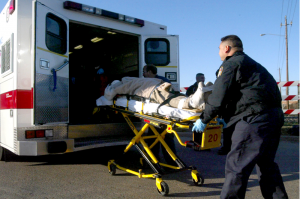 SOURCE: Urgent Communications
DATE: May 25, 2018
Such capabilities could save many lives, in part because they promise to compress the time it takes to move a critically injured patient from the scene of an emergency incident to an operating room, when a surgeon can take measures to save the patient, McGinnis said. Often referenced as the "golden hour," the actual time can vary with the injury suffered, but there is no doubt that delays can be the difference between a patient's life and death, he said.
"We know that it can't afford 20 minutes to discover that you've been in a crash in a rural area—that's the average time to discover a rural crash in Maine, where I live," McGinnis said last week during a panel at IWCE's IoT Saving Lives event in Santa Clara, Calif. "And you can't afford to take 30 minutes then for an ambulance to come out to you, assess you and have the paramedic say, 'That's potentially a fatal injury. Let's call a helicopter,' and have the helicopter fire up, come to the scene, grab you, take you to the hospital and get you under the knife.
"20 minutes [plus] 30 minutes [plus] 50 minutes [plus] 40 minutes is a lot longer than any hour, golden or otherwise. We simply can't afford that kind of time."