The FirstNet Association held their Inaugural FirstNet Association Regional Forum in Minneapolis, Minnesota on June 29, 2018.  It facilitated the kind of networking and First Net-centric problem-solving and discussion with what the group's organizers had in mind when forming the group. 
By Christopher Vondracek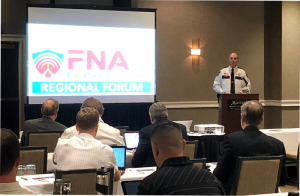 "It was extremely successful," said Ray Flynn, Secretary of the FirstNet Association and former Assistant Sheriff for Las Vegas. "I wasn't sure what the interest would be on the Friday before a holiday, and in my mind if we got 25 there, I'd consider it a success."  The event attracted nearly 50 people and featured a litany of events throughout the day, including network coverage push-to-talk and LTE, and the FirstNet app ecosystem.  "I've been to a lot of conferences, and there's a portion of them where no one says anything or speaks up," said Flynn. "But there was a lot of input in the presentation sessions."
Melinda Miller, Wireless Broadband and FirstNet Program Manager with the State of Minnesota, said she appreciated the specifics on grant-writing in an afternoon panel led by Jackie Mines, a Communications Consultant with Mission Critical Partners, Dick Mirgon, Treasurer with FirstNet Association, and Rick Burke, Partner with Televate.  "That's been something a little overwhelming," Miller said. "But Richard certainly talked about some real-life scenarios, and he made the grants look a little less intimidating."
Miller also said the discussion touched on National Telecommunications and Information Administration (NTIA) grants that are managed under the U.S. Department of Commerce. According to its website, NTIA oversees $4 billion through the 2009 Stimulus in grant-funded projects across the country for building out, sustaining, and promoting broadband infrastructure. They also administer $121.5 million through the State and Local Implementation Grant Program (SLIGP) and an additional $43 million for states and territories as they deploy FirstNet.  "The message was if there's a will there's a way," said Miller. "But you have to keep working with them (the grants)."
Amber Schindeldecker, a Public Information Officer with Minnesota's Department of Public Safety, also attended the June 29 Forum and going forward wants to continue to hear about outreach.  "It's something we'd like to improve upon as we go through this process and be more involved in FirstNet meetings and involvement with the first-responders as they go around the state," said Schindeldecker. "It's important for us to have buy-in from the different agencies, and if we can be as involved in that process as much as possible that's really important."
The FirstNet Association is an organization founded earlier this year that focuses on ensuring the FirstNet ecosystem's success that includes: the legal entity created by Congress; the network infrastructure, hardware and software; and the end-users. The group's regional forums are an opportunity for interaction between experts, public/private partners, and representatives from individual agencies looking to adopt FirstNet as a communication tool.
 Membership dues are $45 a year and more information can be found at http://firstnetassociation.org. Flynn said the group is working on the next Regional Forum set for Denver, Colorado. He aims for the same level of engaged participation. When he asked, "How many people are comfortable talking about FirstNet for 15 minutes? approximately three-quarters of the people raised their hands".  "When we got to breaks or lunch, people didn't leave the room immediately. People started engaging in small-group discussions about the topics. It shows there's interest in the subject matter."
Christopher Vondracek is a freelance journalist living in Washington D.C., most recently with Courthouse News.