The body cameras are Kyocera smartphones that are used with the Visual Labs program that allows recordings to be uploaded through an app to the cloud immediately or once deputies can get a connection.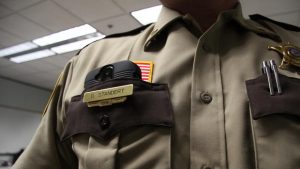 SOURCE: www.hudsonstarobserver.com
DATE: June 21, 2018
St. Croix County Sheriff's Office leaders were satisfied they had found the right body cameras for their officers.
They just needed the right apparatus to hold them in place.
There wasn't anything holding them in place.
With standard body-camera mounts unavailable, the only other option was the standard mounting clips available to the general public.
Then St. Croix County Sheriff's Office Lt. Brent Standaert had an idea: What if there were a way to hold cameras in place with a magnet system?
READ FULL ARTICLE