The Hillsdale County Sheriff's Office has implemented technology upgrades with FirstNet – a groundbreaking new communications platform, Sheriff Tim Parker announced this week.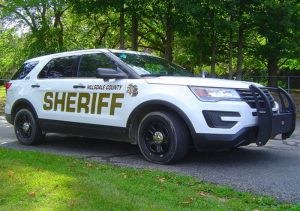 SOURCE: www.hillsdale.net
DATE: June 23, 2018
FirstNet is the country's first nationwide public safety communications platform dedicated to first responders – available when and where needed. Built with AT&T, in public-private partnership with the First Responder Network Authority (FirstNet Authority), providing communications capabilities a major boost with a reliable and highly secure connection.
"FirstNet is really the future of public safety communications," said Sheriff Parker. "From day to day activities to emergency response, it's improving the tools and processes on which we rely."
By subscribing to FirstNet, Hillsdale County deputies will be able to stay connected to the critical information they need. It will ensure they can easily and quickly communicate with one another during everyday situations, big events or emergencies.
"Take the new Samsung Galaxy S9 smartphones and Samsung Gear S3 smartwatches as an example.