September 21, 2018 (RESTON) – The First Responder Network Authority (FirstNet Authority) announced today that Chair Edward Horowitz has named Sheriff Richard W. Stanek to be Vice Chair of the Board, effective immediately.  Appointed to the FirstNet Board in 2014, Sheriff Stanek has served on the Board's Public Safety Advocacy Committee, where he has helped strengthen relationships with the Nation's law enforcement community.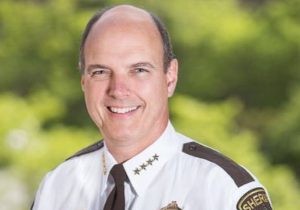 "Having a public safety leader like Sheriff Stanek in the Vice Chair role is valuable to the Board, to the FirstNet organization, and to the public safety community as we work to implement the network," Horowitz said.  "We have worked closely together on the Board over the last three years and look forward to continuing to drive FirstNet forward for public safety."
A 35-year veteran of law enforcement, Sheriff Stanek currently serves as the 27th Sheriff of Hennepin County, Minnesota.  In addition to being on the FirstNet Board, he serves in a number of leadership roles with national and state law enforcement associations.  This includes being the Vice President of the National Sheriffs' Association (NSA) and Chair of the NSA Homeland Security Committee.  He also holds the position of Vice President-Homeland Security with the Major County Sheriffs of America.
"It is a great honor to be named Vice Chair of the FirstNet Board," said Sheriff Stanek.  "I am extremely proud of the work that we have done for public safety, and I am excited about what the future holds for FirstNet.  I look forward to working with Ed and the Board and the dedicated FirstNet team as we continue to engage with and innovate for the Nation's first responders."
"Richard Stanek has been a dedicated and essential member of the FirstNet Board and he is a terrific choice to serve as Vice Chair," said David Redl, Assistant Secretary for Communications and Information, U.S. Department of Commerce. "Sheriff Stanek's extensive public safety experience will bring a valuable, first responder perspective to the Board's leadership."
"The National Sheriffs' Association is pleased that Sheriff Stanek has been named Vice Chairman of the FirstNet Board," said NSA President Sheriff John Layton. "Our Nation's sheriffs have been at the forefront of the effort to create the only nationwide network dedicated to first responders, and we are pleased that a sheriff has been asked to help lead the organization responsible for delivering that network.  Sheriff Stanek has been a leader on law enforcement communications, and we know the FirstNet Board and all of public safety will benefit from his expertise."
For more information, visit FirstNet.gov.
FOR IMMEDIATE RELEASE:
September 21, 2018
News Media Contact:
April Ward (202) 853-5219 or (571) 665-6187