"I was a Verizon person, but I've since walked over to AT&T and FirstNet," said Cofty. "During a bad disaster, you just trust in that reliability."
By Christopher Vondracek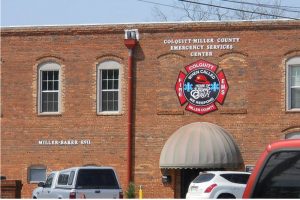 An emergency responder in rural Georgia said there was no better field-test on his agency's recent switch to AT&T and FirstNet, the nation's first communications network dedicated to First Responders, than in the aftermath of last month's Hurricane Michael.
"We were basically a Verizon company," said Doug Cofty, Colquitt Miller Emergency Services Director in Colquitt, Georgia, the county seat of Miller County in the rural, southwestern corner of the state. "So we started out with Verizon cards, but we noticed we were losing signals in spots we had before. I started talking with the state (Georgia) about FirstNet, and we gave it a shot."
Cofty said Colquitt Miller Emergency Services—he oversees the medical team—was preparing to run telemedicine. The increased capacity demands of streaming video—a necessity for telemedicine, wherein doctors and trained professionals communicate with patients through a video feed—was essential. He never realized how helpful it would really become until Hurricane Michael hit in October, walloping many small towns across southern Georgia. "When the hurricane hit, AT&T stayed up," said Cofty. "Verizon went down for several days."
Cofty said his department fielded requests from GEMA (Georgia Emergency Management Agency) and other state agencies asking for AT&T resources, such as Cells on Light Trucks (COLTs), which are mobile wireless providers, and miniature towers, deployed when communications need added resilience.  Cofty said, AT&T deployed 30 additional FirstNet-ready phones and a COLT.  "Whereas Verizon dropped off an itty-bitty tower two miles from the Sheriff's office, AT&T gave us a big satellite," said Cofty. "And without those phones, we would've been in trouble."
Hurricane Michael was the most devastating hurricane to hit Georgia in years. The estimated damage from the storm exceeds $4 billion. But the immediate task, after punishing winds cut a swath through the state—destroying pecan farms, communication systems, homes, and upending countless lives—was responding to distress calls. "We're located centrally in the city, and everywhere within a couple of hours had something—a power line or tree down," said Cofty. "We had 15, 20, 30 calls backed up."  In even worse situations, Cofty said they'd hop on Gators or a Polaris to respond to distress calls, but with their FirstNet phones running, they were able to respond to each of the calls and navigate in using SUVs.  "Many elderly individuals had respiratory problems," Cofty said, "But we were able to get them assistance as needed."
The cleanup in Miller County and other hard-hit areas of Georgia and Florida will continue for a long time. Legislators are back in Atlanta to work on allocating $270 million in relief funding to the state. For Cofty and many other emergency personnel reflecting on their execution of emergency response strategies, at least one detail is clear, "I was a Verizon person, but I've since walked over to AT&T and FirstNet," said Cofty. "During a bad disaster, you just trust in that reliability."
Christopher Vondracek is a freelance journalist living in Washington D.C., most recently with Courthouse News.