The Mayor of Orem, Utah, a city on the shores of Utah Lake and straddling a mountain range, says it's in his town's tradition to reach ahead and that's why he's All-In on FirstNet built with AT&T
By Christopher Vondracek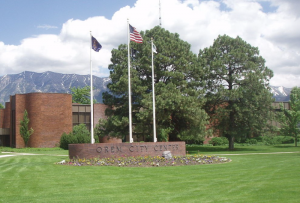 "We've tried to be very progressive with our police and fire," City of Orem Mayor Richard F. Brunst Jr. said last week by phone. "We have body cameras for our police, new bulletproof vests, Kevlar helmets, and new battery operated Jaws of Life. We've tried to stay ahead of the curve by looking at what FirstNet can offer.  We're interested in tying together the three departments so that we can respond in a quick and timely manner."
Last week Orem, sandwiched south of Salt Lake City and just north of Provo Utah, announced that its fire department, police department, and emergency medical services would adopt FirstNet. This makes the city of 90,000 one of the first in the nation to jointly adopt FirstNet with all three major branches of first responder agencies.  Brunst said given his city's landscape in which he has jurisdiction over city streets and outlying rural areas that includes smaller, neighboring towns' fire department duties, FirstNet, the country's first nationwide public safety communications platform dedicated to first responders made sense.
"They're looking for a way to facilitate quicker communication," Brunst said.  He wants to be proactive, not reactive, in anticipating the needs in a mass-call event.  "We've not had a school shooting, but have had some incidents in schools that involved a lot of students where communications have been slow," he said. "On the fire side, we're set up so that we do all the fire protection in the area north of us called Linden. They have the fire station and we provide the fire equipment."  He also noted acres of coverage area in a closed steel mill.  "We have a lot of responsibility for people in our area."
Rural or topographically rich areas can sometimes present coverage problems for any wireless network. But Brunst said one heartening aspect of FirstNet was that AT&T, as part of its pitch to the state of Utah during FirstNet Opt-In discussions last year, was the construction of small cell towers. These towers, much smaller than typical wireless towers, can fit in already disturbed areas to boost coverage for users, such as downtown.
This dependability of service was key for Brunst in his adoption decision.  "We are the seventeenth most connected state in the union for fiber and have 37 different carriers in our city and multiple carriers that provide gig service.  We have that technology and are on the cutting edge."
Finally, within the city limits, Orem boasts the fastest-growing university in Utah, Utah Valley University, with over 37,000 residents. It's just one more reason to be thoughtful about its emergency management services.  "Within our community, we have great innovative people, especially in the technology world, so it's important that we're up to date and able to meet these new demands with FirstNet."
Christopher is a freelance journalist living in Washington D.C., most recently with Courthouse News.