By Christopher Vondracek
Alex Popof, who graduated with a computer science degree from Stanford University, found himself venturing to frigid Minneapolis last month for the Super Bowl to see his invention—a body camera built into a smartphone—in use at a live security situation.
"We were there for a week. And it helped drive home the point how law enforcement professionals could use the application in the event of an active shooter or other, major confrontation."
Visual Labs, his smartphone-based camera and GPS monitoring combined with a back-end storage system, had already received positive reviews from many law enforcement agencies. Now Popof could see benefits for himself, both with law enforcement and during his own assignments.
"Had a serious incident occurred," Popof said, "I would've wanted a supervisor watching a live-stream from my camera." Popof, CEO of Visual Labs, never imagined a career in the public safety industry. While at Stanford, preparing for his senior project, Popof like many Americans watched the events in Ferguson, Missouri and thought about body cameras. "The current tools were clearly not sufficient," he said. "We needed to explore a little more."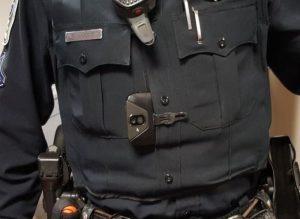 The brainchild was a software solution. Rather than police departments procuring cameras separately that can be cumbersome to wear, Visual Labs takes advantage of a smartphone's built-in cameras, allowing officers to live-stream and capture video with the touch of a button on their smartphone. The solution also means that rather than purchasing camera only devices for administration, plain clothes, and other non-first line or civilian employees should they need the function, departments can purchase new hardened devices or use existing smartphones.
Once activated by the officer or remotely by dispatch, the phone's camera can live-stream and record what the officer sees, and it is stored according to departmental policy. The camera doesn't record 24/7, allowing for officer discretion. And once activated, the footage cannot be deleted. All data—including video and audio—is automatically uploaded and stored in the Microsoft government cloud.
Karl Wilmes, a 39-year law enforcement professional and one-time director of Homeland Security for Colorado, prefers the tool's simplicity. "One of the beautiful things about the application is that it is on your cellphone," said Wilmes who was police chief in Federal Heights, Colorado last fall when the department purchased Visual Labs. "In the near future for a police officer on the street, the most important tool you will have will be your cell phone because it captures information," Wilmes said, adding the Visual Labs application "will reduce instances where officers will need to apply force and increase transparency."
After signing their first client, the Major League Soccer team San Jose Earthquakes, in early 2015, Visual Labs welcomed their first police department in Dos Palos, California a year later. Since then, dozens of police agencies across the country have purchased Visual Labs for their department-issued smartphones. Long before Popof went to the Super Bowl to test his product, he had received positive feedback from agencies such as the Washington County Sheriff's Office in suburban Minneapolis and Police Department in Fontana, California.
"There was a video brought to our attention where a police officer would have been justified in using deadly force," Popof said, "and the video showed his incredible restraint in not shooting the person." Wilmes, who also saw the video, says the video shows an individual pointing a firearm at a police officer. Wilmes added, "That's the video that should be played on 60 Minutes."
Administratively, Wilmes also sees benefits, especially with the GPS functionality. In Federal Heights, two officers were in pursuit of a stolen vehicle in heavily trafficked area when a sergeant ordered officers to call off the chase for safety concerns. Two minutes later, Wilmes says, the stolen vehicle entered a neighboring municipality and crashed. A pregnant woman in the vehicle was critically injured and miscarried as a result of the impact. Visual Labs' GPS function demonstrated the officers had not used excessive speeds, and Federal Heights did not need to hire expensive defense attorneys because no lawsuit was ever filed.
In another example of Visual Labs' application, Wilmes points to an experience in which he was able to counter a vocal city councilmember's complaints that law enforcement never visited his neighborhood. "The application's heat-sensitive mapping revealed that police officers within a month had roughly visited the neighborhood close to a thousand times," Wilmes said.
The low cost of the application also appeals to public safety managers. Popof's father, Alexander, COO of Visual Labs, explained their flat-rate pricing model which includes storage. Departments generally lock down 1-to-2-year contracts for the application at around $50-per-phone, per month, but each department has different needs so the pricing could be lower or higher. Some departments may want multi-hour live streaming capabilities or full HD video. "We believe they ultimately pay for themselves," the elder Popof says, pointing to the elimination of routers in cars and the physical cameras.
With the introduction of FirstNet, the nation's first dedicated public safety wireless broadband network, Alex says Visual Labs fits the public safety's trajectory toward overhauling the clunky, piece-meal approach to technology. "The public safety industry is moving from a hardware-centric, decentralized set of devices and application to an all-in-one device. That's the M.O. of FirstNet," Popof says. "What can we do on a connected device so that we can consolidate things into a software and cloud world? This ultimately means less time officers are doing paperwork. And this allows them to better serve communities."
"In the near future for a police officer on the street, the most important tool you will have will be your cell phone because it captures information," Wilmes said, adding the Visual Labs solution will reduce instances where officers will need to apply force and increase transparency."
Christopher is a freelance journalist living in Washington D.C., most recently with Courthouse News.