On Tuesday, April 3, public safety veterans announced the creation of The FirstNet Association, an organization dedicated to building a platform for conversations between stakeholders of FirstNet, including vendors and end-users of the nation's first public-safety broadband network.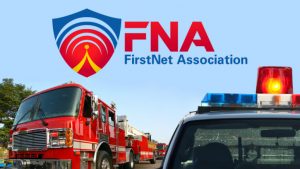 The mission of the group will be to draw in members from across the FirstNet eco-system to build upon the collaborative spirit founding FirstNet itself, created by Congress in 2012. FirstNet was founded by Association President Al Gillespie (past president of the International Association of Fire Chiefs), Treasurer Dick Mirgon (past president of the Association of Public-Safety Communications Officials), and Vice President Ray Flynn (retired assistant sheriff from the Las Vegas Metropolitan Police Department.
Why these three as founding members? All have served in public safety, all have been on elected boards representing public safety, and all are avid supporters of FirstNet. Having served as an elected official each has a deep understanding as to what it means to represent others. Additionally, each one knows how associations operate and the work that goes into making an association successful.
"Dick has assembled a great team," said Karl Wilmes, former director of Homeland Security in Colorado stated and "It's a cadre of retired practitioners with all our combined public safety experience endorsing FirstNet as a viable, legitimate product."
Wilmes mentioned that as a former police chief, he sees the FirstNet Association as establishing legitimacy in the eyes of public safety professionals who maybe are unfamiliar with FirstNet and the dedicated band of spectrum awarded to AT&T.
"If I've never heard of FirstNet, I'm asking, 'why should I change my carrier to FirstNet? That's a lot of political capital to expand. But I believe our common bond as fellow public safety officers sharing our knowledge and experience helps. They know a fellow police chief won't steer them wrong" says Wilmes.
"The FirstNet Association is not that different from the Air Force Association or any other association that supports a federal program," says Mirgon. "Now that the FirstNet Authority has a number of major successes, there is a robust network being built by AT&T. Now comes the user community to stand behind all that success and great work."
Who can join the FirstNet Association? Well, anyone and everyone who gives of themselves so citizens feel safe and secure. That includes all from the first, first responder to the administrator or elected official at the top and everyone in between. Unlike most associations who represent a select group of public safety professionals The FirstNet Association is open to all those individuals.
It is estimated that about 10 percent of public safety knows about FirstNet and its benefits to first responders. The process for opting-in involved upper managers and decision makers from each state and territory. There is no doubt those individuals are aware but how about the front-line first responders? In order for maximizing all FirstNet has to offer there is definite need for ensuring everyone has the opportunity to ask questions from the bottom up.
The group aims to start conversations between members in-person at regional events or online through the association's website http://www.firstnetassociation.org/, all with the aim to foster FirstNet's development.
Mirgon also he hopes the meetings can break down the silos within the traditional trade-show, in which vendors are asked to be on panels but barred from advertising, or vice versa.
"We want to bring everybody together as equals," Mirgon said, noting the successful public-private partnership of FirstNet will be mirrored in the association's bridge-building.
Membership to the FirstNet Association is open to anyone involved with FirstNet coverage, the application ecosystem, or local control capabilities, and dues will be $45 per person.