In this last Advocate of the year, we will look back at 2019 to see what has been accomplished in the world of public-safety communications as well as what has been left for attention in 2020. On the whole, it has been a very good year for public safety with many new FirstNet departments and users, and more FirstNet devices and applications. On the Land Mobile Radio (LMR) side of the house, many departments, cities, and counties either upgraded, rebuilt, or are in the planning stages of enhancing their systems, proving that LMR and FirstNet will co-exist for many years to come.
FirstNet
On December 3, 2019, FirstNet (Built with AT&T) announced there are now 10,000 subscribed agencies and organizations, 1,000,000 FirstNet connections, 100 FirstNet-ready (approved) devices, and 675+ markets with Band 14 deployed, which is 75% of the final total and well ahead of schedule. In addition, there are 76 deployable network devices including three flying Cells On Wheels (COWs) and one aerostat (blimp). During 2019, these responded to more than 450 asset requests for planned and emergency events.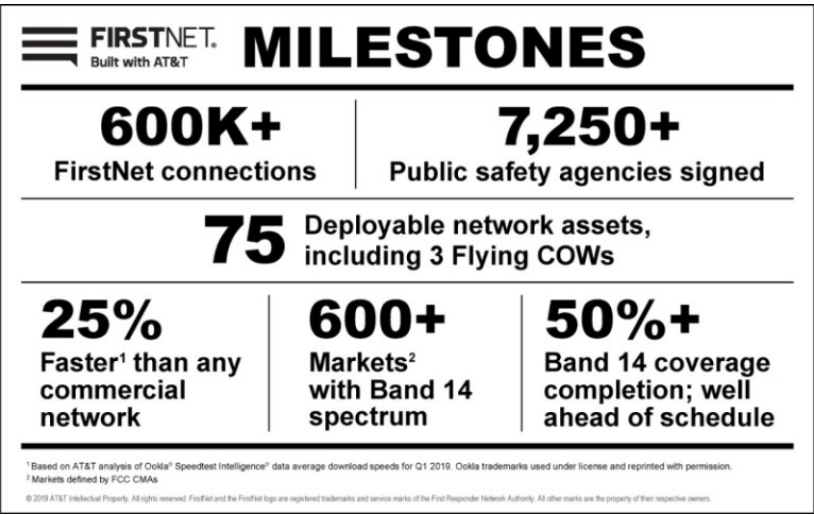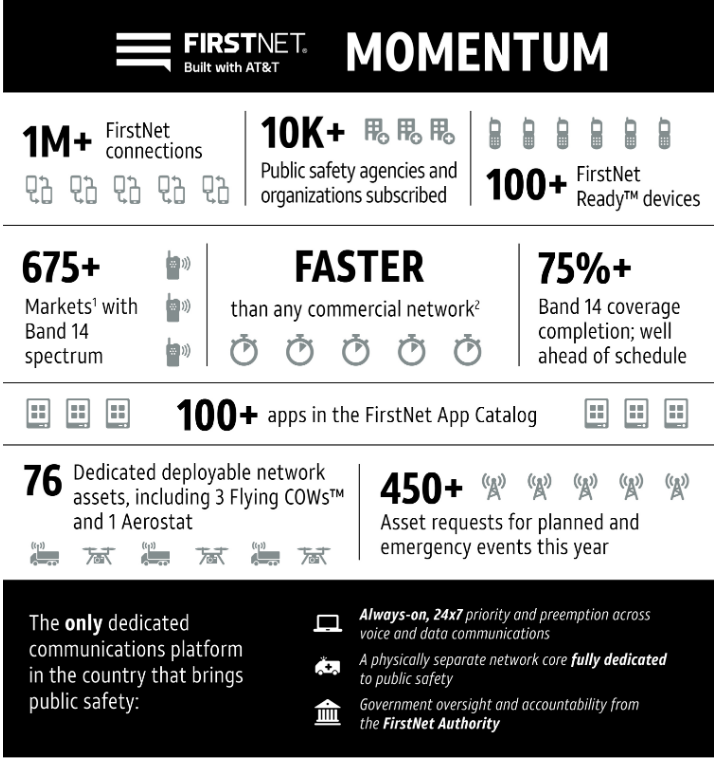 As can be seen from the two charts, growth in 2019 made it a banner year for FirstNet (Built with AT&T). Moving from 450K network users to more than 1,000,000 in a year, doubling the 500,000 agencies and organizations to 1,000,000, and increasing Band 14 build-out from 40% to 75% in one year demonstrates two things. First, there is a strong need for FirstNet among the public-safety community and second, AT&T, which is building FirstNet under contract to the FirstNet Authority, is dedicated to ensuring FirstNet is available to the public-safety community in as many places as possible. I believe 2020 will see even more growth in the areas of coverage, agencies, users, approved devices, and applications.
Looking back at 2019 Public Safety Advocates, the January 3, 2019, issue mentioned that January 2019 marked the twenty-third month of the first sixty months of the twenty-five-year contract for AT&T. The first sixty months was the time in which the network was to be built out. FirstNet (Built with AT&T) came out of the gate ahead of schedule since in addition to building out a Band-14 public-safety broadband network, any state that opted in was given access to all AT&T LTE spectrum with full pre-emption and priority services. By January 2019, AT&T was far ahead of the required milestones and it has continued to meet all of milestones ahead of schedule.
Rural Broadband
In the win column, FirstNet is required to build out in rural areas and this is taking place with AT&T and rural carriers working with FirstNet to expand coverage. It appears as though "rural broadband" has finally been defined not only as fiber to the home, farm, or school, but also as a combination of wired and wireless technologies, depending on where broadband is needed and how mobile it needs to be. This could spur more FirstNet build-outs and partnerships with other broadband providers that will result in even better coverage in rural areas.
Location Services
On the good news side, the FCC has set the z-axis (height) standard for finding 9-1-1 callers acceptable limit to 3 meters (10 feet). This is a good first step but more work needs to be done as described below.
FirstNet Authority, the Good News
The FirstNet Authority, created by law in February 2012 and established as an Independent Authority under the NTIA, (part of Commerce) published its Five-Year Roadmap which, after approval by the FirstNet board, was made available to the public-safety community. This "roadmap" provides for re-investment by the Authority into the public-safety community. Some of this funding will be used by FirstNet (Built with AT&T) for network enhancement and some will be used for other types of investments deemed important to communications for public safety.
FirstNet Devices
This has been a great year for FirstNet-approved devices. AT&T has approved a slew of new products including the first high-power user device. Band 14, you might recall, permits much higher power than most LTE networks. Standard power for a smartphone is ¼ watt or so (250 Mw), and 1.25 watts for High-Power User Equipment (HPUE) on Band 14. HPUE as been demonstrated to increase coverage of a Band-14 cell site by as much as 80% and significantly boosts data rates at the same time.
I have tested the Sierra Wireless and Cradlepoint in-vehicle modems with much success, looked at a number of new add-on devices from GPSLockbox and others, and reviewed new phones from Sonim, Motorola, Kyocera, and more. I have also read with interest the trend toward providing FirstNet as a service. This type of service is paid for by operational funds as opposed to capital expenditures, thus agencies can more easily take advantage of the benefits offered by FirstNet (though some agencies may encounter difficulties with the longer service contracts). Sierra Wireless has entered this market with its vehicular modem bundled with a FirstNet package, as has Tango Tango, which provides Push-To-Talk (PTT) as a service. I expect to see more of these types service offerings in 2020.
My favorite devices are those that combine LMR and LTE into a single device. In most cases today, these are high-end devices. The L3Harris XL-200 portable features four LMR bands plus all of FirstNet's LTE spectrum including Band 14. Its new mobile will include all the LMR bands or a choice of a single LMR band and FirstNet LTE. Motorola has released its first APX Next device that includes LTE and four LMR bands, and others are on the way. I hope we will see some less expensive combination devices in 2020. Sonim has a solution for its FirstNet phones, and I am sure others will follow. Once the public-safety community is convinced that off-network LTE won't satisfy its needs, I believe more vendors will find ways to incorporate LTE and LMR into a single device with good battery life, perhaps a removable battery, and other typical LMR attributes blended with typical LTE device attributes.
There were other good and positive things that affected public-safety communications this year and I will be discussing some of them and updating others as we move into 2020. The year 2019 turned out to be very productive for FirstNet and for all of public-safety communications. Even though some things that should have been accomplished were not, great progress was made.
What Should Have Happened But Did Not
While the following "did not happen list" does not contain everything that might be included, more will find their way into 2020 Advocates as next year rolls around.
Push-To-Talk
In January 2019, I predicted push-to-talk would have reached a common point for both FirstNet PTT and LMR-to-FirstNet PTT integration. Unfortunately, while some progress has been made and we are told to expect another PTT FirstNet vendor in the early months of 2020, there is still no consensus for requiring existing (and hopefully new) vendors' push-to-talk to fully interoperate with each other. On the LTE-to-LMR integration front, while there has been some progress there is still a long way to go before it is easier and less costly for most P25 trunking systems to be interconnected with FirstNet PTT. Further, it appears many departments using analog FM still do not have fully-functional ways to interface their LMR systems with LTE that include location of users and full group capabilities.
There is still a question about LTE's ProSe off-network capabilities and whether ProSe will satisfy public-safety requirements when it comes to distance, inbuilding communications, and street-level to sub-basement off-network communications. I am not sure why the 3GPP continues to work on ProSe when, at this point, it won't serve the public-safety community. Then again, I don't have a clue why it came up with Mission Critical PTT, a network-based solution where only users on the actual public-safety network will have access to mission-critical PTT services. As FirstNet continues to grow, over-the-top applications are needed. Over-the-top applications provide both PTT over FirstNet and PTT services on other broadband networks to provide interoperability as agencies move to FirstNet and in areas where FirstNet alone does not provide coverage. Adding a second network to the mix can not only increase coverage for agencies in these areas, it can provide PTT across networks without having to deal with integration with the FirstNet core and existing FirstNet network.
What We Still Need from Congress
Several times this year, I have written that we need to find ways to motivate Congress and put some new laws on the books. Among these are:
Upgrading the status of Public-Safety Telecommunicators (9-1-1 Emergency Communications Center (ECC) personnel and dispatchers) to Protective Service Occupations, an important step for these dedicated, hard-working people.
Funding Next-Generation 9-1-1 (NG911), a missing link for FirstNet. When funded by Congress, NG911 will provide the funnel for more and better information for personnel responding to an incident. NG911 adds incoming broadband services to voice, text messages, pictures, and videos to be sent to ECCs. Once data has been validated, using FirstNet it can be sent to responders reporting to incidents to provide more information about what they are heading into.
Several issues are awaiting action in the matter of spectrum. First and most urgent is the repeal of the T-Band giveback. Like many others, I have been pushing for passage of the bill to repeal the T-Band giveback. All major public-safety organizations, the Government Accounting Office (GAO), and now the Chairman of the FCC have stated that this requirement in the FirstNet law needs to be changed soon.
Public-safety spectrum and, in fact, all spectrum is under attack from Congress and the Executive Branch including the NTIA and the FCC. Public safety is currently facing changes to its spectrum at 4.9 GHz and sharing its 6-GHz microwave band with unlicensed users, which could lead to interference to public-safety microwave, utilities, and others that depend on this band to transport mission-critical information from point to point.
Congress and the FCC seem to think any and all spectrum can be shared among multiple types of users, can be auctioned to raise money for the federal government, and for any purpose that comes to mind. We desperately need people who understand issues with noise floors, licensed and unlicensed sharing, and more, in the decision-making process.
In 2020, we need another big push to convince Congress to listen to the public-safety community. Since it is an election year, public safety might stand a chance of accomplishing some or all of these things.
FCC's $9 Billion for Rural 5G
The FCC recently changed course on its Mobility Fund Phase II from funding up to $4.5 Billion for rural broadband (primarily LTE) to a new $9-Billion fund restricted to 5G. Last week, I took the FCC to task for this move. I think the issue here is that those in Congress and the Executive Branch, including the FCC, seem to think 5G is the be-all, end-all of broadband. They do not see 5G as an evolution in wireless broadband and not a revolution and that 6G is already on the horizon. Too often those not conversant with spectrum and wireless technology grab onto the "next big thing" and try to make it the standard of the land. Many of us have lived through and survived many "next big things." Each time, these big things turn out to be important but usually in ways different from what was originally thought. 5G is destined to follow the same path.
Consolidating Rural Broadband Initiatives
In the last two or more sessions of Congress, bills have been introduced to form a new agency to oversee all the various policies and funding for broadband services, especially as they apply to rural America. The bills have not gathered any steam and have died at the end of the session. As a result, we still have more than eight federal agencies offering grants and loans for rural broadband systems. While some are aimed at fiber-only systems and some at fiber and/or wireless, most do not offer funding beyond the initial build. Over the years, many systems have been built and then failed because the area ran out of funds to sustain the system. There is more than enough money today in the dozens of federal agencies to provide most of our rural communities with broadband services. However, as long as it remains in the hands of scores of agencies with different goals, progress will be slow.
BRETSA FCC Filing on Network Interoperability
The Boulder Regional Emergency Telephone Service Authority (BRETSA) filing seeks to require that FirstNet become interoperable with other LTE networks. The FCC received many comments both for and against and I have written about some of the issues I have with this in several Advocates. The ironic thing about this FCC filing is that shortly after it was made public, the City of Boulder entered into a contract with ESChat to integrate ESChat, a FirstNet-approved over-the-top push-to-talk provider, with FirstNet and the Boulder City P25 LMR system. Since it is an over-the-top application, ESChat provides interoperable PTT services across all LTE networks including FirstNet, resolving the major argument of the BRESTA filing.
Location Services
While inclusion of the z-axis (height location) is seen as a good start, an error of ten feet can mean going to a floor either above or below where the 9-1-1 caller or first responder needing assistance is located, thus delaying the response. The public-safety community is pushing for "dispatchable location," which means to the floor and door of an incident. While I am sure this goal can be reached, that still leaves the issue of locating a first responder who is inside a building and needs assistance. I don't think both of these goals will be met in 2020 but I hope we will be closer than 3 meters.
FirstNet Authority
The Authority is still without a named CEO, and the deputy CEO just hired from Commerce is a person with a financial background, which is a good move. However, what is needed now is someone who has the trust of the public-safety community and has earned a reputation for being pro-public safety. My choice would be a person who has worked alongside the public-safety community, helped public safety understand how to deal with Congress in passing the law establishing FirstNet, and who has been a strong and visible presence since FirstNet was founded. I will have more to say about the FirstNet Authority and NTIA/Commerce in coming months.
Conclusion
A lot of good has occurred in public-safety communications and there has been incredible growth in the FirstNet network, its coverage, and the number of agencies and users. Not highlighted in the statistics, especially for last year, is the number of agencies that started out with a few FirstNet devices and after a trial period have gone all-in, or at least expanded their number of users. Trying out FirstNet and then embracing it on a department-wide basis means FirstNet is doing something, or many things, right to win over agencies that have dipped their toes into FirstNet waters and now want to dive in all the way.
It is important for elected officials to fully understand that public-safety communications is more than FirstNet or even FirstNet and LMR. It is also about the NG911 funnel and the amount of available spectrum. It is difficult to watch the FCC and Congress pushing for more and more unlicensed spectrum and spectrum to auction for broadband or secondary spectrum and assuming there will be no inference between licensed and unlicensed services. Spectrum remains a finite resource and we must come to an understanding that there are more important things than making unlicensed spectrum available to all comers. Our spectrum pool is like a tank of water; if we use it all up, we cannot survive. It appears those shaping our spectrum futures assume there will always be enough spectrum to go around and those who want more and more can be appeased with yet another slice. Those in charge of our spectrum must learn to say "no!"
Winding Down
June 23, 2020, will mark the tenth year of the Public Safety Advocate. The Advocate started out on an irregular schedule but morphed into a weekly column with 47 issues in 2019. I enjoy writing them, adding URLs for your reference, talking with my editor, partner, and wife Linda as she refines what I wrote, and then finally looking at all the news stories listed on Discoverypatterns.com and deciding which to include in the email blast.
I enjoy receiving comments, good and bad, because each one helps me learn about readers' interests. If you send a comment to the AllThingsFirstNet.com website, unless it is self-serving to advertise a company, all comments good or bad will be published.
As we move into this holiday season, regardless of what or how you celebrate, I hope this special time of the year will be one you will remember. For us, our readership has grown more than 30% this year and I thank you for that just as I look forward to writing many more Advocates during 2020.
As you celebrate with family and friends, please remember there are men and woman working through the holidays in the military, at emergency communications centers answering phones and responding to calls for help 24 hours a day, seven days a week, in emergency rooms and hospitals taking care of anyone in need regardless of the day or time, and others behind the scenes who deserve our thanks. They are all on the job so we can celebrate and our celebrations should include thinking about them and thanking them.
Until Next Year…
Andrew M. Seybold
©2019, Andrew Seybold, Inc.