I will start with the omission from last week's Advocate where I detailed the most important items for which public safety needs assistance from various federal agencies. I was so focused on public-safety communications using technologies I did not include another very important item that needs to be acted upon by Congress on a national level: elevating Emergency Communications Center (ECC) personnel status to first-responder status. These people are the "first" first responders, taking calls and dispatching appropriate resources. They are highly trained and often go above and beyond normal dispatch duties by helping people start CPR, staying with them on the phone comforting them, informing them of precautions to take such as if they smell gas they must leave the house, and more. We really must elevate these people to a position of respect. Congress, this is another ball in your court.
FirstNet Authority
At last week's meeting of the FirstNet Authority board of directors, the Authority voted to proceed with the initial reinvestments in the FirstNet network. As the chairman stated during the meeting, "Today is another major milestone for the FirstNet Authority. For the first time, the board will be taking action to advance the reinvestment of funds to enhance and evolve the network. We are positioned to do this because of the FirstNet Authority's unique business model that ensures the sustainability of the organization and the FirstNet network."
These investments are important to the public-safety community and will be welcomed. The investment that is designated for expansion of the public-safety core to include both LTE and 5G technologies is significant for two reasons.
First, when AT&T won the RFP, it was to build and maintain a public-safety network using the public-safety portion of Band 14, which the FirstNet Authority licensed to AT&T for building the FirstNet network. The first thing AT&T did was to announce that in addition to Band 14 deployment, it was making all its LTE spectrum capable of priority and pre-emption and available to public safety. AT&T was not required to do this, but it made FirstNet a reality in many areas much earlier than would have a Band 14-only build.
In addition, as AT&T began to roll out FirstNet, it pledged to offer all its 5G infrastructure to public safety in addition to its existing LTE spectrum and building out Band 14. Nowhere in the RFP response could I find such a requirement. Rather, AT&T continues to side with the public-safety communications community and as it grows its own network and technology, public safety will be brought along for the ride. Today, the FirstNet Authority's first investment is to assist AT&T in upgrading and updating the public-safety core to fully support 5G and LTE.
The Authority's second investment is to expand the FirstNet deployable network. These funds will be used for additional Cells on Wheels (COWs), cells with wings and, I suspect, smaller and lighter self-contained systems to extend coverage during a major incident. With all the recent activities surrounding wildfires, tornadoes, severe flooding, and hurricanes, to be able to augment the number and types of mobile equipment that can be sent to areas where and when needed is crucial. Further, according to the FirstNet Authority, local agencies will be encouraged to purchase their own movable cell equipment as long as it complies with all FirstNet (Built with AT&T) requirements and is approved for use on the network.
This first round of funding totals more than $140 million; $78 million authorized by the FirstNet Authority and a one-time transfer of funds ($46 million) from the National Institute of Standards (NTIA). As the network continues to grow and more departments choose to sign on for FirstNet services, the funds available for reinvestment will increase. It should not come as any surprise that this project will remain a work-in-progress for years to come and that it will cost AT&T $billions. AT&T has already demonstrated its willingness to step up to improve coverage in areas where it is needed, and the build-out is continuing at a fast pace. The caveat here is that once FirstNet and AT&T approve an investment in a cell site, a suitable site has to be acquired and permits must be obtained before the first shovel of dirt is moved. This can be a time-consuming process.
HPUE
"HPUE," or High-Power User Equipment, makes it possible to extend coverage in areas with poor coverage, to provide rural areas and tribal lands where there are fewer cell sites with enhanced coverage, and to increase capacity and speeds in more urban areas.
HPUE use is restricted to the public-safety portion of Band 14 (this also includes secondary users on Band 14 which are permitted by the law to use the band but keeping in mind that public safety has full priority and pre-emption capabilites)..As previously mentioned, the FCC has one set of rules for cellular service (Part 22) and another for public safety (Part 95). Somewhere along the road to Congress and FCC authorization of FirstNet spectrum, it was decided that a portion of Band 14 would fall under Part 95 of the rules rather than Part 22. This makes sense as this spectrum is primarily designated for use by public safety. Because HPUE is governed by Part 95, the permitted power level is much higher than in other cellular bands.
The 3GPP standards body for LTE set special power limits for Band 14 in North America:
Power Class 1 +31 dbm
Power Class 2 +26 dbm
Power Class 3 +23 dbm (standard for the LTE industry)
Here are some specifics for those of you who like numbers. The typical output power for a macro cellular transmitter is 43 dbm (about 20 watts). However, most cell sites run at about fifty-percent of that. On the device side, typical cell phone transmit power is 20-24 dbm (0.1 to 0.25+ watts). Depending on antenna location and placement within the device, a cell site will out-talk a handheld device. In the Land Mobile Radio (LMR) world, this would mean the handheld user could hear the base station but could not respond, thus providing only one-half of the communications path.
Because the cellular system needs to know where the device is and, therefore, which cell site and cell sector it will communicate with, the user device must be in range of the cell site. If the device cannot communicate with the cell site, the network assumes the phone is turned off or out of range. (An aside here, I have to laugh when anyone refuses to turn off their phone in an airplane. Not only is it against the law to keep it on, the phone will send out a ping periodically during the flight looking for a cell site to connect with the network. Since there are no cell sites in range at thirty-thousand feet (yet), over time, the phone's battery will be drained. As a result, when the traveler tries to use the phone upon landing, the battery will be low or exhausted.)
With a certified HPUE device, output power is increased to 30 or 31 dbm (1.25 watts), which is a huge increase over the 0.250 watts of the average cell phone but far below typical LMR handheld radios that are anywhere from 2 to 5 watts and have external antennas. This higher power makes a significant difference when a user is in an area with limited coverage. Upload and download speeds are faster and the device can stay connected to a cell site for a longer distance.
Enter Assured Wireless
I first met with Assured Wireless Corp. what seems like ions ago during a lunch it had set up at the Public Safety Communications Research (PSCR) division of the NIST stakeholders meeting in San Diego. I liked the idea of what the company was trying to do, and over the course of the next year or so offered some suggestions. Serious work on an HPUE device began with a hotspot-type product and that was eventually morphed into the first HPUE. Today, AT&T is actively evaluating the device and is in the process of certifying it for use on FirstNet.
Assured Wireless has run a number of tests in rural and urban areas, and in buildings. Results of these tests, as documented on its website, show an increase in range and overall coverage.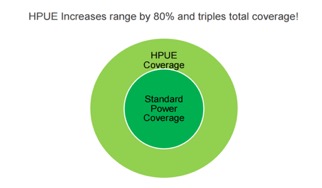 The HPUE device being considered by AT&T for FirstNet is a small self-contained module that supports HPUE on Band 14 and standard power on all of AT&T's other LTE bands. AT&T will be upgrading its LTE network to release 13 to accommodate this new device that is expected to be available before the end of the year.
I believe this HPUE device is a game-changer in many ways. First, it will increase existing Band 14 coverage by as much as 80-percent. In rural areas this means fewer cell sites will be needed to cover the same area, in urban areas it means better performance, and in suburban areas with hilly terrain it provides a better overall experience. Data rates will improve since with LTE, the further a device is from the cell center, the slower the data rates. At the typical cell edge, they fall below the 1-Mbps range, sometimes to 250-500 Kbps. Using an HPUE device will increase both coverage and data rates further from the cell center.
It is nice to see a company such as Assured Wireless start with an idea and attract gifted people to develop it and morph it from a hotspot to a full-on standalone device that can also be used, for example, to augment existing wireless modems in vehicles. If it is used in a vehicle equipped with a standard modem with WiFi, the distance from a cell site can be increased with little or no loss in performance. Congrats to Assured Wireless for bringing this project to fruition, and congrats to FirstNet (Built with AT&T) for recognizing the importance of including it in its approved devices list.
Winding Down
The weeks continue to roll by, it is the end of September already, and there many exciting things happening in the world of public-safety communications. I truly enjoy observing and discussing various new uses for devices, drones, applications, and interoperability that are coming to light weekly.
My list of things to do in the near-term includes getting a better handle on marrying LMR Push-To-Talk (PTT) with FirstNet push-to-talk so local agencies are able to communicate from their own LMR channels with others who are not in range of the LMR system or not using the same LMR spectrum or channels.
To achieve this, there must be full interoperability between PTT products on the FirstNet network. I firmly believe that as long as there are agencies that have not yet joined FirstNet, PTT "over-the-top" applications such as those offered by ESChat, Tango Tango, and a few others will play an important role and also must interoperate with all other FirstNet PTT applications on the network.
While there are few technical limitations to this, there also appear to be many instances where vendors don't get along or won't cooperate for the good of the public-safety community. My feeling is that if a vendor has a PTT product that has been approved by FirstNet, it must interoperate with all other approved PTT applications. FirstNet was founded based on the need for a nationwide broadband network that would deliver interoperability for PTT, data, and video between and among agencies regardless of where they are based or where they have been dispatched to render assistance.
Running three or four (hopefully not more) PTT applications that are not compatible with each other means FirstNet is not living up to the vison of fully-interoperable broadband even if it is using a common technology on common radio channels. Waiting for this release or that release of the 3GPP standards, not knowing whether they will address all interoperability issues, is not in keeping with FirstNet goals. Public safety needs true interoperability NOW. The network is robust and operates across much of the nation, but until PTT and other applications that ride on the network are fully interoperable, FirstNet will not meet the objectives set out when we began this journey. I am willing to bet that by the middle or end of 2020, we will have solved all interoperability issues as long as we are determined to do so and do not sit around and wait for a standard that may or may not suffice.
FirstNet and the FirstNet Authority know where we need to be. And I continue to push from the outside in an effort to get there. Unfortunately, vendors, networks, and others want to carve out their own niche more than to work together for a common goal: To provide public safety with all the tools it needs to communicate from anywhere to anywhere.
Andrew M. Seybold
©2019, Andrew Seybold, Inc.