Hurricane season runs June 1 through November 30, 2019, and a number of agencies and organizations are formulating their predictions about the potential severity of the upcoming season. For example, the Colorado State University Tropical Meteorology Project Team has predicted a slightly below average Atlantic hurricane season, forecasting thirteen named storms and five hurricanes. The National Weather Service defines a hurricane as "a tropical cyclone with maximum sustained winds of 74 MPH or higher" and major hurricanes as class 3 or higher storms.
It is interesting to read the various projections. Several, like the one above, call for a lighter storm season but some are predicting we could have more and more damaging storms this year. We won't know until it is over, but we do know we need to be prepared for these storms if we live in the Eastern region of the United States. We also need to continue to be prepared for the types of storms that have been racking the Midwest and the fire season on the West Coast that now runs all year long.
With the likelihood of so many disasters, public safety resources can become strained. Communications, of course, is key to being able to position resources where they are most needed and to coordinate activities which, during disasters, are highly focused on saving lives, then property, and protecting first responders' personal safety. For many years, only Land Mobile Radio (LMR) systems have been capable of providing communications needed in the field. However, there are shortcomings inherent with LMR systems. While they work well, some are not fully hardened to remain operational during most disasters. The most significant problem is that local, state, or federal agencies called in to assist bring their own LMR communications capabilities and these are not usually compatible with LMR services of others at the incident.
This is the primary reason FirstNet was established and why it is a new and different form of public safety communications. FirstNet is a broadband network, yet it also offers Push-To-Talk (PTT), dial-up voice, and text. However, during major incidents, FirstNet's ability to transmit and receive data, video, and pictures is critical. Drones (UAVs) have added a groundbreaking dimension to information that can be made available to incident command, emergency operation centers, and others planning and executing how public safety responds during a given incident.
Today, units arriving from outside the area can communicate with each other and with incident command using FirstNet for PTT interoperability. They can also be pre-assigned to specific areas and deployed more quickly since they can receive updates and perhaps videos that display conditions on the way to the incident. Non-public safety professionals may think of FirstNet as simply another nationwide broadband network, but it is much more than that. FirstNet is more resilient, it is being built to meet public safety-grade standards where possible, and the company responsible for building and deploying FirstNet (AT&T) has given its highest priority to operation of the network.
We can see the results of this priority by looking back to last year when FirstNet was serving far less first responders than today. At fires, during tornadoes, and during hurricanes, FirstNet has responded with back-up Cells On Wheels and Cells On Light Trucks (COWs and COLTs). This year has seen the expansion of back-up capabilities with the addition of complete cell sites and LTE networks on UAVs to provide FirstNet services where they are not available or where service has been lost due to power outages, storm damage, fire damage to radio sites, and other damage created by the disaster.
After reviewing its performance during all manner of disasters last year, FirstNet has earned a near-perfect score. Yes, there were some places or instances where FirstNet did not provide service when requested. These were few and far between and most of the agencies involved had not joined FirstNet at that point. This year, the number of member agencies is well over 7,500 and growing and the number of connections has passed the 600,000 mark, meaning more agencies are connected through the FirstNet network. During disasters of any kind this year, the availability of both LMR and FirstNet will provide the level of communications we need. While some were skeptical that this would ever happen, it has, and it has come sooner than many thought possible.
During major incidents, some of the most important communications involve coordination of resources provided by local, state, and federal agencies. Last year, for the first time, FEMA personnel were issued FirstNet devices so they could coordinate with everyone else. During Hurricane Katrina, as the various agencies arrived on scene, many with their own communications systems, there was no practical way to coordinate activities and ensure requests for services would be filled quickly. During last year's hurricanes, these issues were mitigated through the use of FirstNet.
In last week's Advocate, I posted the FirstNet network update that had been made public. Deployable network assets now stand at 75 including three flying Cells On Wheels (COWs). (Not sure a UAV can be considered a COW, perhaps a "Cell Without Wheels," CWW?) Some departments are considering using command vehicles as potential COWs. Even with these resources located around the United States, difficult decisions often need to be made about when to deploy them. The price of a full-blown cell site, including a core and some form of backhaul (satellite or other), is not a huge investment and setting up a UAV with radio equipment should not require an enormous expenditure of funds. Remember though, any non-FirstNet-owned devices must be cleared and approved by FirstNet (Built with AT&T).
Winding Down
Sonim Technologies Goes Public
Many of the devices approved for use on FirstNet are made by Sonim Technologies, which thus far has been a little-known company. Sonim made its name with public safety-grade FirstNet-compatible handhelds. I have carried a Sonim smartphone for several months and have talked with many public safety folks who sing Sonim's praises because its devices are truly indestructible and built to withstand most types of mistreatment. This week, Sonim Technologies went public on Nasdaq. I would have liked to have taken part in this IPO but many years ago I set a rule for myself that I would not own any stocks from companies I write about or any that might engage us to provide consulting services. Instead, I will watch and wish Sonim well. It earned this coming-out party one device into the hands of public safety at a time!
New FirstNet Agencies
Rehoboth Beach Delaware announced it joined FirstNet this week, and its police and most other departments have joined. More and more cities and counties are discovering that having FirstNet capabilities adds greatly to what they can provide to personnel in the field including voice and text with the addition of data and video that can be of vital importance when heading to an incident. There are already many success stories about providing information related to previous incidents at the same location, if a gun is registered to someone living at a location, how a fire department can best approach the extraction of people trapped in vehicles, and much more.
More
Our public safety communications party, co-hosted by the Advocate and the Phoenix Fire Foundation, was held last Thursday. The weather was great, the folks who attended enjoyed themselves, and the conversation was flowing late into the night. Dr. Michael Britt, who has worked with us, volunteered to turn our outside bar into Margaritaville and was busy mixing and serving Margaritas all night. The BBQ was great and, thanks to our sponsors Sierra Wireless, FirstNet (Built with AT&T), and Sonim Technologies, the event was a success. If you missed it, you will have another chance next spring before Phoenix weather turns too hot for outdoor parties.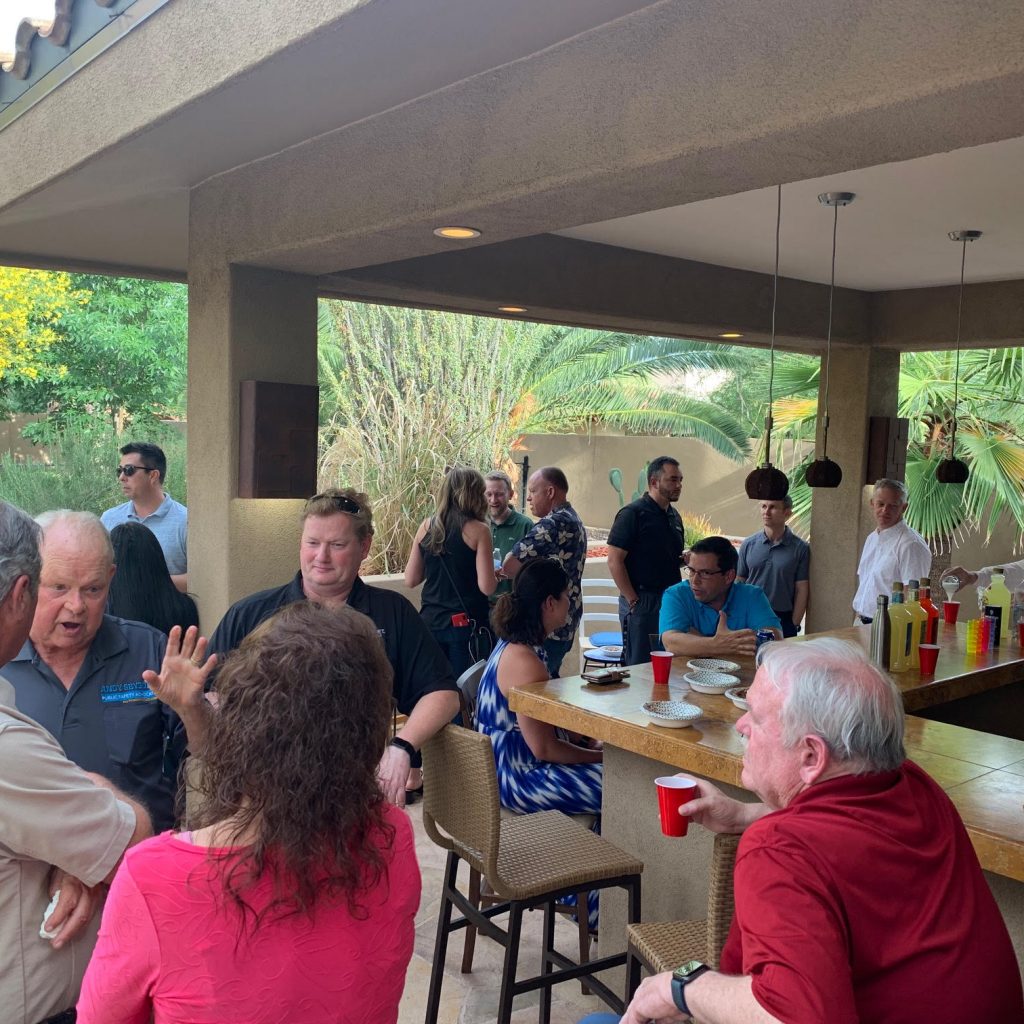 FirstNet (Built with AT&T) sent a team for the evening to provide information about FirstNet to everyone interested in the network and services it provides. I was displaying my collection of BlackBerrys that I thought included one of every BlackBerry built when one of the FirstNet folks said I was missing a Pearl. I looked and she was correct. So, if anyone happens to have a BlackBerry Pearl and wants to donate it to my collection, I would be very appreciative.
It appears those working with the U.S. Congress to address some of the issues I have mentioned in previous Advocates are making some progress. The most pressing issue is the passage of the bill to eliminate the T-Band giveback and they seem to be making some headway. The eleven metro areas and surrounding areas that are heavily into T-Band have nowhere to relocate, and apparently no funds to relocate their Land Mobile Radio. FirstNet can certainly be of benefit to these areas but it is not yet mission-critical and push-to-talk over FirstNet does not support off-network communications. I will continue to follow this activity and hopefully have some good news to share soon.
Until next week,
Andrew M. Seybold
©2019, Andrew Seybold, Inc.