The last week of July is turning out to be a busy one. Most FirstNet (Built with AT&T) "watchers" are busy tracking new public safety Band 14 build-outs and new combination AT&T/FirstNet cell sites. Some also track the number of subscribers on FirstNet, which was 3.7 million at last count. Most people who are watching will tell you FirstNet is doing great.
In combination, each element of the network contributes to FirstNet's position as the only Nationwide Public Safety Broadband Network (NPSBN). These elements include coverage that expands every month, new devices and applications, and High-Power User Equipment (HPUE) for use on public safety Band 14. FirstNet is the only broadband network in the United States that is permitted to offer high-power service that extends the range of Band 14 cell sites and increases data rates from an HPUE device back up to the network.
FirstNet's success is also attributable to the people at both AT&T and the FirstNet Authority, many of whom come from the public safety community. With these assets, FirstNet is able to stay well ahead of the curve.
FirstNet Deployables
Now the expansion of FirstNet deployables is in the spotlight. When AT&T won the contract to build, maintain, and operate FirstNet, it knew deployables would be needed for incidents where there was no coverage, where the incident itself took down some cell sites, or to provide extra bandwidth during major planned events.
Another metric that is vitally important to both FirstNet and public safety is the number and types of deployables that have been added to the fleet to better serve public safety personnel during situations such as these.
Unlike most commercial networks, FirstNet decided early on not to house all of its deployables in a central location and staged them around the United States and its territories. It also understood that its deployables would have to be of different types for different incidents.
Early deployables consisted of Cells On Wheels (COWs) and Cells On Light Trucks (COLTs) followed by other types of deployables. Recently, FirstNet contracted with Rescue 42 to build a mini-cell that can be hooked up to almost any vehicle with a trailer hitch in a matter of minutes.
Both citizens and the public safety community are aware that we are experiencing extreme changes in weather across the United States. More, intense heat, drought, floods, tornadoes, and hurricanes are predicted for this year. Droughts lead to more and larger fires as the yearly fire season has become a yearlong season.
FirstNet expects increased demand for its deployables and recently updated both the number and types available.
The chart below was provided by FirstNet (Built with AT&T) and it lists the number and types of deployables available today. As you can see, the fleet has greatly expanded and I believe more additions will be forthcoming. There are two specific additions in the bottom blue section of the list. The first is 30+ "Rog," are therapy dogs that bring a calming effect when and where needed. The next item shows 300+ resources from disaster recovery when available.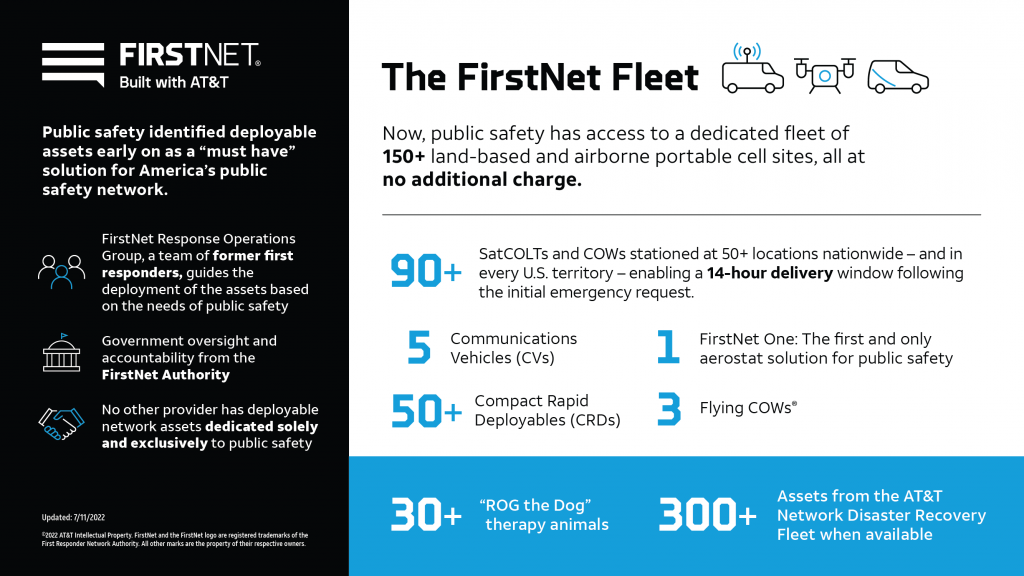 In addition to hardening its existing cell sites, FirstNet knows it needs to be ready to provide back-up service or augment services for public safety anywhere and everywhere in a timely fashion and with a variety of devices including what are being called "Flying Cows."
In this instance, "FirstNet" includes FirstNet (Built with AT&T), The FirstNet Authority including its Boulder research facility, and the Public Safety Advisory Committee (PSAC). Unlike commercial advisory committees, PSAC is not made up of retired public safety executives. Instead, it is made up of representatives from public safety and other entities that have been or continue to serve on the front lines. With this level of representation from public safety and the extensive array of pieces and parts, it is easy to understand why FirstNet is the Nationwide Public Safety Broadband Network designed, built, and operated specifically for the public safety community.
Winding Down
The 3.7 million FirstNet (Built with AT&T) subscribers is only one statistic included in the report on the current status of FirstNet. Here are the rest: The total of 3.7 million users means 319,000 new FirstNet members were added in the second quarter of 2022. The current number of member agencies stands at 21,800. Agencies that have been watching FirstNet and decide to join the network account for more subscribers and agencies in every quarter. FirstNet really is the one and only Nationwide Public Safety Broadband Network.
Next week's Advocate will be about a new patent just issued to Apple that has to do with ProSe (off-network broadband communications). There are several statements in the article I read about this patent and I want to clarify whether they were from Apple or the author of the article before I give my opinion. The headline will be, "Apple's New Patent, Useful or Useless for the Public Safety Community."
Many companies and bright engineers are trying to come up with a replacement for the solid and reliable communications that have been an important aspect of land mobile radio systems since the 1930s. Perhaps someone will find a broadband solution to provide solid off-network communications (simplex), perhaps not. Join us next week to read my article about the Apple patent and what I think it could mean for public safety.
Until next week…
Andrew M. Seybold
©2022 Andrew Seybold, Inc.