Standing across the busy two-lane road from Tilghman Island's fire station, Maryland officials cut a ribbon on Tuesday celebrating a new cell tower erected thanks to the FirstNet build-out.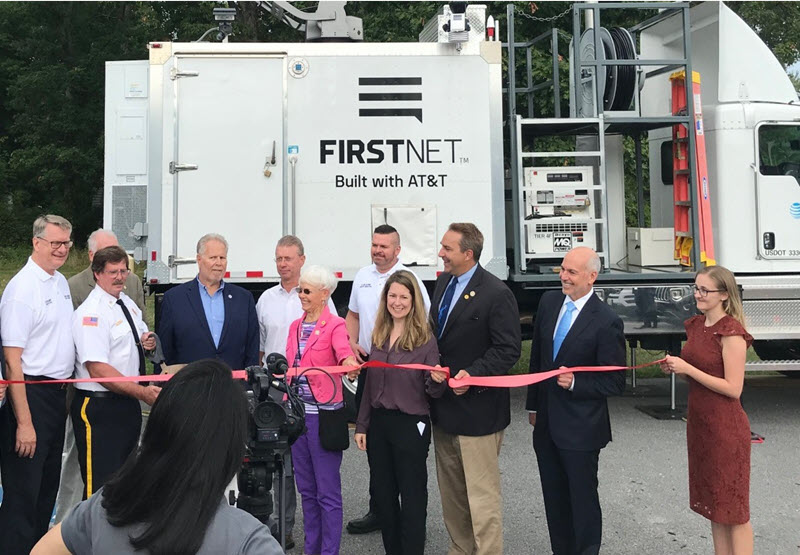 By Christopher Vondracek
"Maryland's first responders called for better coverage on a dedicated network, so they can better protect our communities," said Denis Dunn, president of AT&T Maryland, who spoke at the ribbon-cutting.
A crowd of volunteer fire and EMS officials gathered in the middle of Tilghman Island, the coastal community separated from Maryland's mainland by a drawbridge, to hear from officials tout the boost in connectivity the tower will bring first responders.
"I've had problems of interoperability right here in Tilghman and Talbot County," said Walter F. "Pete" Landon, Director of Homeland Security for Maryland. "I listened to the skipper as someone put the bridge up after I'd crossed it."
(Landon later noted he didn't know putting the bridge up was how the force "welcomed" rookie troopers, drawing laughter from the crowd.)
The Tilghman site — as well as a nearby cell cite in the Bozman area — are two of manynew cell towers built in Maryland as part of the expansion of FirstNet, the nation's communications network dedicated to first responders. Maryland, led by Gov. Larry Hogan, was the first state in the nation to opt-in to the $47 billion investment across the country.
"Ordinarily, when I'm talking about communications and the federal government, I'm complaining or using nasty language," said Maryland Delegate Johnny Mautz, who served on Maryland's Task Force on Rural Internet, Broadband, Wireless and Cellular Service. "But, today, I want to say thank you to AT&T and to FirstNet."
Officials also showed off a FirstNet Cell on Wheels ("COW") parked along the road, one of 75 such assets that can be called upon by first responders in emergency situations to boost connectivity in areas with spotty coverage.
Officials said Maryland had already benefited from such assets during flooding in mountainous, southern regions of Washington County and Ellicott City.
The benefits not only include added spectrum for first responders but also connectivity to the internet-of-things, of which many seniors rely.
"Many of our seniors who wear those medical bracelets are not able to get connected," said Maryland Senator Addie Eckardt. "It's another layer when we look at the whole tapestry of interconnectedness."
Eckardt noted the aid of such bracelets in alerting EMS personnel to medical emergencies for the bracelet's wearer, including cardiac arrest or an opioid crisis. 
Christopher Vondracek is a freelance journalist living in Washington D.C., most recently with Courthouse News.