Barry Leitch – Senior Engineer – FirstNet CTO Devices Group
Following last year's visit to MWC to observe the latest developments in wireless tech, FirstNet is pleased topresent the following update highlighting innovations and leading-edge developments observed at this year's conference. Several priorities for attending MWC this year included participating in pre-arranged market research meetings with mobile device and test platform vendors to discuss our FirstNet network objectives and collect information concerning the device and test platform vendor's plans to support key public safety features. Additionally, we had the chance to visit exhibits to identify new technology areas which could be leveraged for public safety use and identify key contacts and market research opportunities to benefit the FirstNet network.   
Staff from FirstNet's Chief Technology Office Device Team traveled to Barcelona, Spain, last month for Mobile World Congress (MWC) 2017 and observe the latest developments in the mobile industry. MWC is the largest worldwide event of its kind and is invaluable for networking with industry, learning about innovations, and monitoring leading edge technology developments in the mobile wireless space. Historically, MWC has been the key networking event for organizations involved in the latest 3GPP related technologies. FirstNet's attendance provides the opportunity to closely monitor the marketplace and industry trends on behalf of the public safety community to assure that the FirstNet network maintains an optimum 3GPP roadmap leveraging critical advances across industry.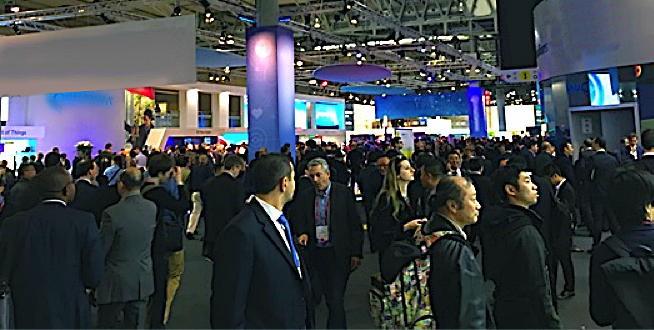 Some interesting statistics about the MWC 2017 include:
A record-breaking 108,000 people attended the exhibition over the four days
2,300 exhibiting companies showcasing their wares over nearly 1.8 million square feet of space
12 government-funded pavilions were included to broaden the reach of companies that needed financial assistance to be able to attend from these regions
45 keynote speakers were part of the program which covered a wide range of mobile wireless technology areas.  A number of the presentations covered the area of multimedia content which was a clear indicator of the greater amount of focus in the area of content across industry
Market research meetings
The availability of technical experts and product managers makes MWC a great environment for collecting market research. We arranged market research meetings with LTE device vendors to discuss the optimum integration of LTE band 14 within their products and to promote key public safety features such as Proximity Services (ProSe) direct device-to-device communications, and 3GPP Release 13 Mission Critical Push to Talk (MCPTT). We spread the word that FirstNet will facilitate the update of test platforms in support of the FirstNet device approval process with LTE test equipment vendors. We discussed each test vendor's plans to develop ProSe and MCPTT test capabilities and the challenges associated with these updates. Some key public safety themes and exhibit items at MWC included:
5G Technology  
5G was the leading technology theme throughout the event, with 5G new radio (NR) signs everywhere. A large number of 5G announcements from vendors and operators indicated that 5G is becoming much more real and the yet-to-be-approved standard appears to be closer than expected. Some 25 mobile operators around the world have announced they are lab testing 5G and 12 are currently conducting field testing. The 5G marketplace and development efforts are generally partitioned between the sub 6GHz range and millimeter wave frequency ranges in the areas of 15GHz, 28GHz and 39GHz. Early 5G trials are currently taking place in the 15GHz and 28GHz range. Pre-standard 5G commercial products were shown that provide fiber-like multi-gigabit broadband service to fixed locations in these early commercial trials. The first examples of commercial 5G base stations or gNodeBs and 5G user equipment were demonstrated providing data throughput values in the multiple gigabit range. Demonstrations included: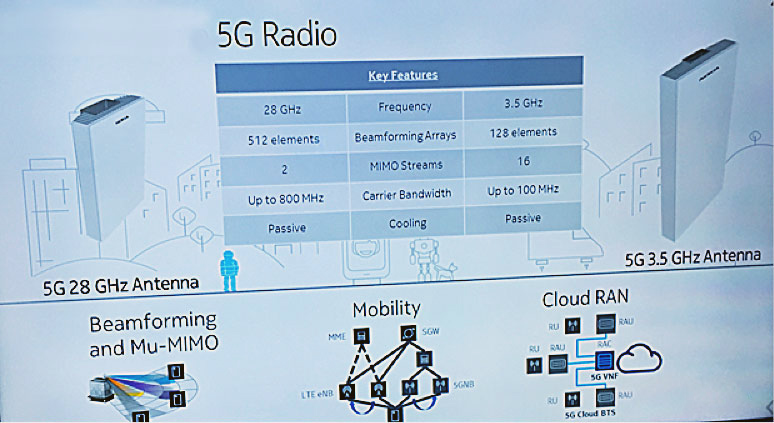 5G Modems – pre-standard engineering development modems were shown that are implemented as field programmable gate array (FPGA) type platforms which are programmable and can be easily modified as the standards evolve. Once the standards are fully defined and the modem architecture is finalized, these platforms will be converted to custom ASIC chipset designs equivalent to 4G chipsets today
Antenna arrays and beamforming – Many antenna beamforming demonstrations showed the effect of massive multiple input, multiple output (MIMO) and beamforming technology and to support the 5G radio link.
Robotic demonstrations showing the improvement in control facilitated by the low latency capability provided by 5G
Gigabit LTE
The first commercial smartphone to support Gigabit LTE data rates was announced at MWC and was demonstrated at a leading LTE chipset vendor's booth. The industry has evolved to the point where fiber-like broadband capabilities can be provided within a smartphone device. A typical configuration for Gigabit LTE uses the LTE License Assisted Access (LTE-LAA) feature where an LTE licensed band is used together with 5GHz unlicensed Wi-Fi spectrum in a carrier aggregation configuration to facilitate this Gigabit level of service. The combination of three-carrier aggregation, 4×4 MIMO and advanced 256 quadrature amplitude modulation (QAM) provides ten parallel streams of 100Mbit data to realize the 1 Gigabit level of data performance.
Smartphone announcements
MWC was the forum to announce flagship devices from global manufacturers. Some key smartphone related items announced at MWC included:
First smartphone supporting a 4K display
First smartphones supporting Gigabit LTE
First smartphone supporting high power UE (+26dBm maximum Tx power) functionality for LTE band 41
Internet of Things  (IoT)
Internet of Things (IoT) continued to be a hot topic with a shift from consumer focused applications to showcase enterprise and industrial use cases. With standards finalized by 3GPP for NB-IoT (Narrowband IoT), LTE-M (LTE for Machines) and EC-GSM-IoT (Extended Coverage GSM IoT), operators and vendors at MWC took the opportunity to showcase licensed low power wide area (LPWA) applications. According to industry estimates, there will be close to 3 billion LPWA connections in 2025. Low cost deployments in terms of module prices, subscription costs and low network upgrade costs will be key to support the large number of connections envisioned.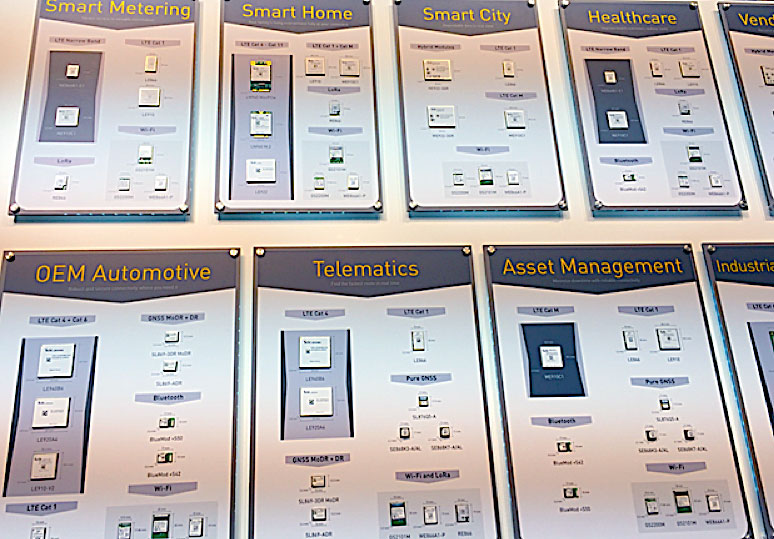 High resolution pressure sensor used to control drone
One exhibit showed how effective a high resolution pressure sensor is at measuring slight variations in altitude between a drone controller and a reference sensor. The height of the drone could be controlled within 5 cm by simply entering the desired height in a smartphone application. This demonstration showed how a high resolution pressure sensor integrated within smartphones today can be used to measure altitude changes and could assist in z-axis location support within devices. Barometic pressure changes due to the local weather will cause pressure measurement variations that are equivalent to hundreds of feet of altitude error if left uncorrected. A method for correcting for these weather related changes will be critical to support accurate altitude measurements using this technique.
MWC 2017 provided invaluable networking opportunities and resulted in important market research info. FirstNet should continue to participate in events like MWC. While public safety specific items were limited at this year's conference, I expect that the deployment of public safety LTE broadband networks across the globe in the next few years will greatly increase the presence of public safety related items at future conferences. Also, as 5G continues to develop in the areas of mission critical and low latency services, it will be crucial to identify key 5G technologies and use cases that can be leveraged for future capabilities on the FirstNet network.
In disasters and emergencies, first responders need communication tools that are tested and proven to work – consistently, securely, reliably and smoothly. At FirstNet, we keep public safety at the forefront of everything we do. As FirstNet CEO Mike Poth said, "We're going to be advocates in pushing innovation and technology for years to come on behalf of public safety so that they get the best advantages of public safety as it evolves."
The full list of exhibitors at the 2016 MWC is available at:
https://www.mobileworldcongress.com/exhibitors/