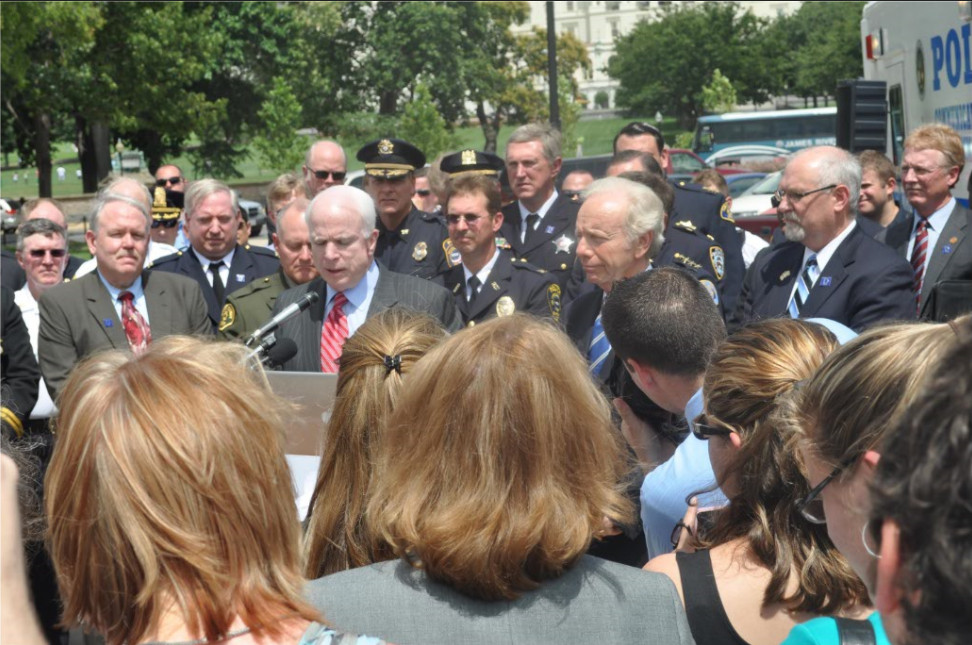 The passing of Senator John McCain is being felt around the world owing to his support of so many important projects and groups over the course of his career. His support of the public safety community, while not as well known as many of his other endeavors, was of vital importance to the creation of the new Nationwide Public Safety Broadband Network known as FirstNet, which is currently being deployed by AT&T.
Senator McCain and Senator Joe Lieberman introduced the initial bill in the Senate on July 21, 2010. Named "The First Responders Protection Act of 2010," this bill allocated radio spectrum adjacent to existing public safety spectrum that had been assigned to the Public Safety Spectrum Trust. Senator McCain recognized that previously allocated spectrum was not adequate to provide the broadband services needed by the public safety community.
Senators McCain and Lieberman attended a rally held by the public safety community outside the White House on a blistering hot and humid day. The Senators both spoke about the need for the bill and the problems it would solve. Senator McCain stated that this bill would mark the completion of the last recommendation made by the 9/11 Commission years before and that it should not have taken so long to bring legislation before Congress.
While this was not the final bill that was attached to the Middle Class Tax Relief and Job Creation Act of 2012 as Title VI – Public Safety Communications and Electromagnetic Spectrum Auction (signed into law as 112-96) portions were included in the wording of the bill that did pass Congress and was signed into law February, 22, 2012. Senator McCain remained a force in the Senate in providing public safety personnel with what was needed to better serve the public and to further ensure their own safety. He believed the public safety community needed his support and gave of it freely.
The FirstNet Association as well as the entire public safety community mourns the loss of this great man and sends condolences to his family, friends, and those whose lives he touched along the way.