Earlier this month, AT&T announced their development of a long-awaited solution to the dire need for telecommunications by first-responders in hard-to-reach areas: Emergency Drop Kits.
By Christopher Vondracek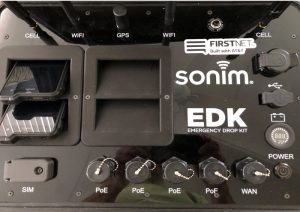 "This is a problem space we identified early on," said Ryan Fields-Spack, AT&T's Director of Public Safety Strategy and Policy. "We've taken all these tried-and-true technology elements and bundled it together in this interface."
 The Emergency Drop Kits are a 25-pound, mobile, Pelican protective case carrying four rugged phones (Sonim XP8 devices), a Cradlepoint router, and an Inmarsat satellite link to the FirstNet system. The equipment is designed to be carried by first-responders into the field of engagement, such as a forest fire or aftermath of a hurricane, and create a 300-foot connectivity "bubble" to enable communications.
Fields-Spack, who spent ten years as a paramedic captain in Colorado and three years in the office of emergency management in Aurora, where he was when law enforcement and medics responded to the mass shooting at a local movie theater, described a scenario close-to-home in his western state.
"Take, for example, a large wildfire," Fields-Spack said. "The fire department may send crews out to a location that could be extremely rural or mountainous. Coverage may not be adequate on a land-mobile radio or through LTE signal. So as battalions are sending out hotshot crews, it's possible their radios will not be working as they go into the thick of the firefight."
The Drop Kit includes a 12-hour battery built into the case, Fields-Spack said, allowing for users to connect to the Wi-Fi via myriad ways, including text-via-voice, voice-over-internet, and enhanced push-to-talk. "They'll have data, interoperability, and capacity to get information just like surfing the web," Fields-Spack added.
In a statement shared on AT&T's website, senior vice president of AT&T-FirstNet Chris Sambar said, "To create the Emergency Drop Kits, we're pulling in expertise from public safety and across the industry. The kits will make it even easier for first responders to stay connected to the full capabilities of the network—no matter where their mission takes them."
So far, Fields-Spack said the response has been encouraging. "We're getting a number of requests and interest from different agencies," Fields-Spack said. "Small, local fire departments and higher up into the government space."
He said the FirstNet team's design of the Emergency Drop Kit developed from understanding the needs of emergency response personnel. "It's a direct result from that team effort, asking, 'what does the customer need?'"
According to a release from AT&T, the kits are "currently moving from a proof of concept to a reality for future availability to purchase."
Christopher Vondracek is a freelance journalist living in Washington D.C., most recently with Courthouse News.