DALLAS, Oct. 8, 2018
FirstNet connectivity is coming to Axon's latest body camera, Axon Body 3. These just-announced devices will be the first LTE-enabled Axon body cameras – joining FirstNet's nationwide device ecosystem for public safety solutions.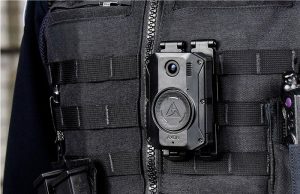 The embedded FirstNet connectivity will give law enforcement officers and other eligible subscribers off-the-shelf access to the nationwide public safety broadband network. FirstNet's dedicated, physically separate network core for enhanced security will deliver live video captured on Axon Body 3 cameras. Plus, with FirstNet service, the Axon Body 3's video streams, gunshot detection alerts and more can receive priority treatment.
"FirstNet connectivity is a crucial component of the Axon Body 3 – our next generation body-worn camera," said Rick Smith, CEO and founder of Axon. "It'll allow the device to stay connected in the field allowing officers to take advantage of the camera's near real-time situational awareness features such as gunshot detection, voice transcription and priority wireless evidence offload – ultimately helping to increase officer safety."
Public safety agencies can buy the Axon Body 3 with FirstNet connectivity directly from Axon – the first company to resell FirstNet services as a part of their overall product offering. This allows Axon to create the right solutions that best meet the needs of public safety, including law enforcement agencies.
"The more we can connect public safety to the FirstNet network platform, the more we can help protect the men and women that dedicate their lives to keeping us safe. That's why having public-safety-focused companies like Axon directly connecting the public safety community to FirstNet is such a critical next step," said Chris Sambar, senior vice president, AT&T-FirstNet. "Combining FirstNet's reliable connectivity with the Axon Body 3 will help law enforcement officers capture and relay critical events back as they happen without having to worry if they're in range of their vehicle's Wi-Fi system or waiting to dock the device."
FirstNet is the nationwide public safety communications platform dedicated to America's first responders and those who support them. Being built with AT&T, in public-private partnership with the First Responder Network Authority, FirstNet is bringing public safety a much-needed technology upgrade to help them connect to the critical information they need.
*About AT&T Communications
We help family, friends and neighbors connect in meaningful ways every day. From the first phone call 140+ years ago to mobile video streaming, we innovate to improve lives. We have the best network according to America's biggest test.** We're building FirstNet just for first responders and creating next-generation mobile 5G. With DIRECTV and DIRECTV NOW, we deliver entertainment people love to talk about. Our smart, highly secure solutions serve over 3 million global businesses – nearly all of the Fortune 1000. And worldwide, our spirit of service drives employees to give back to their communities.
AT&T Communications is part of AT&T Inc. (NYSE:T). Learn more at att.com/CommunicationsNews.
AT&T products and services are provided or offered by subsidiaries and affiliates of AT&T Inc. under the AT&T brand and not by AT&T Inc. Additional information about AT&T products and services is available at about.att.com. Follow our news on Twitter at @ATT, on Facebook at facebook.com/att and on YouTube at youtube.com/att.
© 2018 AT&T Intellectual Property. All rights reserved. AT&T, the Globe logo and other marks are trademarks and service marks of AT&T Intellectual Property and/or AT&T affiliated companies. All other marks contained herein are the property of their respective owners.
** Based on GWS OneScore Sept. 2018. Excludes crowd sourced studies.
FirstNet® and the FirstNet service logo are the intellectual property of the First Responder Network Authority.
About Axon
Axon (Nasdaq: AAXN) is a network of devices, apps, and people that helps law enforcement become smarter and safer. With a mission of protecting life, Axon's technologies give law enforcement and public safety personnel the confidence, focus and time they need to keep their communities safe.
Axon Body 3™ is a trademark of Axon Enterprise, Inc.