The newest public safety tool coming to Noblesville is not a fire truck or a police car: It's a stronger internet and cellular connection.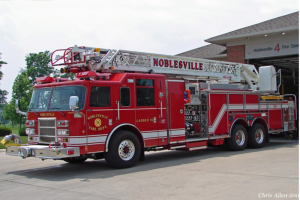 Noblesville is the first Indiana city to partner with an AT&T-built communications platform specifically for first responders.
Firefighters and police are currently relying on a cellular hot spot connection when they're working. Responding to rural areas and crowded events can hamper that connection.
First responders use an internet connection to share information and to see where they need to be and what they need to know as they respond to a scene.
The new network, called FirstNet, gives first responders a constant, reliable connection according to AT&T.
Gov. Eric Holcomb opted Indiana into the network last fall.
Noblesville Fire Chief Greg Wyant said he expected to start using FirstNet this spring, as the Indiana network is still being built.
Wyant said the technology can "absolutely" save someone's life.