Putting this technology in the hands of our public safety personnel brings us closer to building a safer Alaska.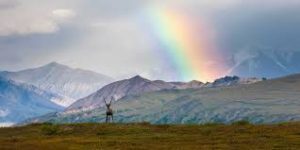 ESTON, Va., Aug. 30, 2017 – Alaska is modernizing communications technology for its first responders. Today, Governor Bill Walker announced his decision to accept the FirstNet and AT&T plan to deliver a wireless broadband network to the state's public safety community. FirstNet will bring advanced technologies to the state that will help Alaska's first responders save lives and protect communities.
"Opting in to FirstNet is an important step to ensure that Alaska's first responders can communicate when seconds can mean the difference between life and death," said Governor Bill Walker. "Putting this technology in the hands of our public safety personnel brings us closer to building a safer Alaska."
AT&T, in a public-private partnership with FirstNet, will build, operate and maintain a highly secure wireless broadband communications network for Alaska's public safety community at no cost to the state. The FirstNet network will drive innovation and create an entire system of modernized devices, apps and tools for first responders.
FirstNet will transform the way Alaska's fire, police, EMS and other public safety personnel communicate and share information. Specifically, it will:
Connect first responder subscribers to the critical information they need in a highly secure manner when handling day-to-day operations, responding to emergencies and supporting large-scale events, like the Alaska State Fair in Palmer or the Iditarod Sled Dog Race that stretches from Anchorage to Nome.
Create an efficient communications experience for public safety personnel in agencies and jurisdictions across the state during natural disasters. This includes the 2014 Keystone Canyon avalanche, the Super Storm which impacted coastal Alaska, and the 2015 summer wildfires that raged across many parts of the state.
Enhance network coverage across Alaska's diverse landscape, benefitting first responders and residents throughout the state's rural and tribal areas.
Drive infrastructure investments and create jobs across the state.
Usher in a new wave of dependable innovations for first responders. This will create an ever-evolving set of life-saving tools for public safety, including public safety apps, specialized devices and Internet of Things technologies. It also carries the potential for future integration with NextGen 9-1-1 networks and Smart Cities' infrastructure.
FirstNet and AT&T designed Alaska's network solution with direct input from the state's public safety community. Since 2014, FirstNet has met with Alaska's officials and public safety more than 20 times to address their unique communications needs. This includes:
Bringing the state's first responders the coverage they need when and where emergencies happen.
Building upon Alaska's efforts to bolster public safety through advanced technology with broadband services and applications.
Providing first responders with access to dedicated network assets that can be deployed for additional coverage and support when needed.
"Governor Walker's decision to join FirstNet strengthens emergency communications across Alaska," said FirstNet CEO Mike Poth. "FirstNet will deliver a state-of-the-art network to address the challenges of communicating where first responders need it the most, like mountainous, coastal, rural and tribal areas–every day, and in every emergency."
The decision enables FirstNet and AT&T to begin creating an entirely new wireless ecosystem for public safety communications. Alaska's first responder subscribers will have immediate access to quality of service and priority to voice and data across the existing nationwide AT&T LTE network.
Preemption for primary users over the AT&T LTE network is expected by year-end. This means fire, police, EMS and other public safety workers will have dedicated access to the network when and where they need it – 24/7/365, like their mission.
"By opting in to FirstNet, Governor Walker is making the safety of his residents and first responders a top priority," said Chris Sambar, senior vice president AT&T – FirstNet. "We're honored to deliver access to the innovative life-saving technologies that public safety needs, providing Alaska the solution with the greatest possible value and the least amount of risk."
FOR IMMEDIATE RELEASE:
August 30, 2017
News Media Contact:
Chrissie Coon (571) 599-0493