The IWCE made a triumphant return with IWCE 2022! Some may say it was smaller than earlier IWCEs or perhaps the show floor did not have as many vendors, but smaller or fewer vendors is not what matters. What does matter is that overall, the show was a great success.
Sessions
Sessions I attended and the four I participated in were well presented and well received. Some sessions had more attendees than others, but that is partly because many sessions were held concurrently. If you missed one or more you wanted to attend, I am told that by the time you receive this Advocate they should be up and available on the IWCE website.
The first panel I served on was about Push-To-Talk (PTT) and how it will or will not continue to be used on both Land Mobile Radio (LMR) and broadband services. It is worth listening to, but my stance is the same as it has been for years. I believe PTT will be around on both LMR and broadband systems, primarily FirstNet (Built with AT&T), for a very long time. What is needed now more than ever is a nationwide approach to provide PTT to every first responder over FirstNet and LMR (and perhaps other broadband systems at some point). It still amazes me how those who are pro-PTT on broadband seem to forget that one of the most valuable forms of PTT for public safety is off-network, or talk-around, which provides one-to-one, and one-to-many direct-mode communications. I have my doubts about broadband PTT ever being able to offer the same services and meet all the requirements. The first iteration of direct PTT for public safety was mostly over broadband with a 3GPP standard known as ProSe. It is a flop and, as it stands now, ProSe will not even begin to deliver direct mode into sub-basements, parking garages, tunnels, and other places where network broadband and LMR cannot penetrate.
The next panel was devoted to 4.9 GHz and panel members were divided 50/50 on whether 4.9 GHz should be set up as a single nationwide license with a band manager or if it should be licensed to states with the caveat that it be reserved 100-percent for public safety. Even though the Federal Communications Commission (FCC) has already issued its Eighth Notice of Proposed Rulemaking and the comment and reply periods have passed, this panel turned out to be an interesting discussion. It should be held again after the current FCC votes on and publishes the rules for this 50 MHz of spectrum. Talking among ourselves is a great exercise, but without the final direction from the FCC, we cannot predict what the outcome will be and who will hold the license(s) for this band. Until we see what the FCC has in mind for 4.9 GHz, which is the only mid-band 5G-suitable spectrum public safety will have. We need to be sure that after the FCC's rulings, the public-safety community comes together as we did leading up to the Congressional decision to create FirstNet. Having a unified public-safety community, as we have learned, is the way to win the attention of those in D.C.
The next panel I served on was moderated by John Facella. Mr. Facella is the current President of the Radio Club of America and he has been in the wireless industry for many years.
The panel was about APCO P25 and if it is still important to public safety. John was really prepared and cited many different numbers for how many P25 systems are in existence within the U.S.
We were asked discuss trunked P25 support for 12.5-KHz channels (Phase 1) and 6.25-KHz channels (using TDMA technology to enable two 6.25-KHz channels to exist side by side in a 12.5-KHz channel. However, when talking about conventional P25 (non-trunked), it turns out that the FCC never mandated that these systems also adhere to then-important narrow-banding of most LMR channels.
The bottom line today is that the FCC has not issued a ruling requiring conventional P25 to take the next step to 6.25-KHz channels, and the P25 community has not adopted a standard for operators to meet new narrow-band standards.
Back to the question, "Should the FCC simply drop any future action that would require P25 conventional systems from having to move from their 12.5 to 6.25-KHz channels?" As of this writing, the FCC has not taken any action and the P25 committee has not come up with a standard on how to accomplish narrow-banding.
The panel came to the conclusion that the FCC should vacate any proposed P25 conventional channel requirements.
The final point. Our decision was made easy when the FCC required public safety to move from 25 KHz to 12.5 KHz, and then to 6.25-KHz channel spacing because there was a shortage of LMR spectrum in many areas. Today, with the availability of broadband (FirstNet) for public safety, the need for more LMR spectrum is no longer an issue in most areas. Attendees who asked questions or made comments, made it clear time after time that because of broadband, the demand for LMR spectrum is no longer an issue. Therefore, the issue of narrow-banding P25 conventional should be shelved.
The final panel I participated on was held the last day of the show, late in the afternoon, and was not well attended. However, if you have any 6-GHz spectrum, you will want to listen to the audio of this session. Led by Alan Tillis, a seasoned attorney in the area of wireless communications, there were three of us on the panel. One panelist was with a major supplier of microwave systems that is working on being able to "find" interfering devices.
To be clear, 6-GHz spectrum has been used by licensed microwave systems for many years. Since each system was licensed, it was easy to find an interfering device and solve the issue. However, the FCC has decided to allow unlicensed use underneath all this critical microwave, including that used by critical-communications systems, public safety, and utilities. Further, 6 GHz is widely used by many cellular broadband networks. Sometimes it is better to run microwave to sites rather than bury fiber cables.
Watch this space. Even though 6-GHz systems have been functioning well for many years, this spectrum is about to be invaded by millions—and I do mean millions—of Wi-Fi 6E-capable devices.
The FCC, along with those pushing for the addition of unlicensed devices underneath existing microwave claim an automated system that will use the FCC's database will assign "safe spectrum" that can be used by Wi-Fi 6E devices. However, there is no requirement to register in-building Wi-Fi 6E devices.
Imagine for a moment that you run a microwave system from point A to point B. This system carries all your voice and data between the two points and if you are a public-safety agency it may also carry 9-1-1 traffic. Your system has been up and running for years when one day you notice that the noise level has gone up between the two sites. This is either because of an increase in the noise floor or noise being generated at one location.
What do you do? If you call the FCC, you could wait months for assistance since there are hardly any field engineers today. So, you and your company, at company expense, begin looking for the offending device. Perhaps you contact your local amateur radio club because these amateurs (hams) are conversant with finding interference and many have the equipment to assist you in your quest.
On the off-chance you actually find the interfering device, what are your options? Again, you can request an FCC field engineer and maybe one will show up six months later. If you know the house or business where the interference originates, you can drive to the building, ring the door bell, introduce yourself, and ask that the offending device be turned off. Or you can get really angry and demand that they turn off the device. Well, guess what? You have no authority to make them comply with your request/demand. They can simply ignore you.
The only good news is that there are companies working on ways to find devices that are causing interference but even that does not give you the right to force the owner to fix the device or turn it off. Microwave folks are advising the following:
First, you need to monitor your system, take measurements, and keep records of its performance. If there comes a day when the interference levels start causing a problem, you will at least have the data to back up your claims.
The second recommendation is costly. Find a way to add redundancy or, as some have done, flee the 6-GHz band and move higher up, but what is to stop the FCC from doing the same thing on a higher band?
It used to be that the most recent licensed holder had to clean up any and all interference. Today, you probably cannot find the unlicensed interferers, and even if you can, you cannot legally shut them down. As the saying goes, "you are caught between a rock and a hard place," all courtesy of the FCC and unlicensed device vendors.
Unified PTT: Who Will End Up Winner(s)?
In the March 10, 2022 Advocate, I suggested we stop using the terms "PTT interoperability" and "FirstNet/Broadband PTT interoperability" and replace them with "Unified PTT." This would provide a clearer vision of where I think we need to go. If we did not become hung-up on the term "interoperability" we would all be better off.
Based on reactions to what I said at IWCE and conversations with multiple vendors, I am more encouraged than ever that we can reach PTT interoperability (Unified PTT) soon. The question is which two or more companies will sit down, agree on how to implement a solution, and deploy it this year?
At IWCE, we saw several new entrants to the 3GPP standard for PTT known as Mission-Critical PTT (MCPTT), which was intended to become the PTT standard for broadband PTT services. L3Harris has MCPTT available in its portable and mobile devices that support FirstNet (XL mobile and portables). Motorola finally got around to announcing its own flavor of MCPT along with a very expensive cloud-based system that is supposed to provide what I have described in my "Unified PTT" article.
Several vendors are building or buying PTT that, for the most part, meets the ProSe 3GPTT standard. While ProSe meets the standard, it does not provide off-network PTT (simplex, talk-around). In fact, off-network capabilities are not available with almost any 3GPTT standard even though many believe off-network communications is a must for public safety. This is a major difference between 3GPTT services and land mobile radio systems with mature off-network communications capabilities.
A number of panels included references to PTT. One asked how many attendees believed MCPTT would become the de facto standard for PTT. If so, PTT interoperability with existing LMR systems doesn't matter since LMR systems will only be around for a few more years. I strongly disagree with this statement! Others who believe LMR systems will be used for years to come seem to be more receptive to dual LMR/FirstNet devices.
I do not believe for a minute that LMR systems will be going away RSN (Real Soon Now).
Good News on the Horizon?
I spent a lot of time at IWCE talking with vendors about their MCPTT standard PTT service (there are more now than only a few weeks ago). Other vendors with non-MCPTT applications are happy with how they are connected and that both LMR and FirstNet can deliver all the advantages of a nationwide Unified PTT to some and the rest before the end of this year.
How can this be? Several vendors that shall remain nameless have announced an MCPTT application and are facing an uphill battle to gain market share. Of the seven FirstNet-Certified PTT vendors in the marketplace, four have captured the majority of the FirstNet PTT activity and three of the four are using the same application and can use PTT to and from any of these systems.
Both parts of the puzzle are in place and the 3GPP PTT application is available from multiple vendors. One of these wants to control all broadband PTT and LMR services using its cloud PTT system. There is no way to know if they would be willing to become the de facto PTT supplier and to enable a digital P25 system to seamlessly interface with their preferred flavor of PTT over FirstNet. They would need to retake other vendors' customers and their customers to pay the bill for the services rendered.
My IWCE PTT Take-Away
After discussions with a number of MCPTT almost-compliant applications vendors, and vendors that are already in the market with successful PTT applications, I believe at least two companies will agree to work together on the integration of MCPTT and an over-the-top PTT system already in service. An MCPTT vendor that starts with zero users will have to contend with all seven or more other PTT vendors on FirstNet. If it works with an existing PTT company with a proven product and thousands of FirstNet users and its customers, it will quickly become the de facto standard for FirstNet PTT users and users that want broadband and LMR systems tied together for a truly seamless PTT experience anywhere within the United States.
Unified PTT
To reiterate: Unified PTT provides for a nationwide PTT system. This system would enable every public-safety user on FirstNet and every LMR user whose LMR system is connected to the PTT service, to be able to communicate over FirstNet/LMR using either an LMR device, a smartphone, or other broadband-capable device.
The recipe for Unified PTT is so simple you don't even have to look it up in a cookbook!
One Part MCPTT and One Part Over-The-Top (OTT) PTT application (the one with the most FirstNet users would make the most sense).
Then mix the MCPTT devices with the Software Developers Kit (SDK) already available for the OTT PTT vendors: Android, iOS, Linux, and Windows. Blend all the ingredients.
Yields a single, common Unified PTT Nationwide FirstNet system that is integrated and available today.
Implement the Unified PTT and watch it until the end of the year while it rises to become a Unified PTT Nationwide FirstNet system.
Everything we need is available today and, by the way, the OTT PTT vendor's PTT product is mostly in a cloud but could easily be run or integrated directly into the FirstNet core. Either way, it can be set up to work with MCPTT. When any device is picked up by a first responder—an LMR radio, smartphone, tablet, or other LMR or broadband unit—that device can talk to any other device, anywhere within the United States. Problem solved!
The only question I have left is which two companies will sit down at the table together and make this happen? The first two that can create the standard will become the nationwide Unified PTT platform.
MCPTT will gain access to the largest pool of existing PTT users on FirstNet, while OTT vendors will gain some FirstNet users. The final plus for FirstNet (Built with AT&T) is that it will sign up more public-safety users. These new users will come from other broadband networks that cannot offer anything close to nationwide Unified PTT services.
More from IWCE Next Week!
Winding Down
You may remember that on February 20, 2022, a number of people gathered in D.C. to celebrate the ten-year anniversary of the signing of the law that created FirstNet.
You might also remember I was not in attendance. I was undergoing some minor surgery and was not able to attend nor was I able to personally present the Public Safety Broadband Technology Association (PSBTA) Andrew Seybold awards for Technology Innovation.
At IWCE, I was asked if I would agree to have my picture taken with Tim O'Connell, President, CEO and CTO of Rescue 42, one of three award winners. Its innovative technology is a very portable and easy to transport cell site that one person can install and put into operation in minutes. Called a "Compact Rapid Deployable" (CRD), this is a FirstNet cell site that runs lower power and is smaller than most Cells On Wheels (COWs) or Cells On Light Trucks (COLTs). Even though the CRD is relatively small, it has its own generator, antennas on a mast, FirstNet broadband, and Wi-Fi. Its most unique feature is its price tag. CRDs can be purchased by any public-safety agency that wants one or more CRDs to take with them where there is not sufficient FirstNet coverage or where there may be a high level of traffic on the network. The pictures below include two taken at IWCE and the other is a picture of the award.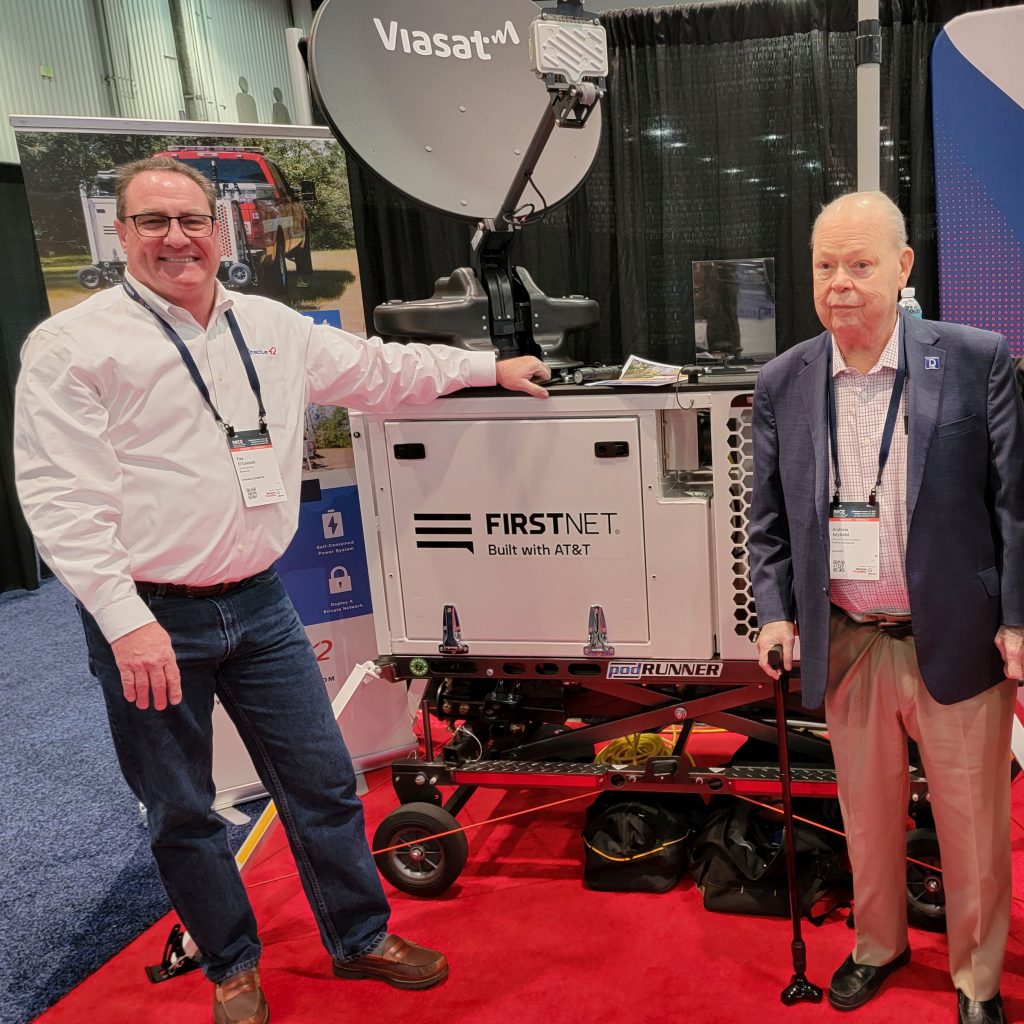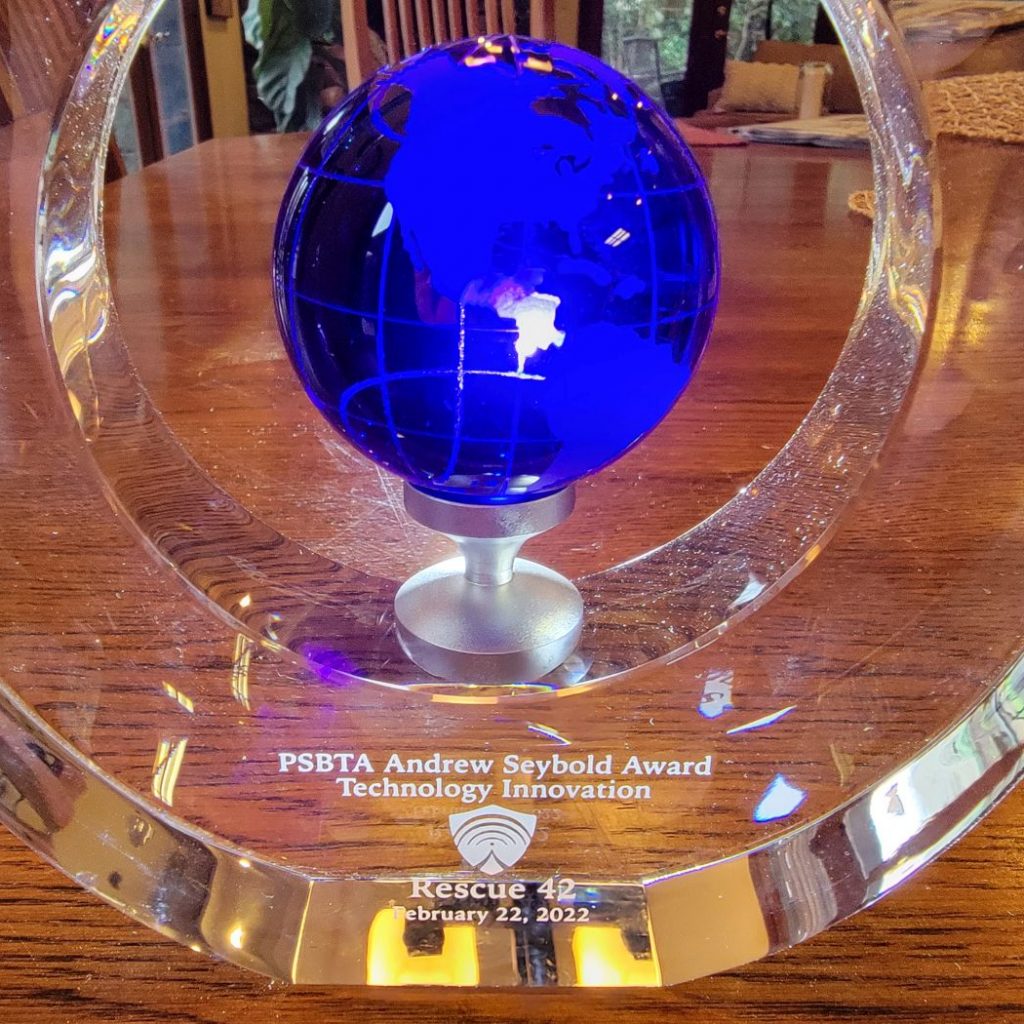 The PSBTA and I will be presenting more of these awards going forward. The points for consideration are straightforward:
The technology must be something that provides additional FirstNet/LMR coverage or capabilities for personnel at an incident.
The item must be in production.
If needed, the product must have been certified by FirstNet (Built with AT&T) for use on the FirstNet network or, in the case of an LMR device, it must have received an FCC type acceptance number.
I am willing to look at or discuss a new device under NDA but it will not be eligible for an award until all points have been satisfied.
There were some new and innovative products shown at IWCE, and a few are ready for commercial product launch. I was also shown several products yet to be introduced into the market that I believe will be best sellers once they are released.
It is refreshing to see new devices that fill a void or become trusted tools used by the first-responder community. Too many new products I have been shown in the past have been built simply because a smart engineer figured out how to put it into a box and gave it to marketing to sell.
Public-safety buyers and users have become wary over the years because vendors have over-promised and underdelivered. When the product finally does arrive, it is not always what was advertised or shown to them by a salesperson.
If you have a product idea, protect it right away. Then talk to first responders in the field and describe both the positive and negative characteristics of the product.
When my consulting business moved to the San Jose area, a large, popular computer networking company was next door. At the end of every month, multiple Fed-Ex and other tractor trailers would appear to be loaded with products and sent on their way. Ten days or two weeks later, another batch of trucks would show up with products that had been rejected because they did not work or had some other flaw indicative of the rush to close out a good month or a good quarter. The company had skipped steps to ship products that would not normally have left the facility until they had been properly tested.
In most cases, making money is what business is all about. However, not having sufficient checks and balances, or not having a product that solves a problem, could mean the demise of a company that had bet the farm on its success.
Until next week…
Andrew M. Seybold
CEO and Principal Consultant
©2022, Andrew Seybold, Inc.