This week I will discuss the High-Power User Equipment (HPUE) now approved by FirstNet (Built with AT&T). Suppliers have announced their FirstNet approvals and devices should start showing up on FirstNet very soon. And, while the House passed the repeal-the-T-Band bill with an overwhelming bi-partisan vote, a single Texas Senator blocked it from being passed in the Senate.
High-Power User Equipment (HPUE)
When the law to create FirstNet was passed, 20 MHz of 700-MHz spectrum including 10 MHz previously known as the D-Block public-safety spectrum had been licensed to the Public Safety Spectrum Trust (PSST). Two adjacent segments of spectrum were combined to provide 20 MHz dedicated to what is now the National Public Safety Broadband Network (NPSBN) and/or Band 14. This 20 MHz of spectrum is divided into two segments with 10 MHz used for cell site-to-device transmissions and 10 MHz for devices to talk to the cell sites.
As noted before, cell sites transmit at power levels ranging from 20 watts to 69 watts. However, typical broadband devices (smartphones) are restricted to only 0.25 watts. Over the years, antenna and other technologies have advanced and today's cellular systems appear to work well considering this power disparity. With Land Mobile Radio (LMR), you can hear the audio being received from base stations and judge the usability of the system. With cellular systems, unless you are engaged in a Push-To-Talk (PTT) or voice session, the only way to determine the strength of a signal, if present, is to look at the "signal bars," which are not a very reliable measure of coverage.
Even with all the improvements in antennas both at cell sites and in field devices, the issue for many is that as users move farther from the centers of cell sites, outbound (down to field devices) transmissions provide varying data rates. This is because, for the most part, these systems have been optimized for mid-cell services. When users reach the edge of a cell's coverage, the device may, in fact, be able to receive text messaging and data at greatly reduced speeds, but the device may not be able to contact the cell site. As a result, the network "loses" the device assuming it is no longer on the network. For years, dropped calls plagued cell-phone users because there were fewer sites than there are today and previous technologies provided less capacity per cell as well as slower data rates.
Enter High-Power User Equipment
When FirstNet was created, the 3GPP standards body and the Federal Communications Commission (FCC) concurred that public-safety user devices would need high-power transmit capabilities and 1.25 watts was authorized for Band 14 only. This higher power level might be permitted in other countries, but in the United States, it is currently approved only for Band 14 on FirstNet. I have been following one and then two companies that have been developing high-power devices for public safety. This week, both companies confirmed what I have been waiting for. FirstNet (Built with AT&T) has approved both vendors' devices for use on the FirstNet network and FirstNet has upgraded its cell sites to recognize these high-power devices.
To be clear, the cellular network sends signals to the device to adjust the typical 0.25-watt transmit power for user devices based of how much power is needed to reach a cell site. Band 14 high-power devices will work the same. This is very different from land mobile radio systems where transmit power is normally set to high and the network is not able to decrease the power.
HPUE has been in development for a number of years. I first learned about the company that pioneered in HPUE when I met with the founders of Assured Wireless during a Public Safety Communications Research (PSCR) event in San Diego. I have kept up with their progress and I am pleased they are now approved to go live! Assured Wireless introduced me to Airgain, the second HPUE company, since Airgain uses Assured Wireless devices in its products. Now both companies' devices are certified after rigorous testing by FirstNet (Built with AT&T).
Starting with the Basics
Since both companies use the same Assured Wireless module for their products, they have the same basic capabilities. The basic module is not simply a Band 14 radio with an amplifier, it supports all of AT&T's current LTE bands as well as Band 14. While other FirstNet bands transmit within the 0.25-watt power limits, the Band 14 portion of the module can operate at any power level up to and including the full 1.25-watt power level authorized for Band 14 only. Airgain is claiming an advantage by virtue of its module being built directly into the antenna.
It is important to understand that the approved HPUE devices announced today are designed to be installed in vehicles. HPUE handheld devices may or may not be possible based on the size of a device needed to provide the transmit power and battery power needed to operate at maximum power. While these devices are designed for vehicle use, they can also be used in portable packages such as rapid-deployment kits, perhaps back-pack radios, mobile and airborne Unmanned Aerial Vehicles (UAVs, drones), and even perhaps FirstNet's blimp. Further, since today's HPUE is designed for vehicles and will be used in conjunction with mobile routers that can set up a WiFi bubble around the vehicle, the range of handhelds within the WiFi bubble back to the FirstNet network can be extended when using an HPUE device in the vehicle.
Assured Wireless Products
Over the past few years, Assured Wireless has gone through several iterations of the products that will be available for use on the FirstNet network. Today the modules include not only high-power capabilities on public-safety Band 14, they also include all portions of AT&T LTE spectrum that has been made available since day one of The FirstNet Authority contract award to AT&T to build, maintain, and upgrade the FirstNet network.
Assured Wireless modules come in a few configurations but the most popular will probably be the one that includes all spectrum available to FirstNet including Band 14. The AW12 module can be attached to a mobile router or directly to a notebook or tablet via a USB connection. At present, the module requires an external power source but installation is straightforward. Interconnection to devices is via IP over USB and there are onboard Global Positioning System (GPS) and location services as well. The device is fully compliant with 3GPP LTE release 12+ and supports 3GPP power class 1 (1.25 watts). The device can be used with Windows devices (driver is available on the Assured Wireless site) and many Linux blends natively support the AW12.
A new FirstNet (black) SIM card is required to activate the Assured Wireless AW12 module and it runs on a wide range of DC power voltages (9 VDC to 36 VDC). The connection to other devices is made with a standard RJ-45 Ethernet connector and this same RJ-45 connection will also support Power over Ethernet (POE class 2). The AW12 has four antenna ports. The first is for a primary LTE antenna for FirstNet spectrum within the FirstNet (Built with ATT) network with a separate "B14" antenna connection for the Band 14 high-power antenna port. The last two are LTE diversity antenna (DIV) ports for all the LTE banks and the final one is for connection to a Global Navigation Satellite System (GNSS) antenna.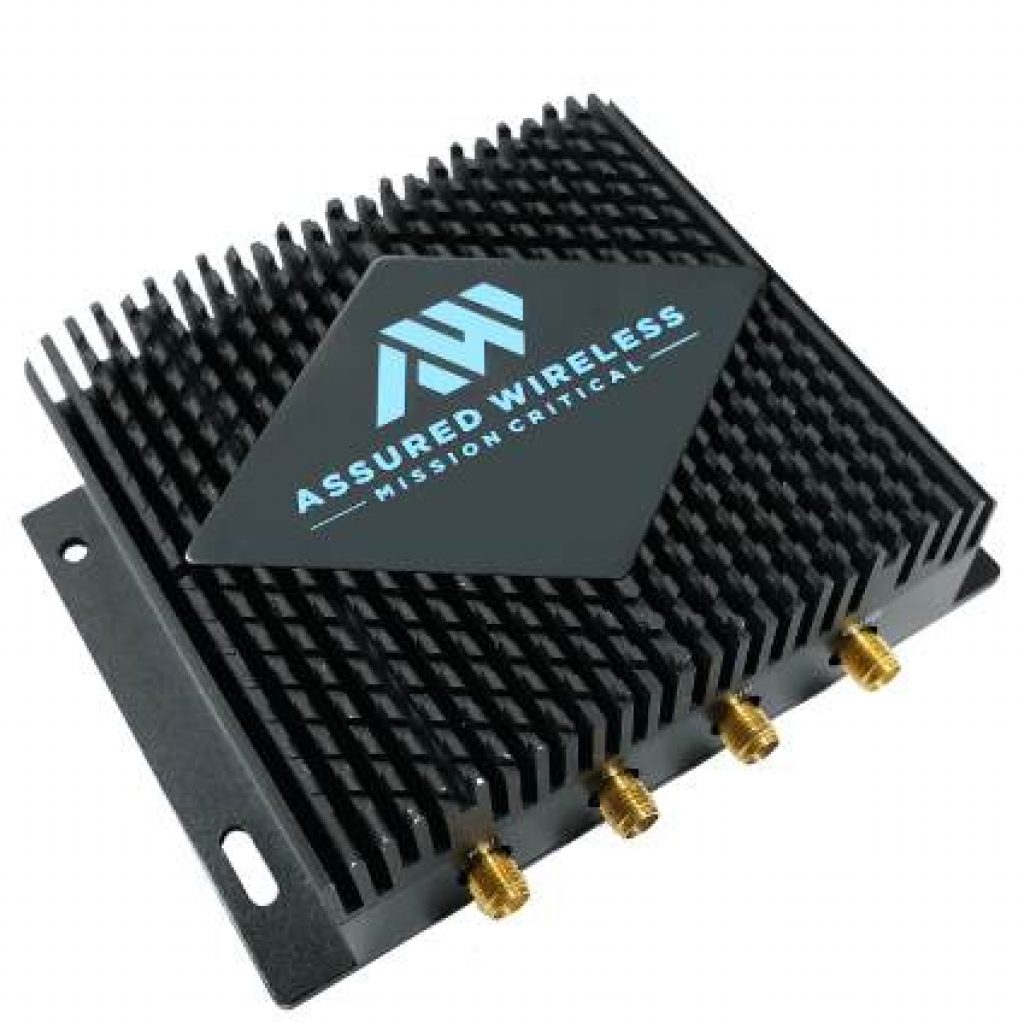 Many antenna vendors offer "shark fin" low-profile antennas with all these frequencies and others built in. For example, antennas I currently use with my Sierra Wireless Router include two LTE antennas, GPS, Bluetooth, and WiFi. Airgain recently sent me a Centurion Next antenna that has been expanded to include all FirstNet LTE spectrum and broadband networks down into the 600-MHz band, thus a single shark fin can be connected to routers and other devices with a multiplicity of spectrum requirements. Assured Wireless AW12 modules are or will soon be available as a standalone product that can be integrated into a mobile router or even used directly with a laptop or tablet as long as the AW12 is connected to a power source that will handle the draw.
Other companies will incorporate the innards of the AW12 in other products. While the first of these is discussed below, I think we will see HPUE products based on the Assured Wireless AW12 in a variety of devices in the next six months or so. As mentioned in the May 14, 2020 Advocate, I do not expect to see high-power handheld devices enter the FirstNet market anytime soon, first because when operating at its highest power level (1.25 watts), the AW12 would deplete a standard smartphone battery in record time. The second reason is that it probably would not be prudent to hold an HPUE device up to your mouth and ear when you consider the power levels the AW12 is capable of achieving.
While these products will not be available until early 2021, the next products I expect to enter the HPUE market are rapid-deployment kits in briefcases that include HPUE with a hefty battery. I would not be surprised to see a tethered UAV outfitted with HPUE. The DC power could be located on the ground to enable the drone to remain in operation for extended periods of time. HPUE would also be a great addition to any Cells-On-Wheels and Cells-On-Light Trucks (COWs and COLTs) FirstNet deploys for large, planned events and during wildland fires, hurricanes, and other natural and man-made disasters.
An immediate use for vehicle-mounted HPUE devices is to marry them with routers that provide both LTE services and an encrypted WiFi bubble around the vehicle. Using my own router, I have been able to move several hundred feet from my vehicle and still access FirstNet via WiFi to the vehicle and on to the FirstNet network. In this case, the advantage of using high power on Band 14 is that the vehicle can be located farther from the nearest cell site and still communicate with the FirstNet network. Assured Wireless claims cell coverage can be increased by up to 80-percent when a high-power device is deployed.
Airgain
Airgain has been making antenna systems for a long time and when it decided the HPUE market would be a strong market, it teamed up with Assured Wireless. Its first product is a shark-fin antenna with baked-in Assured Wireless technology to support two WiFi antennas with feed lines, the GPS/GNSS antenna and feed line, and components for Band 14 high power enclosed in the fin. Called AirgainConnect, this antenna has been approved for use on FirstNet Band 14 in high-power mode and it will be available for the public-safety community and fleet operators.
One big difference between the AirgainConnect antenna and others is that the LTE antennas are fed to the vehicle router over a Wide-Area Network (WAN) data cable that plugs into the router's WAN port. Replacing a coax run from the router to the antenna with a simple Ethernet cable eliminates any receive and transmit losses normally associated with coax cables. It also provides the best possible signal to and from the high-power component of the antenna as well as additional overall system gain.

As you can see from Airgain's diagrams, it is claiming a system gain of 2 dBm on standard power class 3 spectrum (0.25 watts) over a typical coax cable by locating the electronics in the antenna. Airgain claims a zero dBm system loss when using the high-power portion on Band 14 between the router and the AirgainConnect AC-HPUE. This delivers the best possible performance on all class 3 power levels (23 dBm) and there is no loss in either receive or transmit power from the antenna to the router in HPUE mode on Band 14. The Airgain website contains the following claim: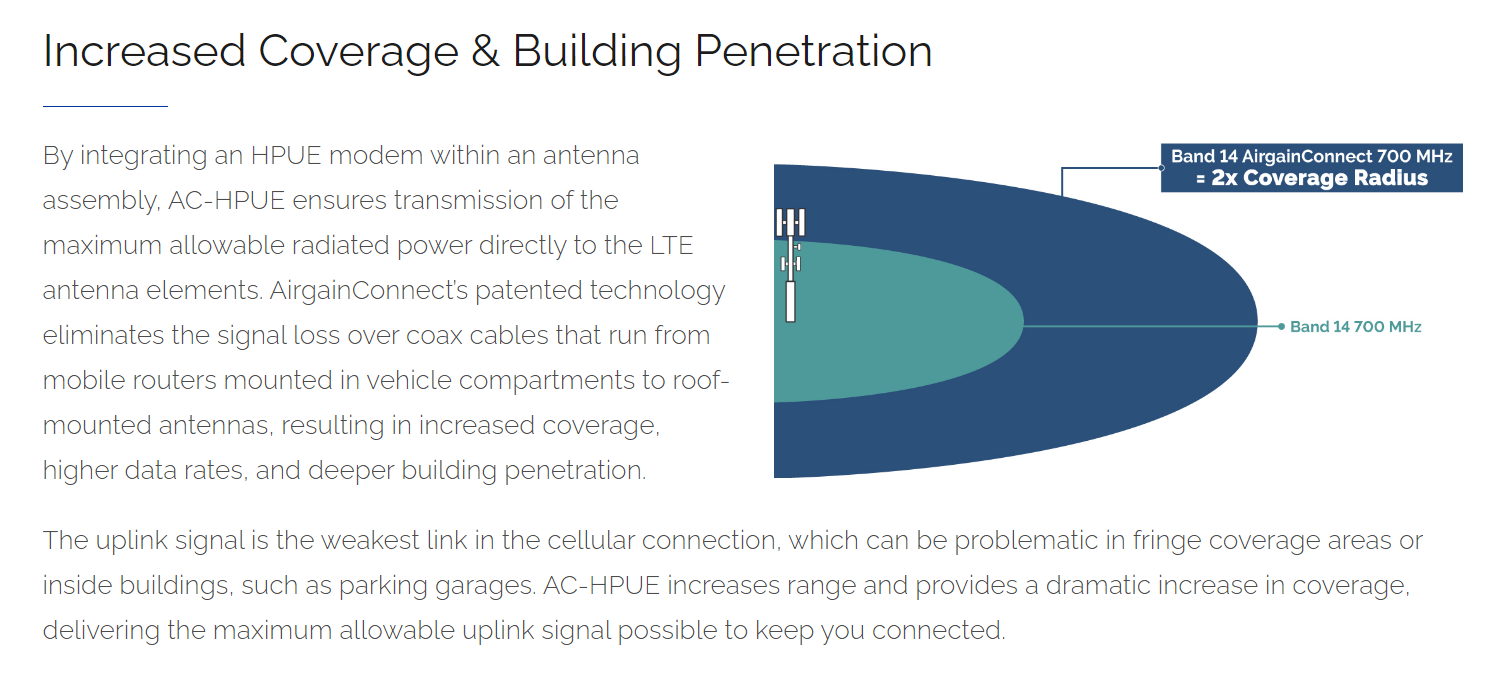 Once the Assured Wireless AW12 and the AirgainConnect antennas are available, I will be reviewing data from my drive tests using the standard Sierra MG90, redriving areas to determine how much of a difference the AW12 Assured Wireless device makes, and then driving them again with the AirgainConnect antenna. I am also trying to find a way to validate inbuilding coverage gains and total additional cell-site coverage. I am sure many others will be conducting similar tests, perhaps with more sophistication than I can bring to the task, therefore, I will continue to check in with other testing organizations to determine average gains for both of these HPUE devices.
I am convinced that HPUE devices will change and improve the overall FirstNet experience in many ways and I will be watching for other innovations for follow-on projects and devices. In the meantime, it is great to know the start-up I met with at a PSCR meeting so many years ago that shared its idea with me is now a fully-approved supplier of FirstNet HPUE devices. I also want to congratulate Airgain for its approach to HPUE.
[Editor's Note: Assured Wireless recently lost its CEO Thomas Bilotta, who along with three other colleagues founded Assured Wireless in 2016 and led the development of its HPUE devices. Thomas passed away in September at the age of 63.]
T-Band: How a Single Senator Torpedoed the T-Band Repeal Legislation
https://www.gao.gov/products/GAO-19-508Those who have been working long and hard to convince Congress to approve the bill to repeal the T-Band giveback were ready to celebrate when the House of Representatives, by a huge bi-partisan vote, approved the bill that has been floating around both Houses of Congress for the last few years. Many public-safety professionals, public-safety organizations, the Government Accounting Office (GAO), and even the Chairman of the FCC have all been pushing Congress to pass this bill before the clock runs out and the FCC is required to start the process to auction the spectrum.
I was optimistic last week until a single Senator from Texas managed to kill any chance for the bill to be passed last week in the Senate. A motion was made on behalf of Ted Cruz (who was not even on the Senate floor) by Senator Barrasso (R-WY) who objected to the unanimous consent saying Senator Cruz wanted an amendment to the bill. After reviewing a number of comments, it appears Senator Cruz's amendment was to read:
"The Ensuring Public Safety's Access to Airwaves Act of 2020 would also require the National Telecommunications and Information Administration to identify by Dec. 31, 2020, at least 42 megahertz of federal spectrum below the 10.5 gigahertz band to be reallocated for commercial mobile and fixed broadband access."
I cannot fathom why Senator Cruz thinks this necessary when the majority of the FCC Commissioners have done nothing but convert spectrum for commercial mobile and fixed broadband access since they were appointed. It is even more frustrating when you realize Houston, in Cruz's own state, will lose access to the T-Band being used by public safety unless this bill is passed quickly. With the election upon us and the number of Senators testing positive for Covid-19, it looks like the Senate will not take any further action even on its own T-Band repeal bill until at least after the election. This will once again leave eleven metro areas in limbo concerning the use of T-Band spectrum for their land mobile radio systems.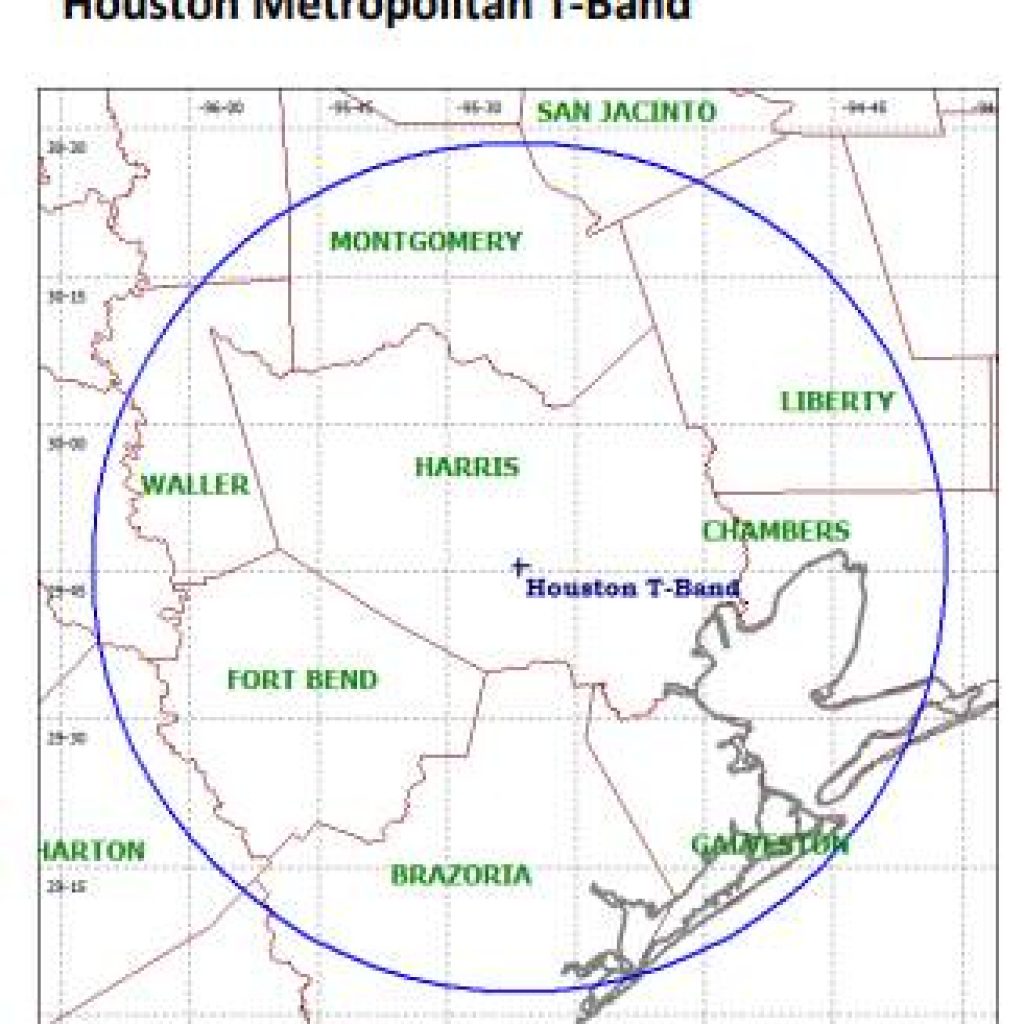 Winding Down
Congratulations to ESChat!
Press Release: "ESChat today announced it has partnered with EGC international, Inc. to launch Push-to-Talk (PTT) service in Colombia. Service will be managed by EGC international, Inc. subsidiaries EICOM, SAS, and EGC Colombia SAS. The EGC solution will be launched in November 2020 under the service name "TalkPlus, powered by ESChat". The TalkPlus service will include the ESChat feature set, including: encrypted PTT voice, encrypted multi-media Group Messaging and live location tracking and mapping. The companies have completed a commercial agreement and are now preparing for the commercial launch.
The TalkPlus service powered by ESChat, provides a fast and organized communication experience, with integrated multimedia group messaging and location based features to make professional communication secure and reliable for our customers," said Arnaldo González, Chairman of the Board of EGC INTERNATIONAL Inc, and EICOM, SAS "Through our collaboration with ESChat, we're helping businesses empower their mobile workforces while driving agility, cost savings, and a smooth transition for existing iDEN customer and new B2B PoC users."
Federal 5G Network?
Over the past few weeks, the Department of Defense and the White House have announced that an additional 100 MHz of contiguous mid-band spectrum (3450-3550 MHz) would become available for 5G systems by the end of the summer. Once again, the rumor mill has promulgated the idea that the U.S. Government wants full control over a nationwide 5G network it can lease out to others. This idea has been floated before but it has not been well received outside the beltway. The existing system of private enterprise buying spectrum at auction and building out commercial networks has worked well and should continue to be how we allocate and use our spectrum.
I wonder who within the federal government believes an entity that still uses antiquated PCs running antiquated versions of the Windows operating system truly believes 5G spectrum can be federalized to be owned and operated by government. While there are already too many federal agencies playing with ideas to close our digital divide, there is no centralized effort to pool funding that is available from a variety of agencies and it has taken much too long to extend broadband to rural America, even now when many businesses have turned to work-at-home programs and schools have turned to remote learning. I will continue to monitor this rumor in hopes that it is only a rumor after all.
There is one example of a major spectrum undertaking by the U.S. Government in the form of FirstNet. However, this network is being built for the benefit of the public-safety community and it is a three-way partnership. The FirstNet Authority is an independent agency reporting to the National Telecommunications and Information Administration (NTIA), which is part the Department of Commerce. It has its own board of directors with some from within the federal government and others from the public-safety community. Band 14 public-safety spectrum is licensed to The FirstNet Authority and after it awarded a 25-year contract to build, maintain, and upgrade FirstNet to AT&T, The FirstNet Authority granted the right to use this spectrum to FirstNet (Built with AT&T). Unexpectedly, AT&T added its own spectrum to the mix to further enhance the network and its coverage.
While The FirstNet Authority is part of the federal government on paper, both The FirstNet Authority and FirstNet (Built with AT&T) are working on behalf of the public-safety community and both organizations have made it a priority to listen to their user community. This is a great example of a public/private partnership and this three-way partnership is for the benefit of first-responder community customers, not the federal government.
What strikes me most about this federal 5G network is that in the early days of cellular, many countries including Japan, France, and the UK appointed a government agency to build and operate a nationwide cellular network. Later, these governments came to the realization that they did not belong in the building-and-running network business and privatized the networks, allowing companies to acquire spectrum and build their own networks as well. Anyone in government who believes building a federal network is a great idea needs to research countries that began with government networks and ended up converting them to privatized endeavors.
Until next week…
Andrew M. Seybold
©2020, Andrew Seybold, Inc.