After a two-week interruption in my scheduled Advocates, this one will hopefully serve to get back on schedule and to convey what we have been doing and why. First up is that Michael Britt and I drove to a number of areas in southern Arizona, then into California, and finally to Las Vegas and back to Phoenix. We were drive testing using the Sierra Wireless MG90 installed in my car to measure FirstNet and Verizon coverage along this route. The results and some of the maps that were generated are discussed below. Next came the IWCE Conference, once again well done. This year we decided to begin offering our "best of show" selections, also listed below.
One day after returning home, Linda and I left for Hawaii, where she stayed in Honolulu for the week I flew down to the Palmyra Atoll, about 1,000 miles and worlds away from Hawaii. This Atoll was used during WWII as a gun emplacement but is now jointly owned by the federal government and a non-profit preservation organization. The Atoll is being returned to its original state, which means eradicating thousands of coconut palm trees and other non-indigenous foliage. Our task is to review and recommend replacement of their older communications systems with a new Atoll-wide Land Mobile Radio (LMR) system, new marine and aviation radio equipment, some newer radar, and other items.
While the Palmyra Atoll is an unincorporated U.S. Territory, FirstNet will not build there. The average population on the island is about eight people, swelling to twenty-four, and falling to as low as four, depending on the time of year. I took my Sonim XP8 since I was told the Atoll is not gentle with electronics because of the rain (144 inches a year) and very high humidity. While there is no cell coverage on the Atoll, there is some WiFi and an older satellite service. Using ESChat PTT (Push-To-Talk), I was able to communicate with several people on the mainland. The XP8 came through the test of the weather and humidity perfectly. Planning a new communications system will be a real challenge but rewarding.
Here are a few pictures of the foliage issues and one from the airplane as we left the atoll:
The vegetation is very dense. Pic 2 is the population sign, which they changed from eight to eleven when we arrived, and back to four when we left with a few others who had finished their three-month assignments. The last picture is from the air as we took off and you can see the other islands that are part of the Palmyra Atoll.
Drive Testing
We set out to test both FirstNet and Verizon coverage in southern Arizona and along the border with Mexico into California on our way to El Cajon to take part in the International Chiefs of Police Tribal Police Chiefs meeting. From there we drove to Las Vegas and then later in the week, from Las Vegas to Phoenix. With the exception of the Yuma area of Arizona, we were on major highways where we expected coverage of both networks to be good. One mistake by the driver (me at that point) put us into Mexico. We were told to be checked out by the Federales and then return to the United States. We did so, everyone was congenial and only concerned because we were testing public safety communications and we might be carrying weapons (we were not). We made it back into the United States and went on with our testing.
Here are some maps of our trip as captured by the Sierra Wireless MG90 Cloud. The first map represents Monday, March 4, 2019, while we drove from Phoenix, south to the Yuma, Arizona area, and then turned west and drove the route shown to El Cajon, California. The next day we drove from El Cajon to Las Vegas, Nevada. After IWCE, we left Las Vegas and drove back to Phoenix. The Sierra Wireless representative following our progress provided this map and the statement that goes with it:
"The MG90 provided you with 867.96 miles of coverage out of 879 miles driven. 1.79 miles had no coverage at all. Out of that FirstNet provided 824.4 miles of coverage with Verizon providing backup at 43.56 miles. If the MG90 was NOT used, and FirstNet was the only carrier they would have experienced a lack of coverage for 43.56 miles."
The Verizon-only coverage was mainly in San Bernardino County, California. We were expecting that result as we have been running coverage tests in that county for many months. We know that as of today, neither FirstNet nor Verizon covers the huge area that makes up the county very well.
The next two maps show coverage for Verizon, which provided 849.9 miles of coverage leaving 20.07 miles uncovered. The FirstNet-only map shows 897.4 miles of coverage with 2.46 miles without coverage.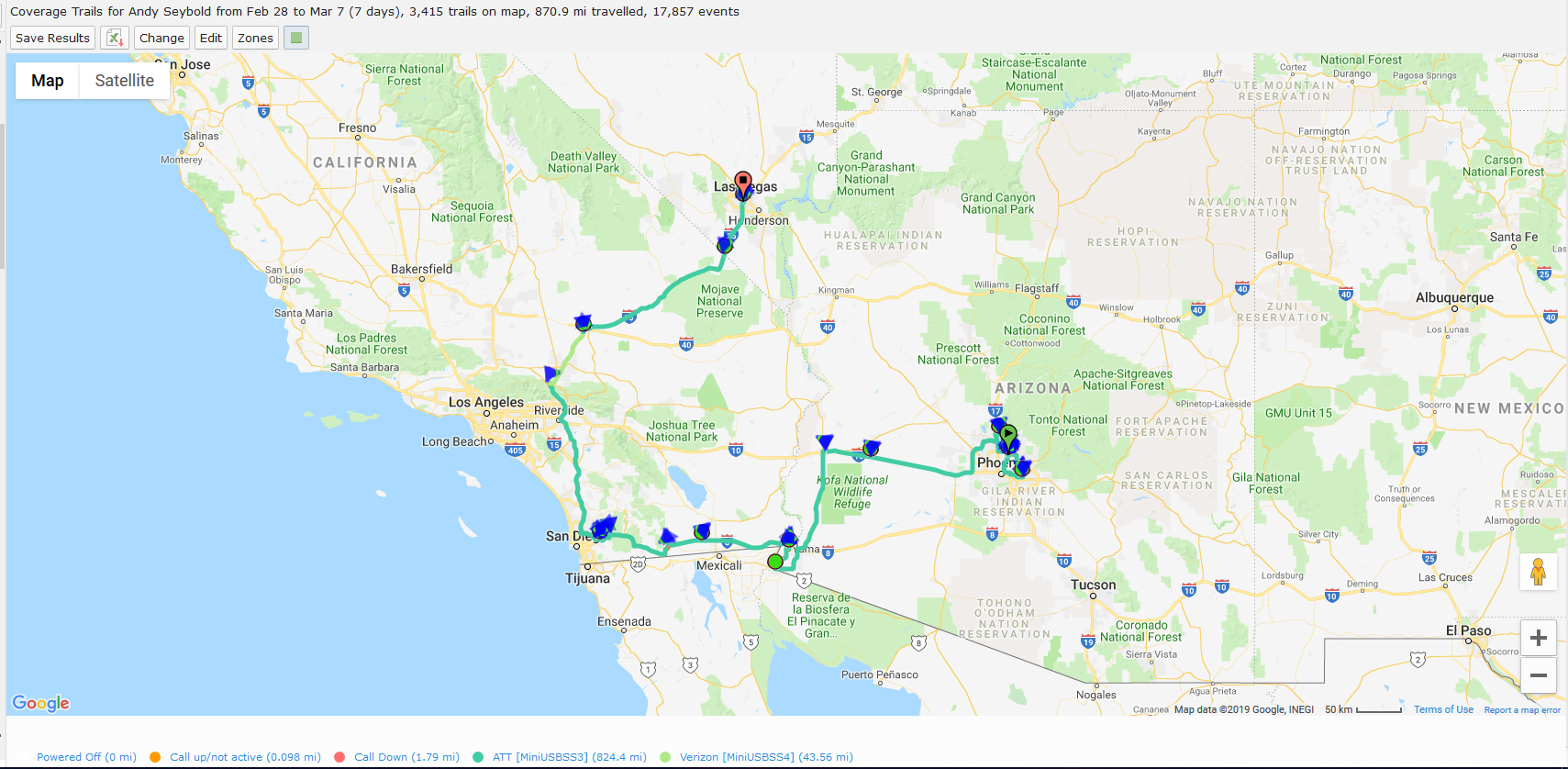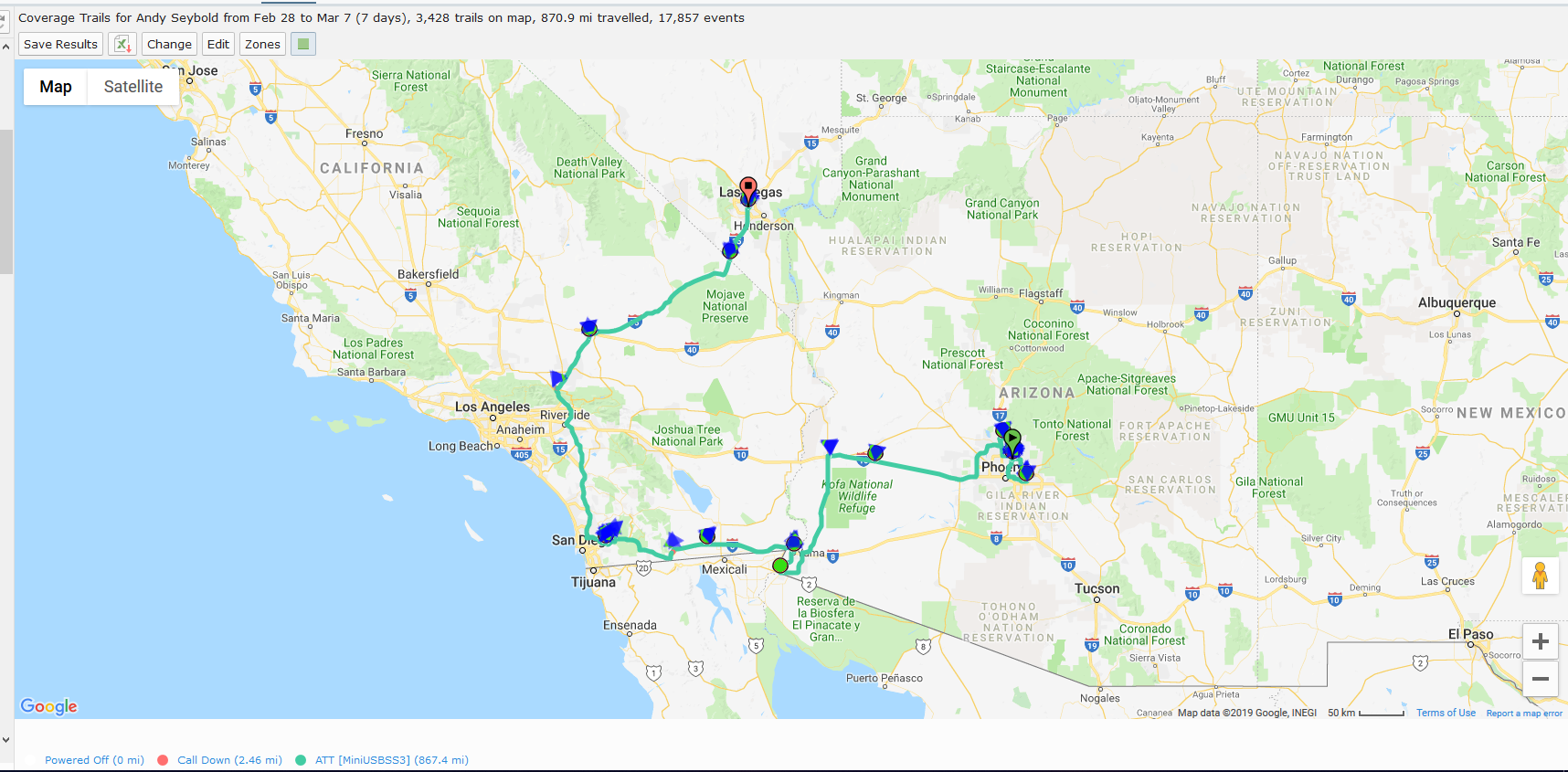 Entire trip including Las Vegas to Phoenix: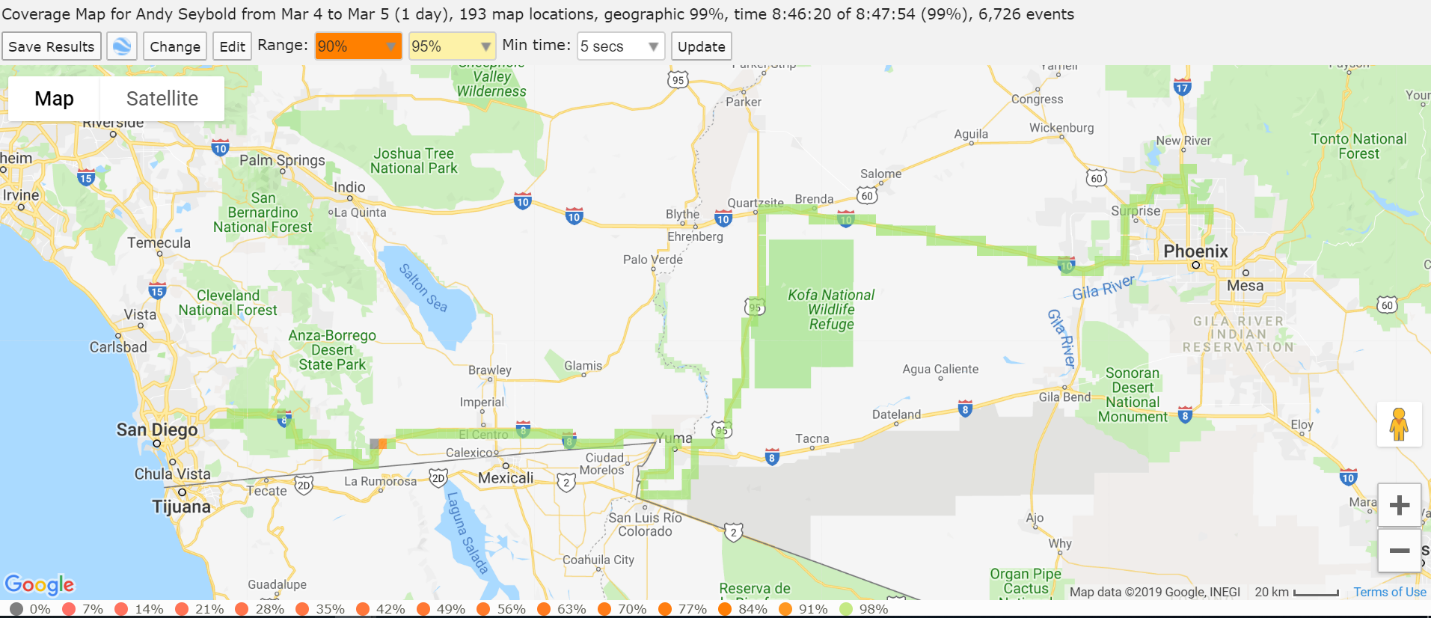 The following maps show Verizon-only and then FirstNet-only coverage. On this leg we have a gap for both providers. The Verizon gap was for 24 miles and the FirstNet gap was 39 miles. For the 24 miles, the gap was the same for BOTH providers.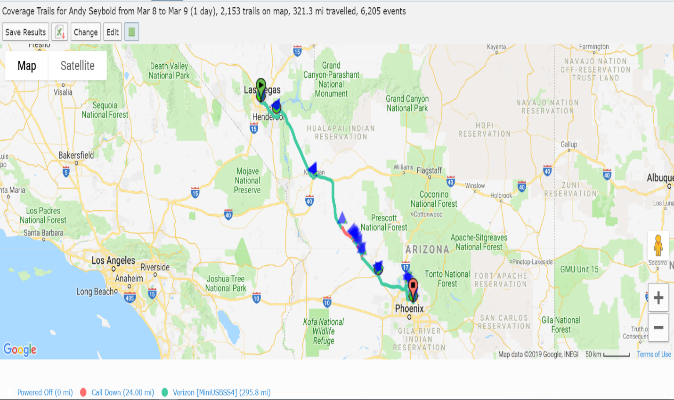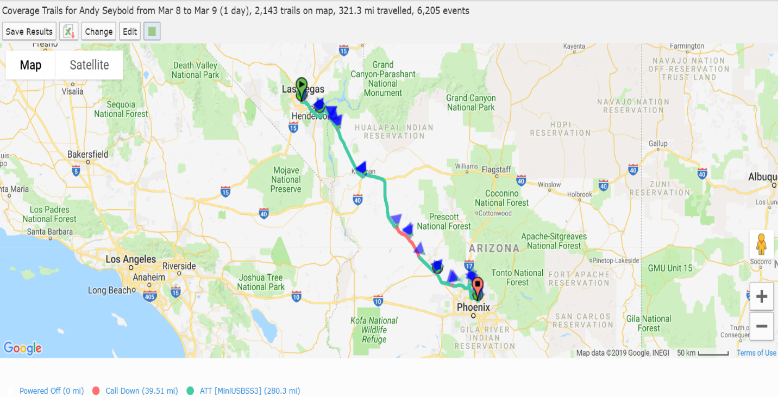 The last two maps show the entire trip, first for Verizon and then for FirstNet. Notice that over the entire trip, both networks had basically the same amount of no-coverage areas.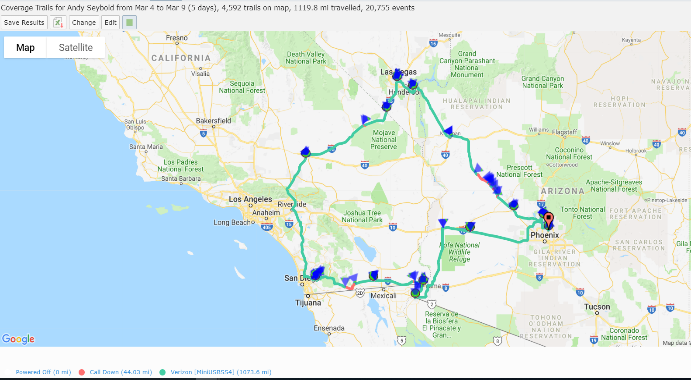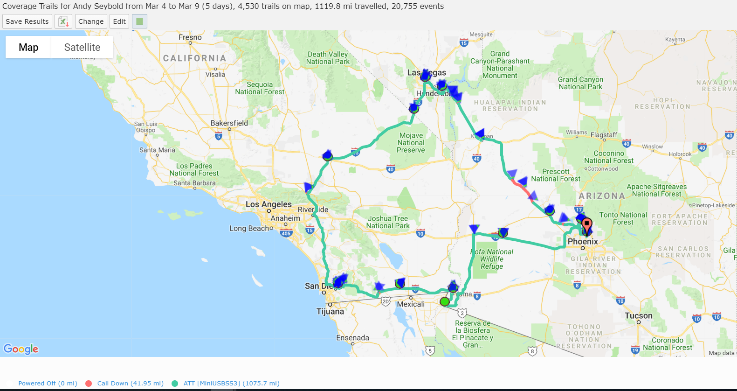 Again, this was mostly over major highways but it does indicate that FirstNet's coverage is improving in both Arizona and California. We expect to provide more comparisons in coming months and we do have the ability to determine how much Band 14 has been deployed. For starters, in Maricopa County, Arizona (Phoenix area) Band 14 coverage has grown considerably over the past six months.
It was a long trip but worth it. As we dissect the data in more detail, we will share some of the results with you.
IWCE
As mentioned above, we have decided to start sharing our "best of show" selections. I did this after past CTIA shows but this is our first attempt at IWCE. Our top pick this year is the Harris XL-185M mobile radio. It is the mobile version of the XL-200 handheld but with a few twists. First, it is designed to be either a fully dash-mounted or split-mount unit. At the moment it is a 700/800-MHz radio but soon it will be a low-band, VHF, UHF, 700/800-MHz radio with dual LTE capability built in. It will be model number XG-200M. Harris's XL-200 portable has VHF, UHF, 700/800 MHz, and LTE including Band 14, WiFi, and Bluetooth. I was told the XL-185M will be P25/Analog-capable with LTE, WiFi, and Bluetooth as well as GPS. This means a single radio installed in a vehicle will have all the possible radio communications capabilities needed. Obviously, not every vehicle needs to be equipped with all this communication capability so Harris will also be offering this as a single-band product with LTE and all the other bells and whistles.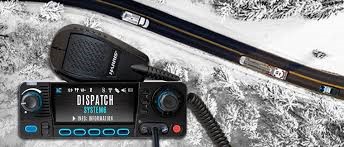 I should mention that Tait was also showing a multi-band unit with LTE but its first version is aimed at the utilities market with DMR rather than P25. It is unclear if Tait will be releasing a P25 version of the unit. Interestingly enough, Harris is the exclusive sales arm for Tait products in the United States, thus Harris actually has offerings for both public safety and the utility markets.
Zetron
Next was the Zetron console with ESChat Push-To-Talk integration. The demo console at the show was used to demonstrate P25 to FirstNet, analog to FirstNet, PTT communications, and most importantly for us, it was able to cross-connect three LMR radio systems with FirstNet simultaneously. Zetron brought up a P25 trunked system, then two analog LMR systems, and connected them to FirstNet. PTT then worked across all of the networks and connected to existing P25 and analog PTT systems. This is the type of interoperability we need and as far as I know, Zetron is the only console vendor to provide it. I suggested that in addition to the dispatcher being able to set up the cross-patches, as they are sometimes very busy, perhaps Zetron should also incorporate the ability for approved personnel in the field use touch-tones to engage and disconnect the cross-patches. Even so, on the whole, Zetron got it right!
Panorama Antennas
Our final best of show goes to Panorama Antennas for its small footprint satellite, LMR, LTE, WiFi antenna. As you can see from the pictures, it is a small antenna that, according to the specifications, has very good gain for LMR, LTE, and WiFi systems. I have not tried this antenna yet but did spend a long time talking with company representatives and came away impressed with their technical expertise and Panorama Antennas' ability to bring this antenna into the market.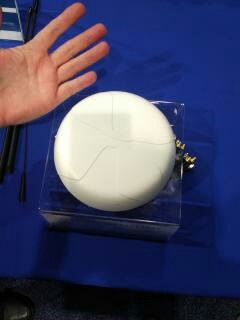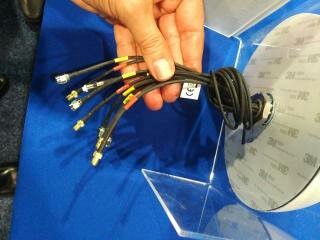 IWCE Panels
As always, the panel sessions were mostly top notch. I moderated or took part in five panels during the three days I was there. On Wednesday, I moderated the "Intelligibility versus Voice Quality" panel and thank goodness the panelists were real experts in this field. I learned a lot and hope the audience did too. Next was the "Who, What and Why of accessing the FirstNet Network" and I was a panelist on this one. We covered a lot of ground including BYOD (Bring Your Own Device), device security issues, and more.
On Thursday I unfortunately had to miss the Radio Club of America breakfast to attend the Government Wireless Technology & Communications Association (GWTCA) board of directors meeting. This organization is fairly new but very active among non-public safety government entities that want to learn more about what and who are active in their industry. After the meeting, I was a panelist in the "Changing Workforce" session. This session was aimed at finding ways to attract new blood to fill the void in the technical aspects of communications as leaders in this area have been retiring. In many cases, control of communications for a city, county, or state has been reworked and integrated into the IT department. It was an interesting discussion that included involving youth in Ham Radio, which the Radio Club of America addresses on an ongoing basis, and other avenues of cultivating youngsters' interest in communications. Since I started out in Ham Radio at the age of twelve, I was right at home on this panel!
Later in the day I moderated the "FirstNet Cybersecurity" panel and again it was a good thing the panelists were experts in both cybersecurity and the laws with which one must comply. It was well received, and I believe slides from this session are on the IWCE 2019 site. Finally, I moderated the "Multimedia from the Field to the PSAP" (Public Safety Answering Point) panel. The title could have been clearer since our focus was primarily from citizens to the PSAP and then to dispatch and out to the field. Again, the panel included some great experts as well as an attorney well versed in issues including the sending, for example, of a false picture to a PSAP to implicate someone who may not have committed a crime. Again, I learned a lot.
I missed two panels I really wanted to participate in or attend because they were on Tuesday while I was traveling from El Cajon where we attended a breakfast meeting of the IACP Tribal Chiefs. The drive from El Cajon to Las Vegas was recorded by our Sierra Wireless MG90 and it was a long trip. The panels in question were "Push-to-Talk …" —I use the term 'public safety grade' NOT'mission-critical' when referring to PTT. The second had to do with what happens to the T-band and if we can convince Congress to reverse its demand that it must be given back to the FCC. I understand that both of these panels were outstanding.
IWCE continues to grow more and more impressive. There are many sessions I wanted to attend but was unable to do so. It seems that no matter what your interests were in the field of emergency communications, there were panels to educate you and vendors ready to show you their products and discuss their services. Another great IWCE.
Winding Down
These past two weeks have gone by quickly but I have enjoyed each and every experience. I wish I had time in Hawaii to visit with some FirstNet folks there as well as some first responders, perhaps next time. As it was, I only had a few days in Honolulu! This brings my state total to 49, now I have to find a way to go to Alaska to make it all 50!
Being back in the office after two weeks away has been hectic as well. I tried to stay caught up on my travels but most of the time at IWCE I was in sessions or meetings, or talking to folks in the hall, and from the Palmyra Atoll, communications are only available in a few places. So, I came home to almost 1,000 spam emails (caught in my spam folder but I had to go through them because the spam filter seems to also catch some important messages), and many emails and phone messages. I will dig out this week and hopefully be back to normal by next week.
FirstNet had a booth at IWCE, which was great to see, and people in the booth knew their stuff. The few times I stopped by it was busy and those I met and talked with around the conference were either FirstNet users, preparing to join FirstNet, or vendors providing products. At each conference I attend, it seems public safety people in attendance are becoming much more conversant with what FirstNet is and how important it is to the public safety community.
I plan to produce the Advocate back on its normal weekly schedule, posting it on AllThingsFirstnet.com early on Thursday, then sending it via email to our subscribers and posting a blurb about the new issue on both Twitter and LinkedIn. With all that is happening, it is great to be home where I am looking forward to the challenge of developing a communications system for the Palmyra Atoll and working with the public safety community to make sure everyone understands the importance of FirstNet (Built with AT&T). Until next week.
Andrew M. Seybold
©2019 Andrew Seybold, Inc.