By James Careless
Can a law enforcement agency leave land mobile radio (LMR) and switch to FirstNet exclusively for its primary communications system? That's a move Georgia's Dallas Police Department (DPD) pondered large and hard before making the leap to FirstNet exclusively at the end of 2019. DPD Chief Joe Duvall was the driving force behind that change.
In this exclusive interview with AllThingsFirstNet.com, he tells us why he did it, and what giving up LMR in favor of FirstNet is done for his department.
A Matter of Money
Dallas, Georgia, is a city of approximately 15,000 people located northwest of Atlanta. The DPD has 34 officers covering a territory of about five square miles.
Back in 2018, Chief Duvall was faced with a conundrum. The DPD's Motorola MOTOTRBO LMR was coming to the end of its service life, and a replacement was urgently needed. But the cost of doing so was prohibitive.
"It would have cost us a little over $2 million to acquire a new 800MHz LMR," said Chief Duvall. "Considering that the Dallas Police Department doesn't have access to 911 fees — we were a secondary Dispatch center, with all 911 calls going to Paulding County's E-911 Center — all of that money would have to come out of our General Fund."
FirstNet to the Rescue
Faced with this huge cash bite, Chief Duvall tried everything he could to find a less expensive alternative. This included merging the DPD's secondary dispatch with Paulding County's, which proved to be a non-starter.
"I researched several law enforcement communications systems and came across FirstNet," he recalled. "Now I've been in law enforcement for 36 years and came from a much larger department in the Metro Atlanta area. So I know that really not hardly anyone is using LMRs today anyway. For the most part, everybody on scene is using cellphones. And once I started researching that, all the stars kind of aligned and led me to FirstNet."
One-Tenth the Cost of LMR
Moving from LMR to a FirstNet broadband communications system, including establishing the DPD's own primary 911/Dispatch center (aka public safety answering point, or PSAP), cost Chief Duvall's department less than $200,000. This price tag included equipment for the new PSAP, plus new ruggedized smartphones with push-to-talk wireless microphones to provide officers with familiar LMR functionality. Of course, given that FirstNet's broadband platform supports a full range of two-way multimedia applications, the DPD's subsequent experience using FirstNet is far superior to what they received from their last LMR system.
To make matters even better, the DPD received financial support from FirstNet and the Georgia Emergency Management Agency (GEMA) to make this move. So the total impact on the DPD's own finances was negligible.
"As far as financial support, AT&T FirstNet provided us with numerous equipment credits as well as free devices to test," said Chief Duvall. "GEMA provided us with a consultant that assisted us in becoming a primary public safety answering point, which allowed us to begin collecting monthly 911 fees. The amounts that we have collected allowed us to pay for the system within the first year."
The DPD's FirstNet Experience
Beyond saving the Dallas Police Department an astonishing amount of money, moving from LMR to FirstNet wireless broadband has provided them with a number of benefits.
For instance, the DPD's previous LMR system had dead spots in its coverage area, as is common with two-way radio systems. With FirstNet being given priority carriage over the AT&T cellular network, "we don't have dead spots now," said Chief Duvall.
Then there's network and tower maintenance: With FirstNet, there isn't any. It's all done by AT&T. Ditto handset maintenance: Since the smartphones the DPD uses –Sonim XP5/XP8s and Siyata SD7s – aretough enough for the job and intelligent enough to accommodate upgrades easily, the only time they need maintenance is when they are too damaged to stay in service. When this happens, the DPD simply replaces them for a few hundred dollars a unit. That's a far cry from the thousands of dollars it could cost to replace an LMR handset, plus the money needed to maintain and repair the DPD's previous LMR system.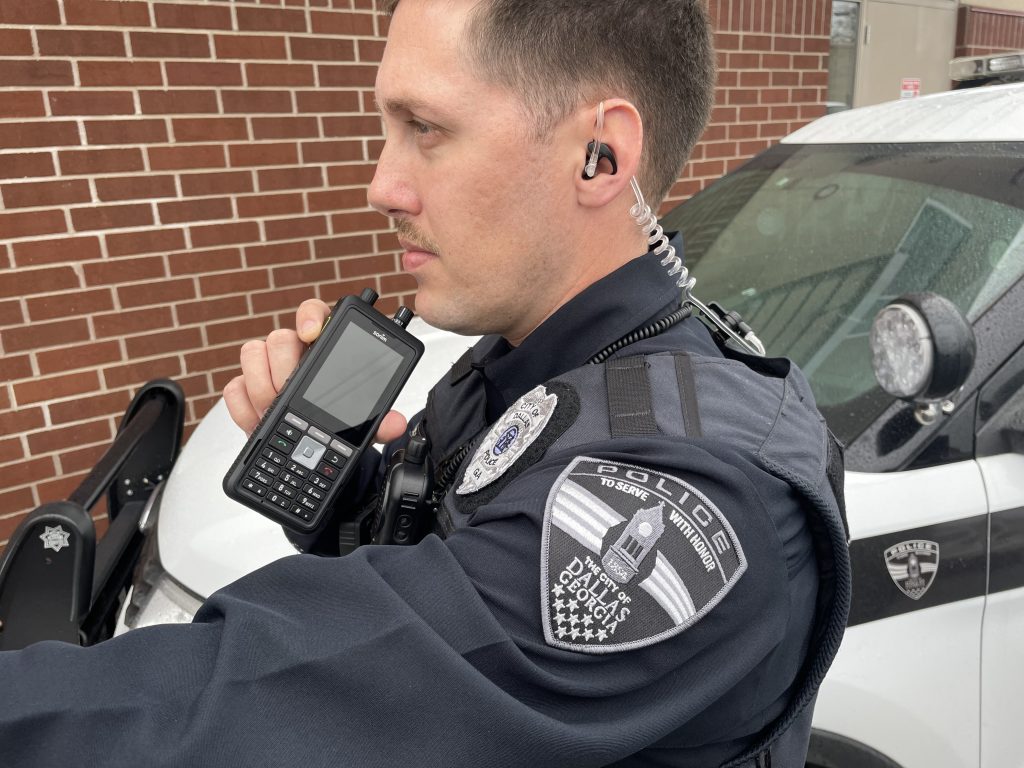 The bottom line: Since moving to FirstNet, the Dallas Police Department has been nothing but happy with their expanded, more capable, and far simpler to manage communications system.
"FirstNet is working flawlessly for us," Chief Duvall concluded. "I would never go back to an LMR system because of the success that we've had using broadband wireless. The technology we are using today is excellent, and it is only going to get better."