By James Careless
Fairfax County Fire Chief and IAFC President John Butler had one clear, unequivocal message for Vision 2023 attendees on September, 26, 2023: "Interoperability matters."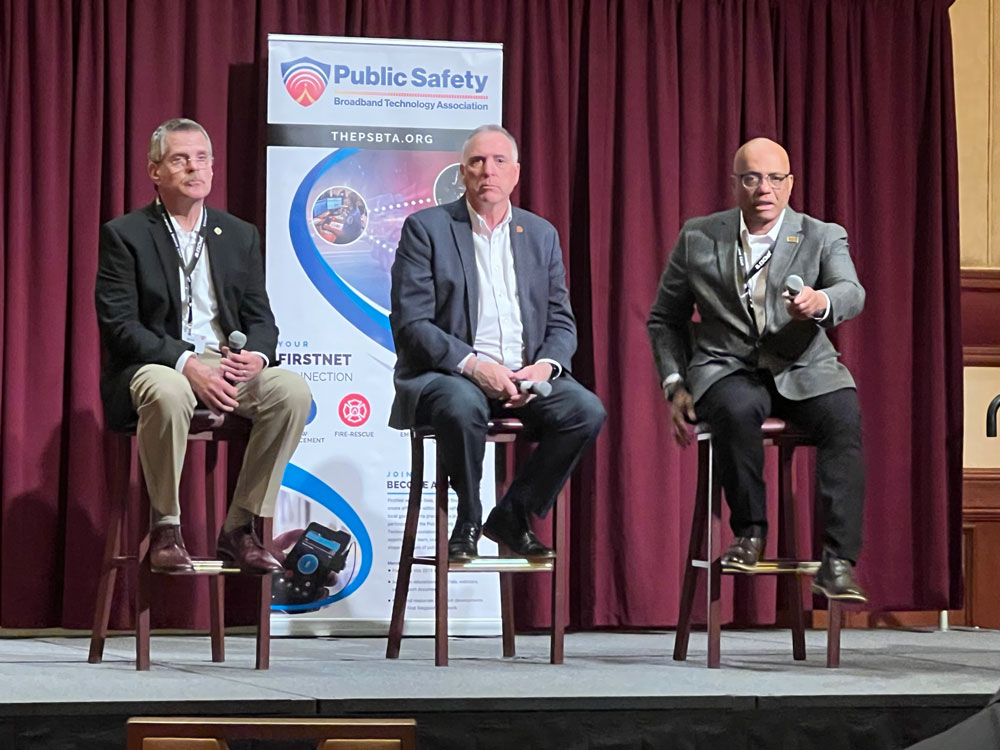 Chief Butler delivered his message during his keynote address at Vision 2023 — aka the Vision FirstNet Users Summit — which is being hosted by the Public Safety Broadband Technology Association at the Las Vegas South Point Spa and Casino September 25-28, 2023. He also voiced it during a Unified Command panel discussion with Fire Chief Don Lombardi and Fire Chief Brian Fennessy. And this wasn't his only point. According to Chief Butler, "interoperable relationships matter, interdisciplinary approaches matter, and the spirit of inclusivity also matters."
Referring to his cohorts on the Unified Command panel, Chief Butler observed that, "the three of us have some commonalities. Not only are we fire chiefs, but we also are in the Urban Search and Rescue community. The three of us are sponsoring agency chiefs for USAR teams: The reason I bring up that is because we're three chiefs on that panel speaking about FirstNet to attendees who probably know more about FirstNet than we do from a technical point. So what we were focussing on was how we three leaders use this resource, its technology, and its deployables in the communities we serve."
FirstNet for Good Days as Well as Bad
Beyond stressing the importance of interoperability and cooperation, the three panellists talked about the day-to-day usefulness of FirstNet and how its users can get more out of the platform. "When you think about public safety service 'having its own lane on a highway with FirstNet', people get that when it comes to emergencies, but we still have some work to do to talk about what we call 'Blue Sky Days'," said the Chief. "There's still room to use the resource and the technology [in all conditions]. Everything's not a 9/11 or something that significant."
Chief Butler feels a particular responsibility to promote FirstNet and interoperability in his role as President of the International Association of Fire Chiefs. "We have over 11,000 members in a number of countries," he said. "With 2023 being our 150th anniversary, we need to look at what will get us into through next 150 years. That will be advancements in technology, plus our spirit of inclusion — working with each other and identifying, 'who needs to know this? Who needs to be in this room? Who needs to be at this table?' That's what the FirstNet circle of friends is, and should look like."
Why Vision 2023 Matters
Chief Butler is as big a supporter of the Vision conferences as he is interoperability, and for the same reasons. "It's important to have a Vision conference such as this, because — as the name connotes — vision is something that can be viral," he explained.
Bringing together FirstNet users allows them to share ideas and build this community together, which benefits everybody in public safety and the general population as well. "We're speaking the same language and talking about the same things, yet talking about different perspectives of the same thing, which amounts to a 'power lunch'," Chief Butler said. "You leave the round table having gotten to know new people and hear different or new thoughts on things, or validation on your thoughts, so it's important to keep doing this."
Planning to Return
Vision 2023 was Chief John Butler's first visit to this FirstNet users conference, and one that he attended in his official capacities of IAFC President and keynote speaker. He plans to keep coming from now on in.
"I assure you, I'll be back," the Chief said. "I told the conference leadership to expect me to come back. Even when I'm done being the president of IAFC, there's a lot to be learned. I enjoy it, plus I get to meet new people."