By James Careless
As the name suggests, the Public Safety Broadband Technology Association's Vision FirstNet Users Summit (PSBTA, Vision 2023) is all about FirstNet. This is why heavyweights such as Chief Richard Carrizzo, FirstNet Authority Board Chair and Chief of the Southern Platte Fire Protection District in Kansas City, Missouri made a point of attending this year's conference. It was held at the South Point Spa and Casino in Las Vegas, September 25 to 28, 2023.
"It is important for the Authority to be here, as our job and mission is to build the only public safety broadband network in the United States," Chief Carrizzo said. "We constantly do engagements with all the public safety disciplines to learn more and to find out what type of network they want and need. Then we take that information and use our investment dollars to improve the network, to continue to build out the network, and to be here at this event. It is important to hear from the users and determine their needs."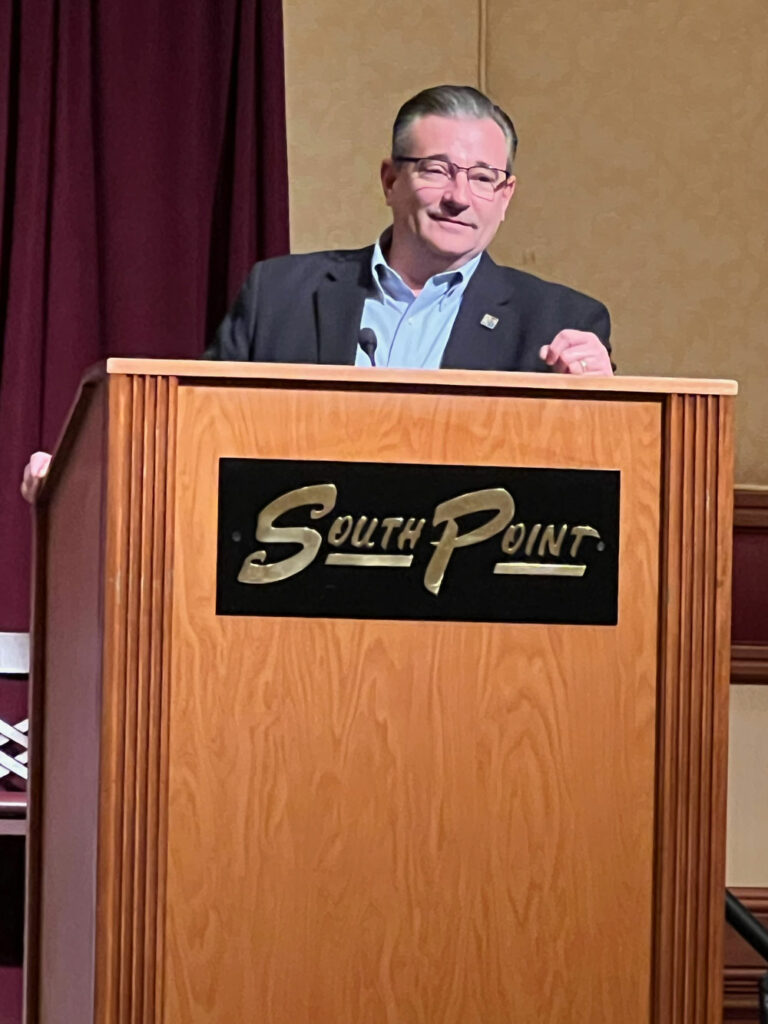 The Same, Yet Different
This is the second Vision summit that Chief Carrizzo has attended, the first being the inaugural event he attended last year.
Asked to compare the two Visions, he said that they are "very similar and very different. And what I mean by that is that the association learned a lot last year from the users that were here and the type of users that were here — and I think they had a vision of what they wanted out of the conference and built upon it. And I would say they were very successful. You can tell that the users that are here this year compared to last year are just more engaged. I see a lot more networking this go-around than in the past. Even at lunch today, it appeared my whole table was sitting there exchanging business cards and talking about what other entities were doing. It was just wonderful to see as a user, and as the chair."
Based on his informal observations, Chief Carrizzo says that attendance to Vision 2023, when compared to Vision 2022, has more than doubled. "It's probably pretty safe to say the morning sessions are completely full," he said. "For the first session, they had to bring out more chairs because there wasn't enough sitting space for all the participants. Things like that are just wonderful to see as the association continues to grow for the users. I mean, that's what we have to remember is that they're doing this for the users: It's not a selfish reason. It's for the users, for them to be better, to share and network, and to build upon the system."
Two Different Perspectives, One Person
As mentioned at the outset of this article, Chief Richard Carrizzo is attending Visions 2023 both as FirstNet Chair and Kansas City fire chief. This is why this one person has two perspectives on the conference.
Speaking as FirstNet Chair, being here at Vision 2023 is all about spending its share of the fees collected from AT&T in ways that truly address the needs of FirstNet users. "We use that money for our investments," said Chief Carrizzo. "Our belief is that, in order to make the appropriate investments, we need to hear from the public safety community through numerous engagements. And this is just one of those engagements that we're using to learn."
Speaking as a person who is a fire chief, he is here to learn more about what's happening with FirstNet for his department. That's why Chief Carrizzo came to Vision 2023 with his deputy chief of technology. "I brought him here based on what I saw last year," the Chief said. "I know he's going to take back a lot of things. I've been watching him on the sidelines and just networking nonstop, and I know he's learning things and teaching people things at the same time based on his skills."
All of these reasons explain why Chief Richard Carrizzo will be back for a third time next year, attending Vision 2024. As for why other first responders should come to this PSBTA event? "I stated this morning in my 'Welcome to Day Two' talk was that what I see coming out of this conference is a lot of leaders, whether they're leaders in their own organization or whether they're leaders in the usage of the broadband network," he said. "But what we're missing is more leaders — and so how do we get those other leaders? So I put it out to everybody that's here is that you need to reach out to your associations and groups that you belong to, whether they're state associations or whatever, and publicize this event because this is all about having the leaders of FirstNet users here. The more leaders that we can have here and the more that they can learn from it, the better."