Two 9/11 first responders made it their mission to "provide public safety with dedicated connectivity."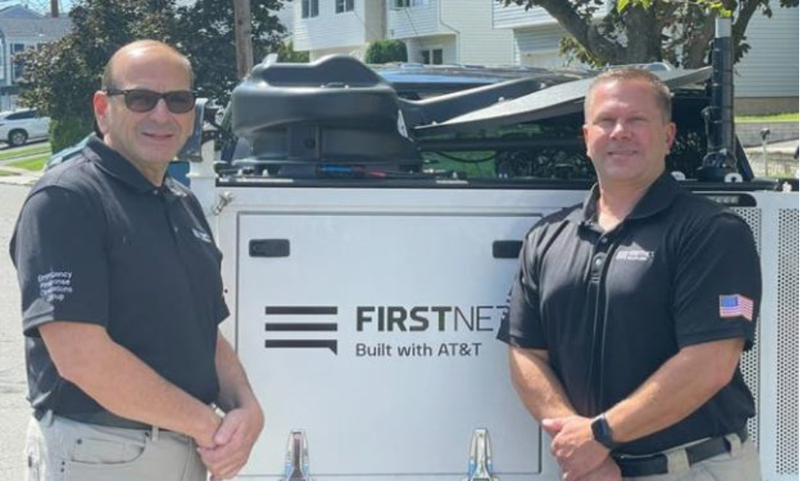 Thomas Nicolette and Fred Scalera, both New Jersey firefighters during 9/11, were at the New Jersey Transit Rail terminal at Hoboken on the Hudson River. There they both managed the decontamination of individuals departing ferries from the city on 9/11. The men and women of all ages departing the ferries were an entire mix of emotions, from distraught to angry, confused and numb. People were crying, and bleeding, and what they did there was basically soaking down these people, getting these particles of whatever off of their bodies and helping care for these people as they came over from downtown Manhattan. Thomas remembers a heavily pregnant woman who came through on the ferries that they helped to respectfully clean and provide care to her as quickly as possible.
That day reinforced their feelings of community. They knew that their fellow responders were united in serving those who had experienced this tragedy – in a sense putting aside their own emotions of that day to achieve their mission.
One of the biggest challenge on 9/11 was the lack of communication infrastructure and one common system for first responders to use. That they had fire departments and EMS from all over NY and NJ responding but they couldn't speak to each other because cell towers were clogged and they were all on different radio frequencies. They couldn't even get updates from responders at Ground Zero about what was happening, who was being sent to Hoboken, etc. People couldn't get in touch with their loved ones because all of the communication lines were down.
It was their experiences – and those of other responders that day – that set them on the FirstNet mission: providing public safety with dedicated connectivity. To truly design the FirstNet network for public safety by public safety – a distinction that makes it unique in American telecommunications history – FirstNet continuously consults with local, state/territory, tribal and federal public safety agencies across the country. Over the past several years, FirstNet has collaborated with public safety stakeholders and leadership from each state and territory. Never before has the public safety community had the opportunity to provide input towards the creation of a nationwide broadband network tailored specifically to meet their needs as they save lives and protect communities across the nation.
This press release was produced by FirstNet.