The FCC has set an accuracy requirement for the "Z" or height axis used to determine location of a person inside a building at three meters (9.842 feet). This will result in more accurate location determination than previous calculations that did not include the Z-Axis, but it still falls short when pinpoint locations are needed. Many within the public-safety community are calling for "to the floor and to the door" location.
Meanwhile, the United States continues to struggle with today's digital divide. The Covid-19 pandemic turned the nation's attention to the lack of rural, affordable broadband when schools were closed and students were required to continue their education via distant learning or learning via the Internet, medical professionals began expanding their use of telemedicine, and companies began allowing many employees to work from home and participate in work-related activities via Zoom, Cisco's Webex, or similar programs. However, months into this pandemic, little has been done to extend broadband to areas where there is no or limited access to broadband and Internet services.
Z-Axis Location Services
In 2015, I was retained to write a whitepaper for a company working on providing Z-Axis location with a high degree of accuracy. I participated in a demonstration by moving around in a hotel while the company tracked me and I was impressed. Not only could they locate me within a foot or so, they even tracked my ascent or decent in the elevators. I have not had much contact with the company since then and except for that one engagement, I have not been in any type of consulting relationship with them.
They have continued to upgrade and expand their technology and on their home page at NextNav.com you can view a series of video clips about what they do and a little about how their system works. An introductory statement on the home page says, "Somewhere in this building, OR PRECISELY HERE." NextNav clearly states that its Z-Axis system is being deployed in metro and some suburban areas but it is not designed to be used in outer suburban or rural areas. The reason for this is what makes its system so accurate: NextNav uses its own network, tower sites, and transmitters. It does not use other broadband networks and the location services built into them.
NextNav sites have been precisely surveyed so their absolute locations are known and constantly verified and updated. Each site in a metro area transmits a beacon into the area and multiple sites have been built in some metro areas including the area from San Francisco to San Jose, California, which has served as NextNav's test bed for a number of years. The company positions its technology as being complementary to the Global Positioning System (GPS), which provides good location outdoors and in non-metro areas better than in the clutter of canyons within cities. However, GPS does not work well indoors and it does not provide any Z-Axis capabilities.
The NextNav system uses spectrum licensed to it by the FCC. As mentioned, each site transmits a beacon and smartphones, tablets, or other devices with a built-in NextNav chip receive signals from multiple NextNav sites to enable calculation of a precise location within two seconds, according to the website. The location transmitted to the device includes X, Y, and Z-Axis data. NextNav sites do not include receivers so NextNav does not collect location data. It only sends the data to the devices, which can then relay the data over the broadband network to be displayed on other devices if desired.
I have seen this system perform and the business model is to sell services to broadband networks to be used for locating public-safety personnel and for 9-1-1 calls. Other business models will provide NextNav location services on an opt-in basis for other uses. What caught my eye this week was an article in Urgent Communications stating that NextNav plans to make Z-Axis location available in the top fifty U.S. markets this year. Its website news section indicates 2020 has been an active year so far: It had another fundraising round in January, won two prestigious awards for its technology in February, announced it could assist in Covid-19 Contact Tracing and would provide the application at no cost in April, and added some new, well-experienced executive leadership in June.
NextNav can and is solving the less-than-three-meter height location issue today, it is expanding its capability to fifty metro areas, and as broadband networks sign on to use the NextNav system, it will expand the number of markets it serves. While NextNav provides one element of public safety and 9-1-1 location service requirements, it will be the first to tell you it does not provide a complete, nationwide solution. However, in metro areas it works both indoors and out-of-doors and provides fast and, so far, very accurate location services. Even in 2015 when I wrote the whitepaper, I fully understood that the only way to determine truly accurate location data on all three axes is not to try to find a single solution but to make use of several different solutions to achieve true location data everywhere. NextNav is one very important part of the location puzzle.
Rural Broadband
A few weeks ago, my Advocate entitled "It Takes a Disaster to Prompt a Change" tracked the number of disasters it took to convince Congress and the Executive Branch of the U.S. Government to create what is now FirstNet and then I wondered if the Covid-19 disaster would be enough to finally extend Internet and broadband services to more of rural America and those who need broadband access but cannot afford it. Frankly, I was hoping the federal government would get off its collective duff and come up with a government-wide plan with some seasoned wireless experts and a pooling of all the funding from all the various agencies to attack the digital divide with a new sense of urgency.
I guess I overlooked several factors. First, some within federal and state governments believe the pandemic is no longer a threat. Second, fiefdoms that have grants for rural broadband do not want to give up control over what they have. Finally, Congress has not moved very quickly. Most recently, a bill called "The Serving Rural America Act" was introduced in the House. This bill would authorize $500 million over five years for a pilot grant program overseen by the FCC, which controls the funding and is preparing to act. However, it has restricted the use of some funds to 5G-only solutions.
In other words, the current pandemic, the impending wildfire season in the west, hurricane season in the east, and other large and small disasters that are sure to come have not been enough motivation to solve these broadbands issues. Congress wants five years? The FCC is moving at a snail's pace and the House and Senate will probably see changes in their make-up after the November elections. Regardless of election results, there will most likely be major changes in leadership and they will have to start over.
Cooperation
I, for one, don't believe it will take five more years to complete what needs to be done to extend broadband into rural America and to provide Internet access for those who cannot afford it. It did not take that long for the broadband networks to build out the entire United States for their chosen technology. Not one nationwide LTE system took five years to build and FirstNet, which is 80-percent complete including major sections of rural America has been built out in three years and will be complete before the five-year contract period runs out. (A much-overlooked condition of the FirstNet broadband network contract is that the builder, AT&T, is permitted to use the network for commercial customers in places where it is not being heavily used by public safety—perhaps rural America?) Plenty of private entities are ready and willing to be part of the solution. FirstNet, commercial nationwide and local broadband networks, rural co-op power companies, tribal nations, medical and educational communities, government agencies, and more all stand ready to build and deploy. All it would take is some coordination on a nationwide basis and an understanding of a few basic concepts:
Different types of networks will be appropriate for different portions of the states.
Fiber is the MOST EXPENSIVE way to extend Internet to homes and businesses.

However, fiber and radio microwave for backhaul and to a hub makes a lot of sense.

Some networks will fail only a few years after they are built if grants to build a network do not include longer-term funds to operate, maintain, expand, and upgrade the network.
Once basic broadband requirements have been met for rural America, there will hopefully be a second provider moving into most areas to create better market economics.
We must prepare and plan for some of those stepping up to build and operate networks to fail. For example, I am not convinced all Little LEO vendors that want to rain the Internet down to every corner of the world can come up with an economic model to survive.
Each network should be tested and certified by an independent testing organization when completed to certify its robustness, capacity, and data speeds available on each network segment.
Networks should be built out using any and every available fixed and wireless technology. Fiber, microwave, satellite, LTE, 5G, CBRS systems, WiFi 6, WiFi, and other technologies should be deployed AFTER a review of the coverage area and all available technologies to decide which combination of broadband technologies is best suited and most economically feasible for the build-out.
Partnerships
FirstNet is one of the largest public/private partnerships and it is a huge success. However, we need more private/public partnerships and they are coming. Years ago (2008-2010), I wrote several articles about rural power co-ops that provide services to rural areas in 47 states. They have viable funding and rights of way, and they want and need broadband for their power grids and to upgrade their power meter-reading capabilities. Some states are sharing benefits with co-ops that are running fiber on their rights-of-way and branching off for direct connections to businesses and perhaps citizens, and using the fiber for backhaul to a wireless hub (cell site) as well as distributing broadband and Internet over wireless for the last few miles.
I am surprised more counties with rural, underserved populations are not reaching out to FirstNet (Built with AT&T) to inquire about its build-out plans for their rural communities, especially since many county or federal grants could be used to augment the FirstNet build-out. The Wireless Internet Service Providers Association (WISPA) seems to be all about serving rural America, but I have not seen any evidence of their members forming private or public partnerships to deliver more broadband to more places though they may, in fact, be working in that direction. Other potential partners would include hospitals and medical facilities, government buildings including libraries, state and local agencies including court systems, school districts, colleges and universities, and any organization that has or wants a presence in a rural area of a county or state.
I am disappointed that we have not done more in the past few months to provide Internet and broadband services to more rural businesses and people. I guess I should not be surprised at the excruciatingly slow pace. If it really was a priority and important to finish the build-outs, we could cover most areas in a few short years—not five or ten years—perhaps even before Members of Congress or the FCC move on. Back in 2011, I did a deep dive into a dozen or more Congressional districts. I determined how many citizens did not have access to any Internet or broadband and then looked at the number of rural co-ops and cellular operators and what a new nationwide broadband network might do to help the districts with expanded rural Internet. I pointed out that if Members of Congress supported the bills that would create FirstNet, they would show their voters in underserved areas that they were thinking of them and earn more votes.
At some point I will go back and find out how many people who received a copy of this broadband analysis report are still in Congress and revisit their districts to see how much better off their rural citizens are. Some districts included in my reports are: California 31st; South Carolina 6th; Arizona both Senators; Michigan 4th, 6th, 8th; Ohio both Senators; Oregon 2nd; Pennsylvania both Senators; and Texas 5th district. This report helped public safety gain more votes for what is now FirstNet but I am not at all sure how much of these rural areas now have broadband installed and operational.
I hear from a number of states that have made extending broadband to their rural areas a priority and I have been following the grants approved for each. Here is one that puzzles me: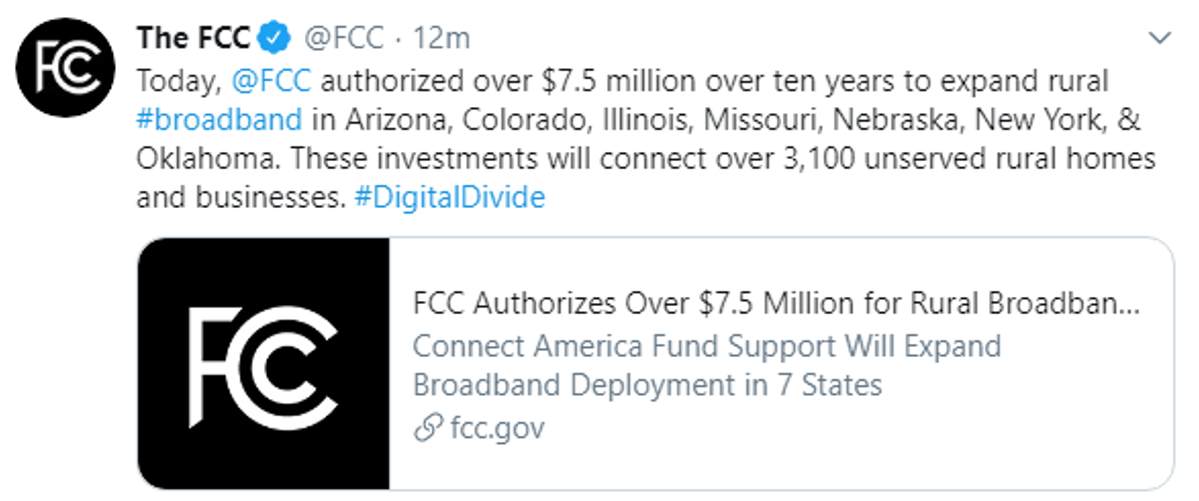 So, $7.5 million is to be shared by seven states over ten years. Out of this great grant Arizona will receive exactly $104,499.29 for the Gila Local Exchange Carrier. With this huge amount of money, within ten years this carrier is expected to provide 1 GPS down/500 Mbps up for some areas and 100 Mbps down/20 Mbps up for others. In less than two years, these numbers will seem like the old days of data when we were happy with 19.2 Kbps! Think about what they will feel like in ten years! Let's do the math. $7.5 million to provide Internet to 3,100 homes, or a cost per home of $2,420 (rounded up $0.81 each). At this rate and this cost, it will take ten or more years to make a dent in the rural broadband digital divide. There must be someone out there somewhere who is as upset with this ineptitude as I am and says "enough is enough!" Let's be smarter and pull a dedicated group of people together to make this happen!
Winding Down
First, I want to give a nod to Motorola Solutions for its recent addition to its website entitled "First Response for First Responders." When you open this page, you will be able to download a disaster preparedness checklist. This list is well thought-out and I believe it will prove helpful for advanced disaster planning. While the list includes fourteen checkpoints, only one is specifically for Motorola Solutions customers. The rest of the points are valid for all agencies regardless of whose Land Mobile Radio (LMR) system they are using and I believe this checklist will be of value to many agencies. I would like to see The FirstNet Authority and/or FirstNet (Built with AT&T) follow on with their own specific list for preplanning as we continue to be pelted with multiple nationwide, statewide, and local emergencies.
AT&T and FirstNet continue to add cell sites in more areas of the United States. Most recently, five new sites have been added in the Tampa Bay, Florida area and in Monterey, Massachusetts as part of the agreed-upon coverage increase in that state, and more sites are being added in more areas every month. We are also close to having High-Power User Equipment (HPUE, yet another rolls-off-the-tongue acronym) available from at least two vendors. As you will recall, the 3GPP and FCC permit high-power devices to be used exclusively on public-safety Band 14, which is part of FirstNet. The Band 14 power limit is 1.25 watts while the balance of AT&T's spectrum, which is also available for FirstNet customers, remains at 200 milliwatts (1/4 watts).
The first HPUE products to be certified by FirstNet are from Assured Wireless and Airgain is now incorporating the Assured Wireless module directly into its antenna. If you want to learn more about HPUE devices and the difference they can make, follow this link to a whitepaper about Airgain's use of the Assured Wireless module and you can follow this link to read the Advocate column I wrote a few weeks ago.
With all the incidents that have to be managed by the public-safety community for nationwide, regionwide, statewide, citywide, countywide, and smaller localized incidents, communications among agencies are critical to manage resources, keep everyone safe, and handle multiple responses simultaneously. Think about what would have happened if we had been hit with everything we are facing today before there was FirstNet. Yes, LMR would be available and it would work. However, there would have been more communications breakdowns due to the various technologies being used and the many different portions of radio spectrum that are designated for LMR systems. Agencies using broadband cellular systems would have been scattered over multiple networks, none of which offered any type of priority access or pre-emption, and they would have lacked interoperability.
Today, two of the three basic networks are in place. Missing are inbound Next-Generation 9-1-1 (NG911) systems awaiting funding by Congress. LMR provides the basic layer of voice communications with Push-To-Talk (PTT) but it is of limited use when it comes to agency interoperability. FirstNet not only provides PTT voice, it provides dial-up, text, data, and video services on a nationwide, anywhere-you-are basis regardless of how many agencies are working on an incident as long as they are all using FirstNet. With both LMR and FirstNet, more agencies are closer to achieving public-safety-grade communications.
It is unfortunate we have had to deal with the recent turmoil and incidents and we know there will be more ahead of us. Fortunately, the addition of FirstNet with priority and full pre-emption has had a huge positive impact on public safety's ability to communicate anywhere at any time with any other agency.
Until next week…
Andrew M. Seybold
©2020, Andrew Seybold, Inc.