Rural Broadband
As most of you know by now, the infrastructure bill was finally passed by the House last week. It had already been passed by the Senate and is now on its way to the White House for the President's signature. This bill includes $65 Billion in funding for rural broadband services. Whether there are provisions for oversight and coordination of how this money is spent, who spends it, and for what technologies is unclear.
As I have said before, my concern is that without some form of oversight we could end up with a patchwork quilt of non-compatible broadband deployments in rural areas. Some think broadband must be fiber-only and some believe there are a number of technologies that can be used to deploy broadband services in rural America.
I am in that last camp. I believe we need to assess each area and determine the best possible combination of technologies for build-out and operation of a broadband network designed to serve the needs of each locality. There are several options available for building a network including fiber, microwave, and even satellite backhaul in some areas. For the physical deployment, there is microwave, fiber, multiple forms of terrestrial broadband, and satellite systems including use of little Low Earth Orbiting satellites (LEOs).
FirstNet is already deploying the Nationwide Public Safety Broadband Network (NPSBN) in many rural areas. Perhaps now that the bill has been funded there will be areas where the FirstNet public/private partnership can be extended to further enhance rural coverage.
I recommend reading an interesting article in PM Magazine entitled, "Expanding Rural Broadband Coverage Through FirstNet," written by Mark L. Ryckman, ICMA-CM, and Kenzie Capece. The authors examine FirstNet rural broadband deployments and discuss FirstNet's move into rural areas. As you may recall, the law creating FirstNet requires the FirstNet contractor (AT&T) to deploy the FirstNet network evenly in metro, suburban, and rural areas to ensure coverage to as much of the nation as possible.
There are many different segments of wireless spectrum that can be used for rural broadband. For example, Wireless Internet Service Providers Association (WISPA) members are using a variety of wireless broadband frequencies for services such as point-to-point and point-to-multipoint communications. LTE and 5G technologies can be deployed to finally close the digital divide and to provide broadband services to those who cannot afford them.
However, the goal must be to roll out broadband access in a way that does not create "islands of technology" that are not compatible with broadband in the rest of the United States. We cannot assume that providing one-off rural access to broadband will serve an extended area over time. Devices used in rural areas must be usable for broadband services in the rest of the country. One would expect that people using broadband access provided through this bill will eventually want to travel to other areas and continue to use their broadband devices.
I have also written about having too many federal agencies with far too many different types of grants and loans. We need a central entity that will evaluate what is needed in each area and make sure what is deployed remains operational well into the future.
ESChat and TAK.Gov
Last week, ESChat, a FirstNet-Certified™ Push-To-Talk (PTT) provider, announced the availability of a plugin that facilitates integration with the federal government's ATAK application. The question then is what is ATAK and why is this a big deal?
The TAK.gov website provides the first glimpse into this application with the following headline and paragraph:
"Harness The Power of Real Time Data to Solve Real Time Problems with TAK."
"TAK is the core of a suite of georeferenced imagery and communications tools that allow for scaled operational planning, data sharing, visualized elevation data, and target management. With TAK, your team can get oriented quickly, make better informed decisions and quickly respond to threats. Add TAK to your operations, and make sure when your team deploys, you have the unfair advantage."
Further into the website, you find there are versions optimized for Android (ATAK), iOS (iTAK), and Windows (WinTAK) platforms. A more detailed overview of TAK versions is available on Wikipedia's ATAK page.
"ATAK – Civilian (ATAK-CIV) – A distribution controlled but fully-releasable version of the TAK Product line for First Responders, Licensed Commercial Developers. Distribution for ATAK-CIV is through Approved, Government Hosted Sites, Direct Commercial Sales (DCS).[14] This version has no ITAR capabilities.
ATAK – Government (ATAK-GOV) – ITAR restricted version of the TAK Product line for USG entities and Foreign Government. Distribution for ATAK-GOV are through Approved, Government Hosted Sites; Direct Commercial Sales (DCS). This version of ATAK has no military (MIL) sensitive capabilities.
ATAK – Military (ATAK-MIL) – Military Sensitive version of the TAK Product line for US and Foreign Military end-users. Similar to ATAK-GOV, distribution is through Approved, Government Hosted Sites. However, is not available through Direct Commercial Sales (DCS).
ATAK – FVEY "Five Eyes" (ATAK-FVEY)"
The TAK applications are available at no charge; ESChat's ATAK Plugin is freely downloadable to government and military. In order for a vendor to develop a TAK plugin, a qualifying government agency must sponsor the development. The sponsoring agency can then choose to make the plugin available to other agencies. There is a separate process for developing plugins for non-government (CivTAK) use. Additional information about CivTAK can be found here.
The TAK family promises to be a useful set of tools for the public-safety community.
ESChat's ATAK Plugin
ESChat's announcement about the availability of its ATAK Plugin stated that it provides integration between the ATAK Common Operational Picture and ESChat's secure PTT communication platform.
"We are pleased to announce availability of ATAK Plug-In for ESChat. ESChat ATAK Plugin is available at no charge to U.S. military and government users. Integration of ESChat and ATAK allows users to communicate directly from ATAK while using the ATAK Common Operational Picture. Users continue to have the option of using ESChat screens for alternate communication and coordination scenarios."
What this means is that public-safety ESChat users on FirstNet/broadband networks can now integrate TAK (actually ATAK) and take advantage of the government's program. This is a real boon for public safety.
Below are some screenshots depicting the ATAK and ESChat applications integrated into a common platform. ESChat runs on both Android and iOS platforms, but it is not yet clear if a future version of this collaboration will be released for the Apple community.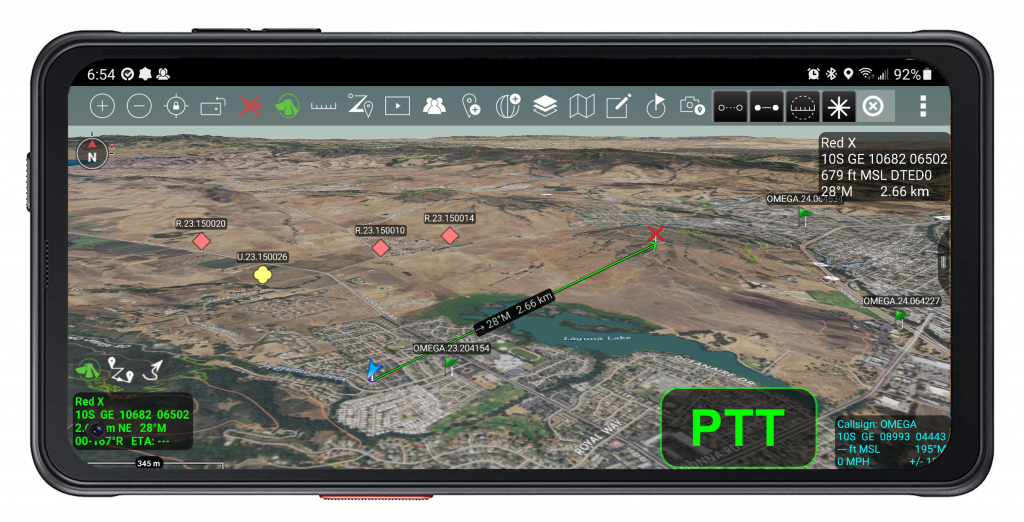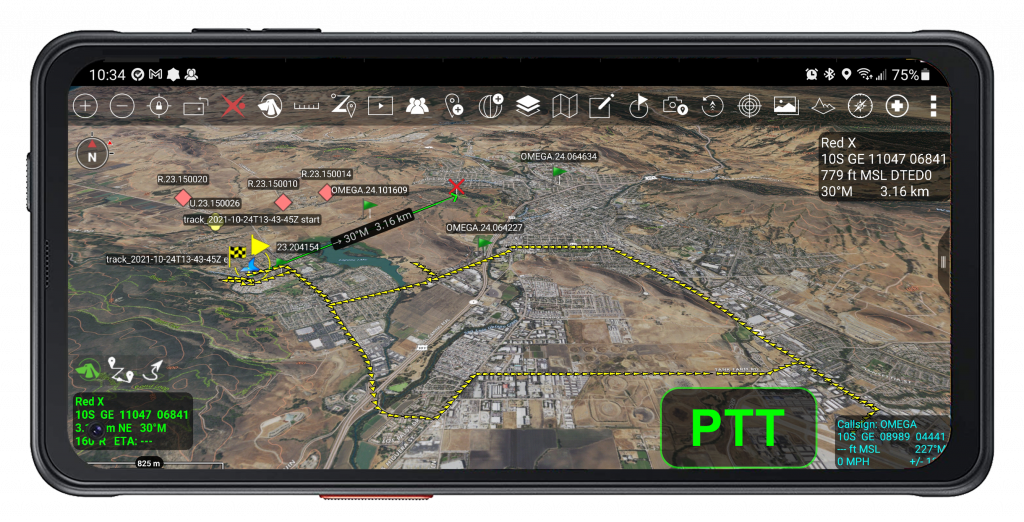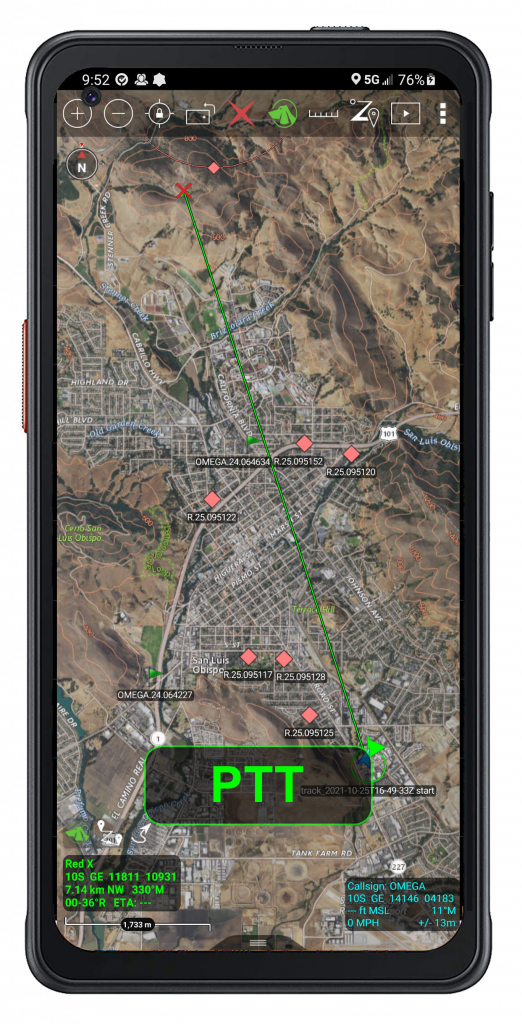 Additional TAK plugins are available today, and more are being developed. The TAK suite of products provided by the federal government, along with its third-party development ecosystem, is another indication that there is real value in public/private partnerships. Congratulations to ESChat for working with the federal government to provide this form of integration for the public-safety community.
Public Safety Broadband Association Conference

Don't miss the Vision conference hosted by the Public Safety Broadband Technololgy Association (PSBTA). I will be there and hope you will be there too.
Winding Down
A few weeks ago, I wrote about what I believe could be a game-changer for application and data interoperability on FirstNet (Built with AT&T). I had been briefed by John Constable on what he had been able to accomplish in the Maryland/DC area in the way of video interoperability. The final report has been released and it covers what he believes will continue to be used for video services and how it can be applied to Computer-Aided Dispatch (CAD) and data files to enable agencies to share information across FirstNet. This idea could solve the lack of interoperability problem that is preventing agencies from sharing information due to differences in file structures.
I have received a copy of the final report and will provide a recap within the next few weeks. In the meantime, if you would like to read this report you can find it here.
Mega Range ™
I am told by both Assured Wireless and Airgain, the two vendors with FirstNet (Built with AT&T)-Certified High Power User Equipment (HPUE) products, that they have released new software that will simplify drive-testing and provide more information. In addition to data capacity, these new releases can "look" into the Assured Wireless and Airgain devices to determine when public-safety Band 14 and/or AT&T LTE spectrum are being used. Band 14 is the only band approved for HPUE power levels (up to 1.25 watts) and AT&T LTE spectrum is also approved for public-safety use but at the standard 1.25 watts power levels. Public safety also has access broadband cellular, which is restricted to 0.25 watts of power.
These upgrades will provide important information about how much HPUE will increase Band-14 coverage and upload speeds. This information will be beneficial to anyone considering using HPUE devices in vehicles to conduct drive tests or hiring someone to run the tests.
The FirstNet (Built with AT&T) build-out is still considerably ahead of schedule and FirstNet has more than 18,500 agencies and more than 2.2 million users. We are also seeing progress on other fronts that will result in additional benefits to FirstNet users.
The addition of z-axis height information to location services and functionality offered by TAK.gov, and the expansion of FirstNet into rural America along with new applications and technology advances, continue to add significant value to FirstNet, which continues to improve services for the public-safety community. It has been interesting to see all the announcements and read about capabilities that may not have been foreseen but have come to fruition as a result of FirstNet's success.
Until next week…
Andrew M. Seybold
©2021, Andrew Seybold, Inc.