This week there are a number of items of interest for those involved in public-safety communications. A rugged handheld device company has given up on ProSe while a Push-To-Talk (PTT) company is launching its second-generation products. And a U.S. Department of Home Security (DHS) report that outlines products designed to equip first responders with tools to make their jobs easier includes a navigation and directions product that is designed to make it easier for first responders to reach the scene of an incident.
Bittium Gives Up on ProSe
Bittium is a Finish-based manufacturer of rugged LTE devices that believes the future is bright for these types of devices as the worldwide public-safety community begins to follow the lead of the United States and FirstNet. However, while it believes the market for these devices will grow quickly, it warns potential users that prices will be higher than standard commercial-device prices. This company that has been building ruggedized devices since 2012 says it has given up waiting for ProSe. It does not believe ProSe will become a reality or that it will provide the off-network communications public-safety agencies want and need. It has been quoted in several articles and LinkedIn as follows:
"I think the industry has been waiting for ProSe, [thinking] that it will solve the problem of off-network communications," Majava said. "We didn't think so, so we launched several years ago this Hybrid X solution that allows you to combine your LTE device together with your existing TETRA devices.
"I think everybody was so eager to wait for ProSe that nobody really kind of went for it, so we didn't get a big customer demand for that solution. I think it's now time to look at more alternative solutions about how this could be solved, because I don't think we can wait for ProSe any longer. We have to do something that does the job and meets the mission-critical requirements."
According to an article in Urgent Communications, Omdia analyst Ken Rehbehn agrees with this assessment of ProSe and said, "it is time to move on." Regular Advocate readers know I have been skeptical that ProSe will ever meet requirements for off-network one-to-one and one-to-many communications. Today, Samsung makes the only chipset I know of that is capable of ProSe and Qualcomm, the largest supplier of LTE chipsets, has no interest in adding ProSe to any of its chipsets going forward.
As mentioned, Bittium has moved on from ProSe. It has decided to build LTE/Terrestrial Trunked Radio (TETRA) radios for broadband and to use Tetra for off-network communications. In the United States, L3Harris, Motorola, and several other vendors already offer combination LTE/LMR devices and I expect to see more in the future. Some public-safety professionals believe there should be two devices, one for LTE/5G and one for LMR. Different agencies will have different preferences and it seems like having both combined and separate devices for now will provide more choices for the public-safety community in how they want to outfit first-responders and command and administrative personnel.
I see ProSe as one of those technological ideas that seemed like a good idea when the engineers decided they could figure out how to make it work, but most handheld devices operate at very low power (0.25 watts) with antennas embedded inside the devices. These devices do not provide any level of off-network communications that would be useful for public safety. As I have said many times, two people can yell farther than ProSe can talk. Still, some believe ProSe can be made to work and point to high-power devices that are available today for vehicle-mounted modems, routers, and tablets. Others point to the fact that ProSe has been designed to use intermediate relays to extend the range.
Today, high-power handheld devices are not practical because of the power and heat dissipation with high-power devices. Perhaps there will be a breakthrough in battery technology that will make higher-power devices workable in a handheld configuration, but it won't be anytime soon. However, off-network communications are needed now and into the future, not sometime in the future. If handheld devices carried by first responders are used as relays, there is a high probability that these units will be changing locations during an incident. This will result in loss of the relay. Therefore, in my estimation, requiring these handhelds to be used as relay devices is not a viable option. I agree with Ken that it is time to move on and concentrate on what LTE and LMR radios do best and not continue to try to force-fit off-network communications into LTE devices.
One final point. While there are combination devices on the market that include LMR and FirstNet /LTE, the LTE provided by vendors is not based on Android or iOS. As far as I can tell, users are not able to use FirstNet applications with today's devices. I hope this will change with the next iteration of combination devices.
Second-Generation Push-To-Talk on FirstNet
Some are still waiting for Mission-Critical Push-To-Talk (MCPTT) based on the 3GPP standard. It has been a year since FirstNet announced FirstNet PTT, yet not all Android vendors support all of the MCPTT features and Apple devices do not support MCPTT at all. iOS MCPTT is expected to be available by the end of this year along with the Internetworking Function (IWF) that will provide an affordable interconnection between MCPTT devices and Land Mobile Radio (LMR) systems. It is not clear whether IWF will be able to integrate FirstNet PTT with all the other forms of LMR PTT (Analog, P25 Conventional, P25 Trunked, and perhaps Digital Mobile Radio (DMR)).
Many public-safety agencies are not waiting for MCPTT since there are already a number of FirstNet-Certified™ push-to-talk solutions and some vendors continue to upgrade their PTT offerings. One such vendor is ESChat, which offers a FirstNet Certified, fully-secure, over-the-top PTT solution for public safety.
The January 4 ESChat release of Android Generation 2 is a complete redesign and implementation based on Google's Kotlin programming language for Android and it has been certified by FirstNet (Built with AT&T). This week, ESChat released the first version of its iOS Generation 2 product with many new features and it is currently under FirstNet certification review.
New Features and Functions
The two main upgrades users will see are Multi-Call Mode and the new Channels Screen. Multi-Call Mode enables users to engage in up to four PTT calls simultaneously. The Channels Screen replaces the legacy Groups screen that is enabled via a Feature Key to provide an improved user interface for people using Multi-Call Mode and people operating hybrid deployments using ESChat with IWF-connected P25 networks via the Inter-RF Subsystem Interface (ISSI) and DMR networks via the Automatic Identification System (AIS).
New under-the-hood features include a Priority Scan Mode that provides features similar to P25 but with a configurable dwell timer (time before scanning resumes) and a visual dwell-state indicator. Unbounded in-call access enables access to real-time location for enhanced situational awareness and in-call multimedia messaging. Other new features include the ability to sort by favorites in the Contacts List and Groups List and the ability to initiate a call directly from a database search result.
According to Josh Lober, co-founder and CEO of ESChat, Generation 2 was designed to address IWF-connected hybrid networks, particularly those using ISSI and AIS. Basic integrations between LMR and PTT over Cellular (PoC) using Radio over IP (RoIP) gateways fit well within the construct of most PoC-based products. However, direct digitally-integrated networks, specifically P25 via ISSI and DMR via AIS, present a new set of issues. Fundamental differences between PoC systems operating on commercial cellular networks and trunking LMR networks called for a new approach, which the company added in its Generation 2 product.
Conventional LMR uses dedicated channels that are mapped to PoC solutions using an RoIP gateway and donor radios. Trunking systems use a control channel and assign a new traffic channel each time a new call is established. The time a call stays on-channel after the PTT button is released (hang-time) is typically set from 0 to 1.5 seconds. This means each volley in a conversation may be handled as a different call that may or may not take place on the same traffic channel.
The ISSI protocol was developed to connect neighboring P25 systems, and AIS is a similar protocol used in DMR for console connectivity. ISSI and AIS-connected PoC conversations are controlled by the P25 or DMR trunking network and are subject to shortened hang-timers. The two PoC systems that connect to P25 via ISSI (Motorola WAVE and ESChat) are controlled by the P25 system once a call is established. ESChat is the only PoC system that provides DMR interoperability via AIS.
According to Lober, ESChat recognized the need to better support operation with larger P25 and DMR integrations, particularly as it neared the December 2020 launch of its IWF Services offering. ESChat has commercially deployed ISSI integrated services in North America with a number of P25 vendors including Motorola systems with ASTRO25 and VESTA (formally Cassidian Airbus DS Communications), EF Johnson, and Tait.
Early after its 2008 launch, ESChat realized it would be best to tailor its operation to meet the user's mission rather than attempt to mimic an LMR system. LMR has a dedicated infrastructure and radios that operate over dedicated RF spectrum while PoC-based solutions operate on commercial devices and networks that are shared with other apps and users. ESChat's new approach has worked well and has been extended to address the challenges of PoC-to-trunking network interoperability.
For example, ESChat implemented architectural changes to decouple hang timers so each system can optimally use its respective infrastructure. Within law enforcement, for example, operations such as Patrol and Surveillance within law enforcement greatly differ. ESChat has created eleven Group types, including two to specifically address such use cases.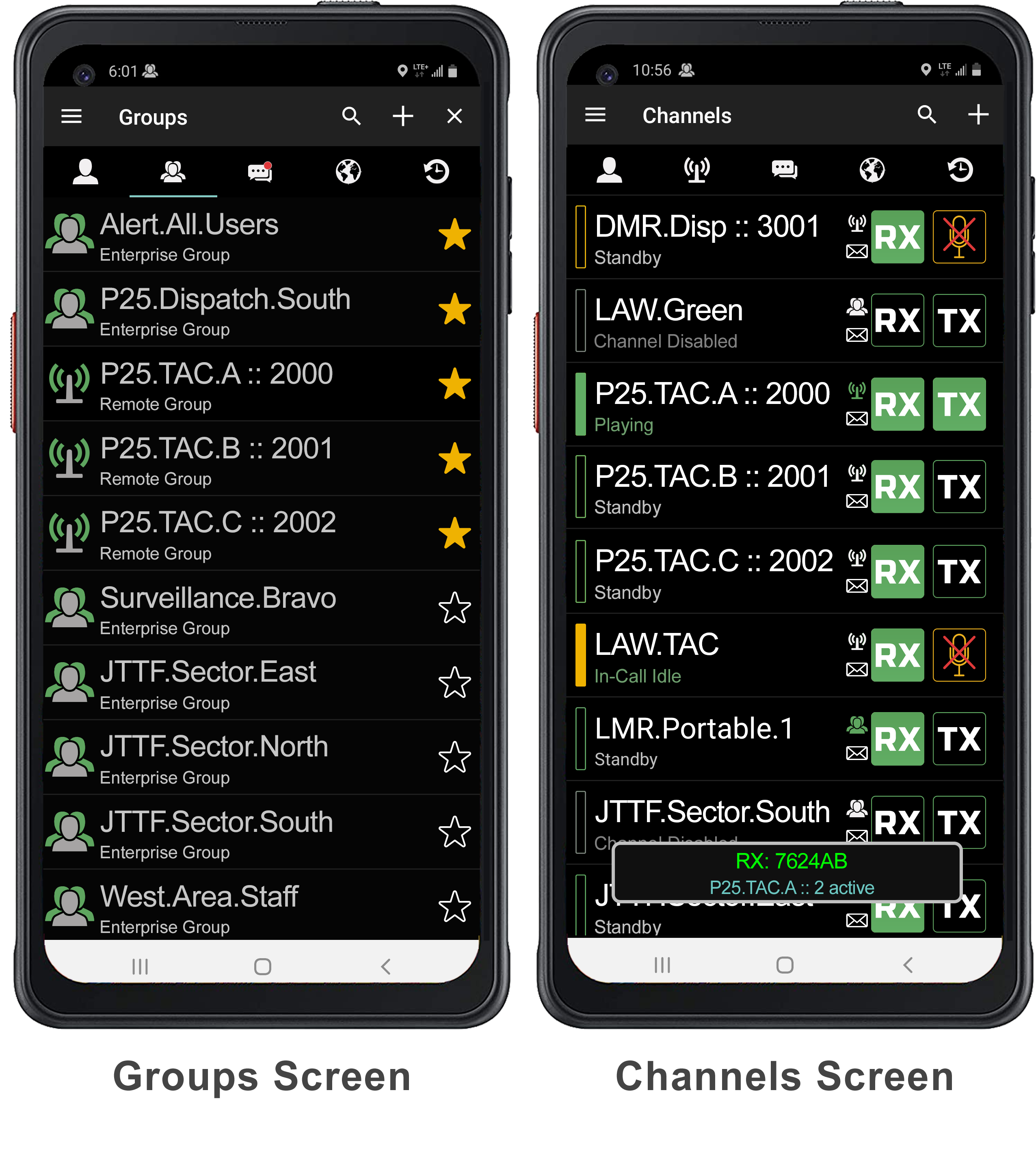 The TX (transmit) column in the new Channels Screen can best be described for LMR radio users as the rotary on top of an LMR radio that enables users to select the active channel. The pictures below show both the group screen users are accustomed to seeing and the new Gen2 Channel Screen. Users can choose which screen they prefer.
The Groups Screen and Channels Screen are available in the new Gen2 product. There are a number of setting selections in the Channels Screen and now there are "favorite" stars on the right-hand side of the Contacts and Groups screens. These enable users to select their favorites from a longer list of contacts, and favorite Groups and Contacts are sorted at the top.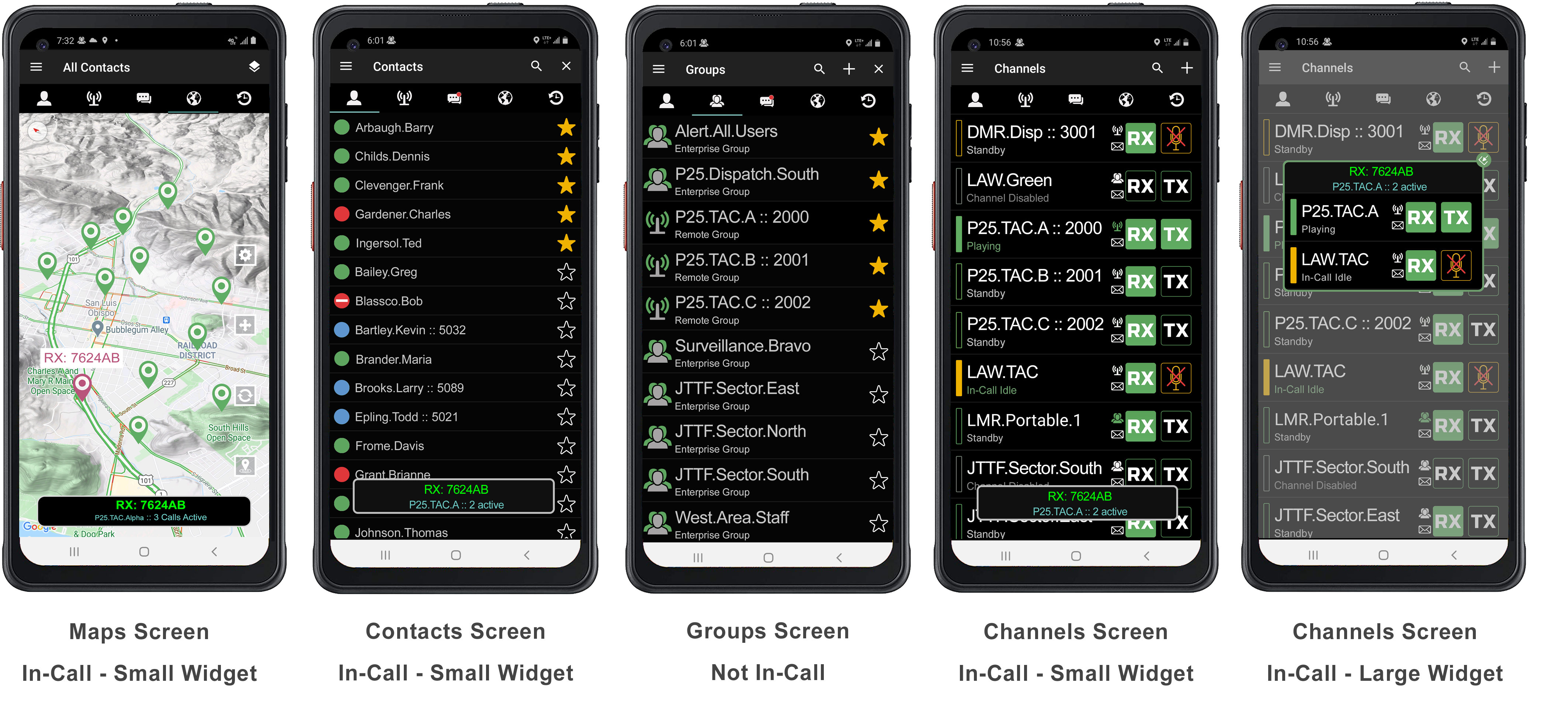 A number of other views are shown below on the Samsung Galaxy XCover Pro.
With the new Multi-Call Mode, users can listen to a number of calls or talk groups at the same time. Along with Priority Scan, this can become complicated during active periods. There were concerns about how users would know which talk group was calling if they were not watching the screen. Some concerns have been addressed by user protocols such as saying, "are you available on Blue?" rather than "are you available?" Others could be addressed through backend and User Interface enhancements. Public-safety operates in a heads-up mode that requires a combination of user behaviors and backend intelligence for a full-featured hybrid network experience.
I have been a fan of the channel selection rotary on many LMR portable radios but I really like the new Channels Screen. The TX button column is equivalent to rotary channel selection and the smartphone user interface displays the dwell condition when Priority Scan is active. The screen indicates which talk group(s) are in use, who is talking, and much more.
When there is no side PTT button or switch, an on-screen PTT can be depressed and held down to talk and released to listen. This push-to talk bar is available regardless of which screen is being viewed.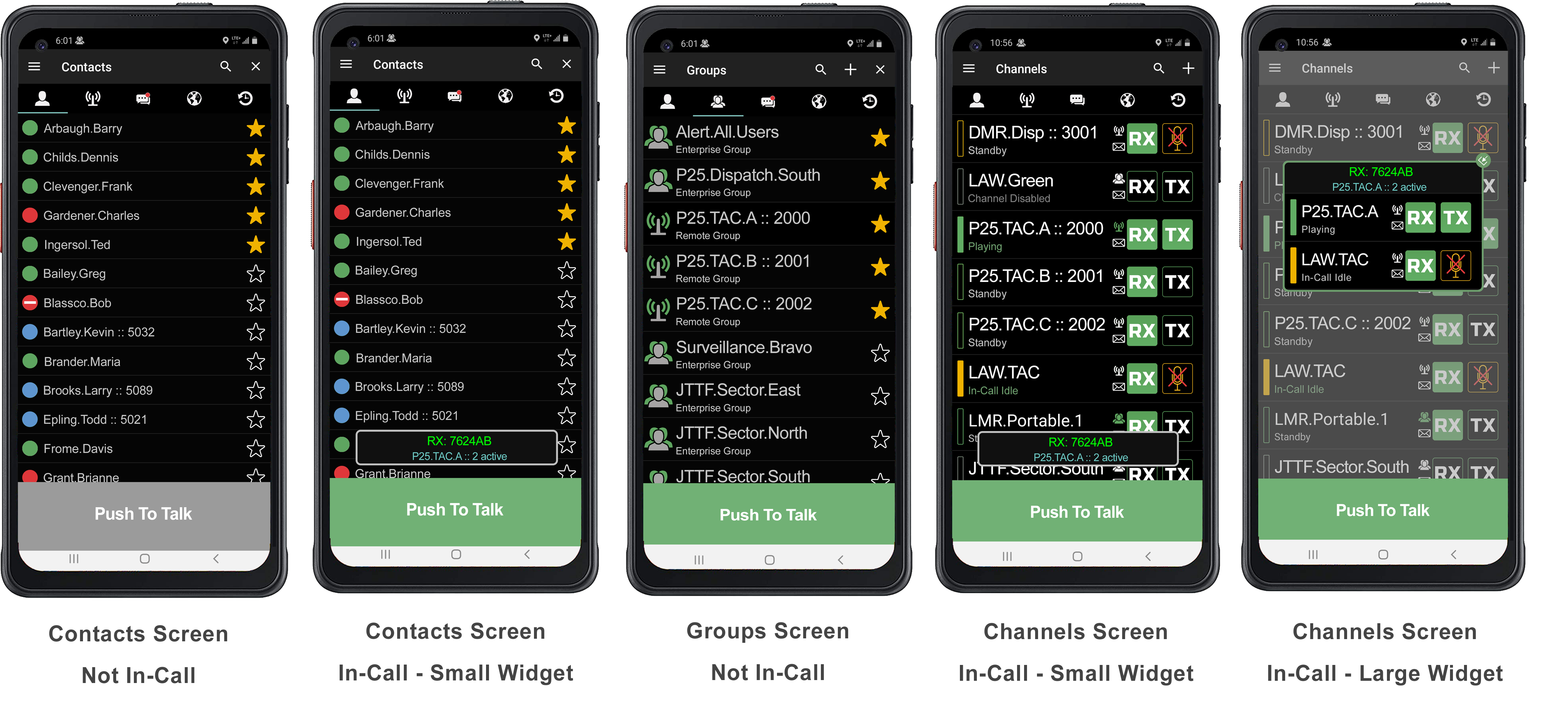 Users on up to four calls simultaneously can hear audio on all of them with priority scan. Normal dwell time is set to five seconds and if users respond to calls within that time, the TX will be on the same channel. If the dwell time has expired, the TX will remain set to the user's priority channel. Tapping on a new widget that appears when there is an active call enlarges it to show up to four calls to provide an enhanced view of what is active and in use.
A number of other features and options are included in the Gen2 roll-out and you can watch a demonstration video on YouTube at: https://youtu.be/NotTT2JUhmU.
More and more agencies are moving toward FirstNet and LMR integration using a variety of interconnection methods. I like the fact that ESChat works with the first-responder community to ensure its products will meet first responders needs. This may be the most significant reason ESChat is being used by nine of fifteen federal government departments and state and local agencies across North America.
QuickRoute
QuickRoute, a new navigation application designed especially for first responders, is available for Android, iOS, and PCs used by Emergency Communications Centers (ECCs). This application is different from typical driving direction programs because it gives consideration to the types of emergency vehicles in use (up to twelve at this point), provides real-time map information including road obstructions and hazards, and since the equipment is responding to an emergency, it gears the turn-by-turn directions for current road and traffic conditions. QuickRoute is available for $10 per user, per month, or it can be purchased by an organization at a discounted price for ECCs and vehicles.
QuickRoute for first responders provides mapping and vehicle location for ECCs as well as driving instructions for vehicles. It uses the GPS built into users' smartphones or tablets and it includes high-level encryption. Dispatchers and managers have access to maps of locations, road obstructions, significant events, and available responders. The system uses a global database of road and infrastructure that is updated daily and it includes road and bridge weight limits and tunnel and bridge clearance heights that are provided by the U.S. Department of Transportation (DOT). The database also includes manufacturer specifications for common vehicle types including ladder, water tender, engine, patrol car, ambulance, crash truck, SWAT truck, K9 units, command bus, utility vehicle, and Chief's car. Other vehicles can be added with their specifications.
QuickRoute was designed to fill a void that was identified by the U.S. Department of Homeland Security (DHS) Science and Technology Directorate's first-responder group that researches all types of technological innovations they believe could assist first responders. One of the capabilities gaps they identified was drive guidance to a fire or medical emergency and information to provide first responders with the best route based on conditions and the size of the responding equipment. More information is available on the QuickRoute website.
More next week…
Andrew M. Seybold
©2021, Andrew Seybold, Inc.