The goal of FirstNet was to provide nationwide broadband coverage for all first responders and to enable them to communicate among each other over a dedicated public-safety network. The Band-14 spectrum (20 MHz in the 700-MHz band) is one of the many features that set FirstNet apart from commercial broadband networks. While Band-14 spectrum is sometimes shared with commercial users, it can be quickly re-designated for exclusive public-safety access.
MegaRange™ devices and Band-14 network upgrades announced this week are another major differentiator. Today, FirstNet is the only broadband network in the world licensed to provide two types of user devices. The first group consists of standard devices that can be used on most networks that operate at the 0.25-watt power level required by law. The second is a set of "MegaRange" devices capable of much higher transmit power (up to 1.25 watts). These devices increase coverage to levels similar to adding four times more Band-14 cell sites across the entire United States.
In addition to the information provided in this week's Advocate, the Public Safety Broadband Technology Alliance (PSBTA) will be hosting a webinar on February 17, 2021 starting at 10:00 AM Pacific Time (Register here) to discuss MegaRange. This discussion will include executives from both companies now offering MegaRange products, Chief Harlin McEwen (Ret.), who many of you know as the father of FirstNet, and me. Following the webinar, I will be publishing a Best Practices paper on mobile MegaRange installations including pointers on what types of devices can best take advantage of MegaRange technology.
Background
FirstNet was created by law in February 2012, and five years later, AT&T began building the FirstNet network. In the 2017 build contract, The FirstNet Authority established milestones to be met by certain dates to ensure the network will serve the first-responder community anywhere and everywhere. Since construction began, we have seen a slew of new user devices including handheld smartphones, tablets, laptops, vehicular routers, and Internet of Things (IoT) devices to name a few. We have also seen a growing number of applications available for first responders, the introduction of FirstNet Push-To-Talk (PTT), which is based on the 3GPP Mission Critical Push-To-Talk (MCPTT) standard, and many more firsts.
The law establishing FirstNet requires the network to be built out to cover metro, suburban, rural, and tribal areas during each phase of construction in addition to areas with higher concentrations of first responders and secondary commercial users. It is rarely recognized that FirstNet was originally based on 20 MHz of spectrum (10-MHz uplink, 10-MHz downlink) which, from the beginning, did not fall under typical Federal Communications Commission (FCC) regulations for commercial broadband services. Rather, this 20 MHz of spectrum falls under FCC part 90 rules for public-safety spectrum use. Since AT&T also made all its commercial LTE spectrum available and has indicated it will extend first-responder access to its entire 5G network in the future, the special nature of public-safety Band 14 has not been front and center.
That Changes This Week
On Tuesday, January 26, 2021, FirstNet (Built with AT&T) finally announced that high-power devices are now available for public-safety use—but only on Band-14 public-safety spectrum. While working with the national LTE standards body and the FCC, it was determined that it made sense for those in the field to use higher-powered devices to extend the coverage of each Band-14 cell sector and to enhance access to Band-14 cell sites in metro, suburban, and especially rural areas of the United States. These much higher-power (1.25 watt) devices are not permitted to operate in any other broadband spectrum.
Today, two companies are shipping MegaRange™ products that have been fully approved by FirstNet (Built with AT&T). The first is Assured Wireless, which has been developing its high-power products for the past four or five years. The second is Airgain with its AirgainConnect vehicular antenna solution. The AirgainConnect system builds on an Assured Wireless Module that is built directly into the antenna. Both systems have been extensively tested not only in their own company drive tests, but also by many public-safety agencies that were selected to test the results during an extended beta-test period. Time and time again, the results prove MegaRange devices can extend Band-14 coverage as much as 80-percent and, as important, their use keeps broadband data rates for inbound traffic higher much farther from the cell center.
Band 14 and MegaRange Devices Working Together
It took time to design and build MegaRange devices and even more time since every Band-14 cell site had to be upgraded to be able to manage both standard-power (0.25 watt) and MegaRange (up to 1.25 watt) devices. Each commercial network controls the amount of power mobile devices are permitted to use to talk to the network. Remember, the closer a device is to the center of a cell site, the less power it takes to talk back to the cell site. As a standard user device moves farther and farther from the center of a cell, the cell site sends out a command to increase the mobile device's power in order to keep data rates as high as possible. However, as the cell edge is approached and at the edge of the cell, data speeds are not optimal so data is both received and sent at a much lower rate.
Enter MegaRange
When close to the center of a cell, MegaRange mobile devices behave in much the same way as standard lower-powered devices; the network decreases their power to only what is needed to ensure solid communications. The real difference comes when a MegaRange device moves away from the cell center. As it moves farther from the cell center, the network increases the device's transmit power as needed. If you had both a standard and a MegaRange device at the edge of a Band-14 cell, you would notice a huge difference in data speeds. However, that is only the start of why MegaRange is a game changer. If you continue past the "normal" cell edge, your standard device would indicate it was out of range but the MegaRange device would remain connected and operational (to a point).
Field tests have proven the available coverage from a combination Band-14 cell site and a MegaRange device is typically 80-percent greater than a standard device and the same cell, and data rates are considerably higher. Tests have been conducted moving away from the cell center while streaming video up to the network. When a typical standard device is no longer able to connect and send video up to the network, the MegaRange device will continue to send the stream well past the typical edge of the cell.
Current Devices Available
There are differences between devices from the two MegaRange device vendors. We will start with Assured Wireless since it has been working the longest on development of its product and its LTE Modem is embedded in the Airgain Connect product. The Assured Wireless offering, approved by FirstNet (Built with AT&T), consists of the AW12 High-Power LTE Modem and two other components. It connects via USB and it is not simply a high-power Band-14 modem, it also includes all the standard FirstNet LTE bands. There are many different configurations, some of which are detailed below.
The important point to remember for both the Assured Wireless and Airgain products is that they require a FirstNet SIM. Not the standard black SIM public safety is accustomed to but rather a "hardened SIM" that is also used for Internet of Things (IoT) devices. The hardened SIM is white rather than black.
The second component in the Assured Wireless package is the USB-to-Ethernet converter, which includes a power conditioner converter that provides seamless integration of the AW12 USB modem and standard Ethernet routers, gateways, and switches. This converter provides Gigabit Ethernet speeds as well as two power-over-Ethernet (POE) connections to power the unit and associated AW12. The final component is the AW12 and AW12-Ei Installation kit. This installation platform is for fixed and mobile applications and it provides a reliable connection for routers, gateways, switches, laptops, and tablets.
Assured Wireless also offers a standalone AW12-HP High-Power LTE module, which is designed to be the basis of other devices that might find their way into the market. This module is incorporated into the Airgain Connect system discussed below.

AirgainConnect
Airgain has been providing multiple-antenna systems for mobile and fixed services for a number of years. When it learned about the 3GPP High-Power User Equipment (HPUE) module from Assured Wireless, it decided to install the module directly into an antenna. The idea was to minimize any and all signal losses normally encountered when an antenna is fed with coax cable and the radio itself is located inside a vehicle. The finished product looks like a typical shark-fin antenna but there are two important differences.
First, the AW12 module is actually part of the antenna and the hardened SIM card resides in the antenna housing. Airgain offers several variations of the SharkFin™ depending on other antennas that might be needed in a single housing. The standard AirgainConnect includes all the antennas needed for all FirstNet LTE bands including high-power Band 14. Add-ons include GPS, WiFi, and more, and will depend on the desired vehicular configuration (see below).
This SharkFin antenna carries a U.S. Patent and is approved for IP67 rooftop mounting. The typical configuration with the HPUE module onboard includes three LTE antennas, two WiFi antennas, and one GPS antenna. Airgain states that because this method eliminates antenna cables between the antenna and a router or other device in the vehicle, losses normally associated with antenna cables are reduced, thus output power is increased and receiver sensitivity is increased by several dBs across ALL FirstNet LTE bands. The overall package not only improves Band-14 range and throughput, it enhances LTE reception on all FirstNet bands.
AirgainConnect is packaged with everything needed for installation. There is an antenna with a magnetic base add-on for testing purposes, but the final installation should be with the antenna permanently mounted on the roof or rear deck of the vehicle. All the required cables are included along with the Ethernet injector that provides Ethernet-to-USB-C Networking and power conditioning to protect the antenna modem from voltage spikes.

MegaRange: Mobile-Only Today
Today's products and services represent the first of what I believe will be many new MegaRange products in coming years. Now that we have mobile devices, the challenge will be to develop other form factors. The issues that must be overcome before we see MegaRange handheld devices are twofold. First is the amount of power required (battery drain) and the second is the amount of heat that needs to be dissipated during transmissions. It will be difficult to fit MegaRange devices into a handheld form factor but I learned a long time ago to never say never.
In the meantime, MegaRange devices will be hugely successful in vehicles and there are a variety of devices with which they can be married. Below is a partial list of some ways they can be integrated. I also expect to see MegaRange capabilities added to portable kits already on the market, perhaps to some UAVs (Unmanned Aerial Vehicles, drones), communications vehicles, Cells On Wheels (COWs), and other types of deployable emergency devices.
These two sets of offerings are different enough that there will be different use cases for both companies. At the moment, Airgain is providing vehicular MegaRange self-contained omni-directional high-power systems and while the Assured Wireless devices can be used in vehicles, they can also provide a back-up communications link from, for example, Emergency Communications Centers (ECCs). In this configuration, the AW-12 can be attached to a high-gain directional antenna to provide emergency backhaul communications when the fiber system is not available. The same system could be deployed in communications vehicles with directional antennas to provide wireless backhaul during disasters and I am sure we will find many other inventive use cases going forward.
Vehicle Connections Today
Some public-safety vehicles already have a router, some approved routers are made by Cradlepoint (now Ericsson), PepWave, and Sierra Wireless. Today's routers usually contain single or multiple radios to provide broadband services on FirstNet alone or FirstNet and one or more other broadband networks. Most FirstNet-approved routers also have a wide-area network Ethernet connection. Therefore, either the AirgainConnect or Assured Wireless AW-12 can be connected to an existing router for MegaRange capabilities.
Note that both the Assured Wireless and AirGain systems require a hardened FirstNet SIM designed for harsher environments. Adding MegaRange will require a second SIM and in some cases a monthly service even if the existing in-vehicle router already has a black SIM. For routers purchased or operated without a SIM in the basic radio, only the MegaRange SIM might be needed (some routers will not boot-up, turn on, without a SIM installed in one of its radios). There is always an advantage to having the radio in the router active on standard FirstNet channels along with the MegaRange device as another complete FirstNet radio. 
The Best of All Worlds: MegaRange Connected to a Vehicular Router
I highly recommend that either Assured Wireless or Airgain Connect MegaRange devices be connected to a vehicular router if at all possible because most routers can establish a WiFi bubble around the vehicle. When set up properly on 2.4-GHz WiFi, those around the vehicle can connect to the WiFi bubble and use the MegaRange device as a relay to extend the overall coverage at an incident. This may also be helpful with some inbuilding range extensions, but that will depend on how close the vehicle is to the building and how the building is constructed. If the windows are tinted, for example, inside the building to MegaRange WiFi may be more limited.
Installation of Assured Wireless system connected to a vehicular router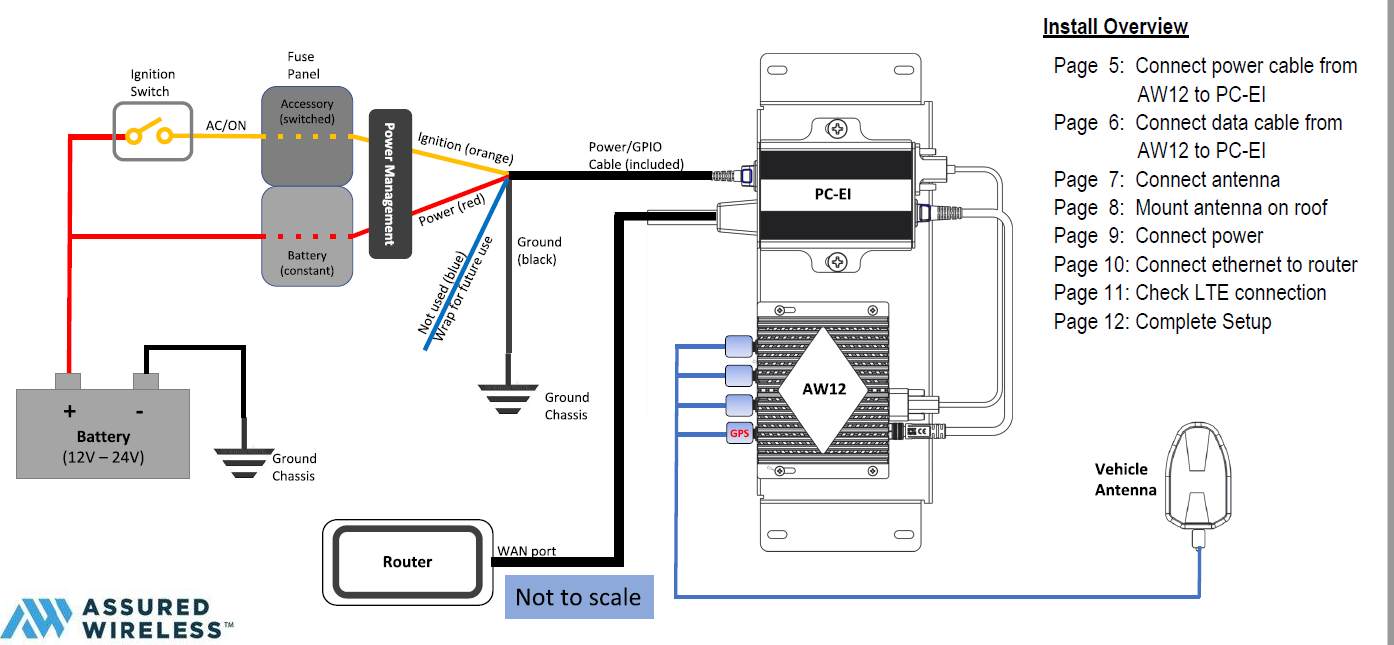 Installation of Airgain Connect MegaRange antenna system connected to a vehicular router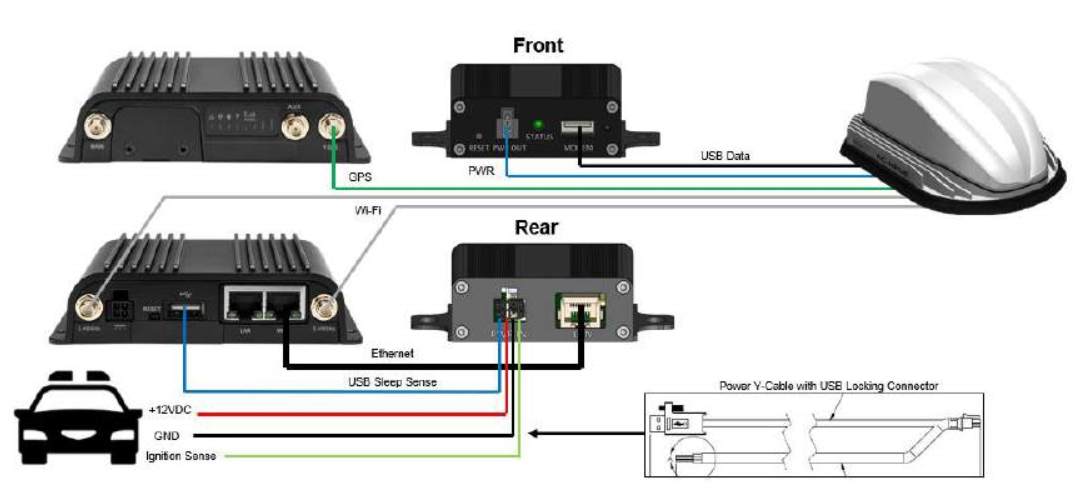 Both of these devices can also be installed and attached to tablets and laptops in a vehicle, but without a WiFi bubble, the system will function as a MegaRange device to a single device.
Conclusions
With the FirstNet (Built with AT&T) announcement launching MegaRange service on Band 14 and two companies with approved products, this is the start of what I suspect will be better FirstNet coverage in suburban, metro, and especially rural areas. I also expect to see more inventive ways to use MegaRange devices to increase coverage when temporary cell sites are called on for assistance.
MegaRange devices will be built into rapid-deployment kits, installed in UAVs and drones, and show up in many form factors. While it will take some really good, inventive engineering for a MegaRange handheld device, I think given today's technologies we can probably expect to see a laptop or even a hardened tablet with expanded battery life and built-in MegaRange.
As first-responder agencies continue to move to FirstNet to be able to share in its nationwide interoperability, public-safety-specific spectrum, and device and application developments, the addition of MegaRange communications will become yet another reason for agencies to join FirstNet. When we were pushing Congress and others to create FirstNet, we envisioned a nationwide network for all public-safety agencies. However, early on, many told us we may never see all public-safety agencies on the FirstNet network. The doubters may be correct, but as each new capability exclusively available on FirstNet is rolled out, the decision to join the vast majority of public-safety agencies on the FirstNet network becomes ever more compelling.
Andrew M. Seybold
©2021, Andrew Seybold, Inc.