Last week I wrote about two FirstNet anniversaries that are coming soon. The first is the tenth anniversary of the FirstNet Authority and the FirstNet (Built with AT&T) anniversary is in March. Both are milestones and right after I hit the send button on last week's Advocate, I saw a milestone release for new user and agency figures for FirstNet. In every update, new numbers continue to climb. The latest results are as follows: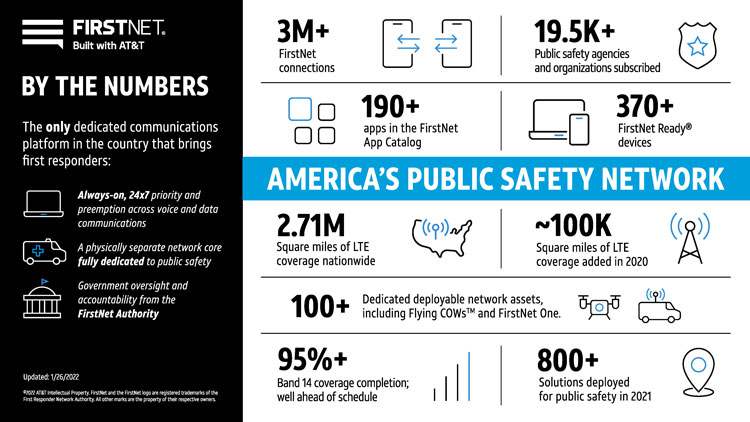 FirstNet's continued growth shows that those who had the vision of a Nationwide Public Safety Broadband Network (NPSBN) and worked so diligently to convince Washington, DC to allocate both spectrum and funding had been correct. Pardon the likeness to a popular saying, but this success has proven that, "If we can build it, they will come!" There are many reasons FirstNet continues to grow at such a pace. These include nationwide coverage so first responders can be just about anywhere in the United States and still be in contact with their own Emergency Communications Center (ECC) or with the Incident Command at their destination.
Looking back, it is easy to see what caused some of the growth. Unfortunately, one reason is the increase in the number of major incidents including what is happening now in the Northeast. Other driving forces include that FirstNet (Built with AT&T) keeps adding deployable cells of various types and sizes. Today there are more devices and applications available on FirstNet than ever before.
When connected to Band 14 and using FirstNet MegaRange,™ the power of today's mobile devices in the field can be increased by at least six times from 1/4 watt to 1.25 watts. With MegaRange, Band-14 cell sites also cover much more area than is possible with a single Band-14 cell site, data rates are much faster, and data travels much farther from a Band-14 cell site.
There are other reasons for the growth spurts, too. For example, when we first began to worry about Covid and many people worked or schooled from home, there were major concerns about whether there would be enough Internet, wired, and wireless bandwidth available to meet the needs. No one knew if there would be enough broadband capacity to service everyone.
Because of this doubt, a number of public-safety agencies realized that in addition to having access to all of AT&T's LTE spectrum with full priority and pre-emption, FirstNet (Built with AT&T) also had Band-14 spectrum, a unique 20 MHz of the 700-MHz spectrum Congress and the FCC licensed to the FirstNet Authority. This spectrum can be shared with commercial users when public safety does not need all of it. Conversely, commercial users can be throttled to make more space for first responders and, if necessary, the band can be cleared of all but first responders. It turned out that this was a compelling reason for public-safety fence-sitters to join FirstNet. If, as some believed, we experienced diminished broadband services because of the increased volume of traffic, Band 14 would serve as a safe-haven for FirstNet users. 
More announcements from FirstNet, the FirstNet Authority, vendors, and others will continue to drive users to FirstNet. Moreover, I believe once achieved, fully-interoperable PTT between FirstNet and LMR systems will be yet another driver that will increase the number of FirstNet users and agencies.
Now for Something Different
In addition to the two anniversaries mentioned above, Andrew Seybold, Inc., will be celebrating the 12th anniversary of the Public Safety Advocate on June 10, 2022. During all these years, I have heard from subscribers and occasional readers telling me I am doing a great job, something I said was not correct, or I made an error in an article. In a typical week, I receive comments from our Advocate subscribers, others who read Advocate articles on Twitter or LinkedIn, and articles shared on a variety of websites. I read every comment, respond to many, and determine want I will write next.
I think our anniversary is a good time to reach out and ask everyone for more input to guide us in deciding what to write about and better understand who we are writing for.
We invite you to respond to the questions in our survey. You do not need to provide your name or agency if you would rather not. The purpose of this survey is to collect answers to these questions to give me a better idea of where we need to go with the Advocate over the next twelve years. Survey answers will not be given to anyone else, but I may share some questions with anonymous responses in future Advocates.
I know busy folks like you do not usually take time to fill out questionnaires. This one is different. FirstNet is still evolving and growing and I would like to know how FirstNet meets your needs, where it might fall short, and if you could decide on the next enhancements, what would they be? I hope many of you will fill out this survey that is focused on FirstNet.
Thank you and until next week…
Andrew M. Seybold
©2002, Andrew Seybold, Inc.