In early January, the FirstNet Nationwide Public Safety Broadband Network (NPSBN) reached a milestone when the last U.S. territory opted in to FirstNet. This made it unanimous, all 50 states, the District of Columbia, and all territories. The FirstNet system is operational, and work continues on the Evolved Packet Core (EPC), the brains of the network. During much of this time FirstNet and AT&T have been considering how to best differentiate the government organization that is the First Responder Network Authority as set forth in Public Law 112-96, and the ecosystem that is the FirstNet NPSBN and the many components that go into it to create the FirstNet ecosystem.
So far, we have seen reference to FirstNet/AT&T in many articles and when AT&T and FirstNet are providing information. However, the ecosystem itself, consisting of the Nationwide Public Safety Broadband Network, the Evolved Packet Core, devices, applications, and so much more is FirstNet, too. Here is where is gets tricky. FirstNet exists as an independent government authority within the Department of Commerce. Therefore, FirstNet, or what was officially created by Congress as the First Responder Network Authority, is a government agency and as such it is responsible for creating, awarding, and administering the contract for development and administration of the NPSBN. Simply stated, the First Responder Network Authority Board (with assistance from the FirstNet Authority staff) is responsible for setting and administering policy for the Nationwide Public Safety Broadband Network.
At this time, there is a need to differentiate the federal agency (the FirstNet Authority) from the actual public safety network or system now being built by AT&T, the FirstNet Authority contractor.
On January 22, the FirstNet Authority and AT&T unveiled information that explains the new visual identity for FirstNet products and services by AT&T.
Two FirstNet logos
Perhaps the best way to explain the differences between the two FirstNet logos is to refer to the graphic created by the FirstNet Authority and included in a tweet this week: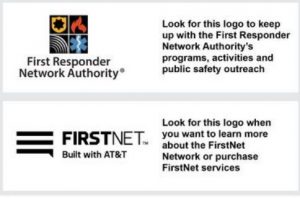 At first, the concept of two FirstNet logos might be confusing. However, I think it will be clear to network customers (the Public Safety Community) that FirstNet network and services is what they have and will be signing up to use going forward.
FirstNet the System
The natural tendency might be to describe the new FirstNet as the FirstNet network but that would not tell the entire story. A network is a pipe that carries voice and data from one point to another. It cannot be called a "dumb pipe" as we used to call a network since the "smarts" built into the network are complex and complete. Further, FirstNet the system includes everything public safety will need to add FirstNet to its communications tools (remember, Land Mobile Radio still has and will continue to have an important role to play for public safety). It includes end-to-end security, Identity, Credential and Access Management (iCAM) services, access to multiple data services, devices, device management, and much more. Normally, most of these things are not part of what users receive when they sign up for network service. However, as a FirstNet customer, public safety gets the entire FirstNet ecosystem, not simply a network.
AT&T
AT&T plays a critical role in the success of the FirstNet ecosystem since it is responsible for building, operating, maintaining, and upgrading the network portion of FirstNet and is also charged with providing all of the above services and more. That is why the tagline on the FirstNet ecosystem logo says "Built with AT&T." If the tagline could have been longer, I believe it would have said, "Built with AT&T with and expressly for the public safety community." In reality, the rest of the statement is implied and should be considered part of the FirstNet ecosystem. AT&T has and will continue to work with the FirstNet Authority, the Public Safety Advisory Committee (PSAC), and other public safety organizations moving forward.
We now have two distinct logo designs that should be useful for the public safety community to understand which organization it is dealing with. The FirstNet Authority is constrained by many rules and regulations that go along with being a federal government entity. However, any who have interfaced with the FirstNet Authority's board and staff know they do not think or act like how we envision federal employees to think and act and they are fully committed to serving local, state, and federal public safety. The FirstNet Authority is driven to provide public safety with the best possible nationwide broadband network and AT&T, its contractor/partner developing the FirstNet ecosystem, is committed to achieving the same goals.
Tidbits for the Week
Pre-emption from Verizon, as reported by Urgent Communications: "Verizon has made preemption access "available" across its network for public safety customers and demonstrated that it works during this year's Rose Parade in California. However, it seems that pre-emption functionality is being "enabled" only on a limited basis in other parts of the country according a report from a Verizon spokesperson." These statements left me confused. Either there is pre-emption on a network for public safety or there is not. It is not acceptable to have it available and turn it on only when the network operator decides to enable it for a while. FirstNet pre-emption is 100 percent of the time on 100 percent of the network.
Misunderstanding
I hope Congresswoman Eshoo simply misunderstood the issues facing the public safety community when it comes to communications in a letter of concern from Representative Eshoo (D-CA) and reported by Paul Kirby in TR Daily: "Congresswoman Eshoo, who is a senior member of the House Communications and Technology Committee, stated that she was concerned about the lack of interoperability between FirstNet and other (Verzion) carriers. Further, she is concerned that AT&T does not run fiber everywhere it is needed."
There is much more to her letter but those are the most significant of her concerns, neither of which are founded on an understanding of wireless and communications but rather, it sounds like something a lobbyist might tell her. First, if you are on Verizon as a commercial customer and your friend is on AT&T, yes, you can connect via text and send data files but you cannot talk to each other unless you dial the other person's number and are cross-connected to him or her on the other network. There is no network sharing between commercial networks for the purpose of interoperability. Next is the fiber issue. AT&T, like Verizon, Sprint, and T-Mobile, deploy fiber in many ways in different markets. Sometimes they rent fiber from each other, they rent it from a third party, or they run it themselves, but not a single network I know of owns and deploys all the fiber assets it uses.
We should not expect our congressional representatives to be experts in every issue brought before them but most have a staff member who has expertise in a given area. Normally, the staff member would be the one to provide Congresswoman Eshoo with the correct information. I have said this several times before and I will repeat it again. The last thing public safety needs is for sore losers, or networks that did not even participate in the FirstNet RFP and bidding process, to turn to political allies to try to pressure FirstNet and the public safety community for a system secondary to that already in the works and finally on track after being delayed far too many years.
Standards for Mission Critical PTT, Video, and Data
At the 3GPP standard body meeting in Lisbon in December 2017, it was announced that stage 3 of the specifications for all three forms of mission-critical communications over LTE have been finalized and are now 100 percent complete and ready for inclusion in LTE release 14. Work continues in the 3GPP on internetworking with existing Land Mobile Radio systems and additions to MCvideo and MCdata service, all slated for LTE release 15. The 3GPP working groups continue to move forward with enhancements for LTE and are starting work on 5G specifications.
NPSTC (National Public Safety Telecommunications Council)
On January 9, 2018, NPSTC held a teleconference meeting and a number of people presented from the federal government and the NPSTC committees. To me, one of the most important recommendations to come out of the LMR to LTE Integration Working Group states on page 46, "LTE Talkgroup Management Work is needed to assess technical and policy issues regarding the creation and management of LTE talkgroups. As the Working Group was discussing the need to interconnect LMR and LTE talkgroups, it became apparent that the NPSBN will be supporting thousands of LTE talkgroups. Management of LTE talkgroups, including Talkgroup IDs and Talkgroup Aliases are needed to prevent technical and operational challenges involving duplicate IDs and names. – Recommendation: NPSTC should task the LMR LTE Integration and Interoperability Working Group to further study this issue."
This is an important issue that is sometimes overlooked so I am pleased that NPSTC is taking up this task. When a talkgroup is assigned today on an LMR system, that system is confined in coverage to a given geographic area. The problem for LTE is that since it is nationwide and it is the same everywhere, it is possible that talkgroup IDs can be duplicated in two distant cities and they will only discover the problem when the wrong people show up in the right talkgroup. There are some statewide systems and I hope they will join this group and share their experiences. NPSTC, time and time again, is ahead of the curve when it comes to identifying issues not yet being considered by others.
Conclusions
There is a lot going on, new branding for FirstNet, more uptake by public safety on the network, more agencies testing and reporting that FirstNet coverage is as good as the network they are using now and, of course, it will only get better. Still, we have to keep in mind that FirstNet is a work in process and we all originally thought we would have to wait for FirstNet band 14 to be built out in our community. Now, FirstNet is up and running and band 14 is being added but is not holding up agencies that want to join the network and take advantage of FirstNet capabilities. There will likely be more bumps in the road but a lot of progress has been made in a short time. This is about and for public safety and the rebranding of FirstNet is designed to reflect that.
Andrew M Seybold
©2018 Andrew Seybold, Inc.