By James Careless
When it comes to the value of the Public Safety Broadband Technology Association (PSBTA)'s Vision FirstNet Users Summit (Vision 2023), Edward Parkinson doesn't mince words.
"Over the last five years we've seen a quantum leap forward in public safety communications," said Parkinson, CEO of the 911 intelligent safety platform RapidSOS and former FirstNet Authority President. "And what I think this conference does better than any other is that it really highlights the bleeding edge of what that looks like — not only in terms of what art of the possible is, but what's actually here right now that women and men in public safety can leverage."
Now underway at the South Point Spa and Casino in Las Vegas, Nevada, from September 25 to 28, 2023, Vision 2023 is the premiere industry event for all things FirstNet, "If you're talking about range extension, if you're talking about 911, or the integration of broadband, it really does cover the A to Z of public safety comms in a way that I don't think any other conference does," Parksinson said. "To be able to see what's available for public safety and then to see the vision of what's to come — and that is what the conference is named after — is a terrific opportunity to hear some of the thought leaders, to see some of the leading technology, the thought leaders in the community and to see what's coming."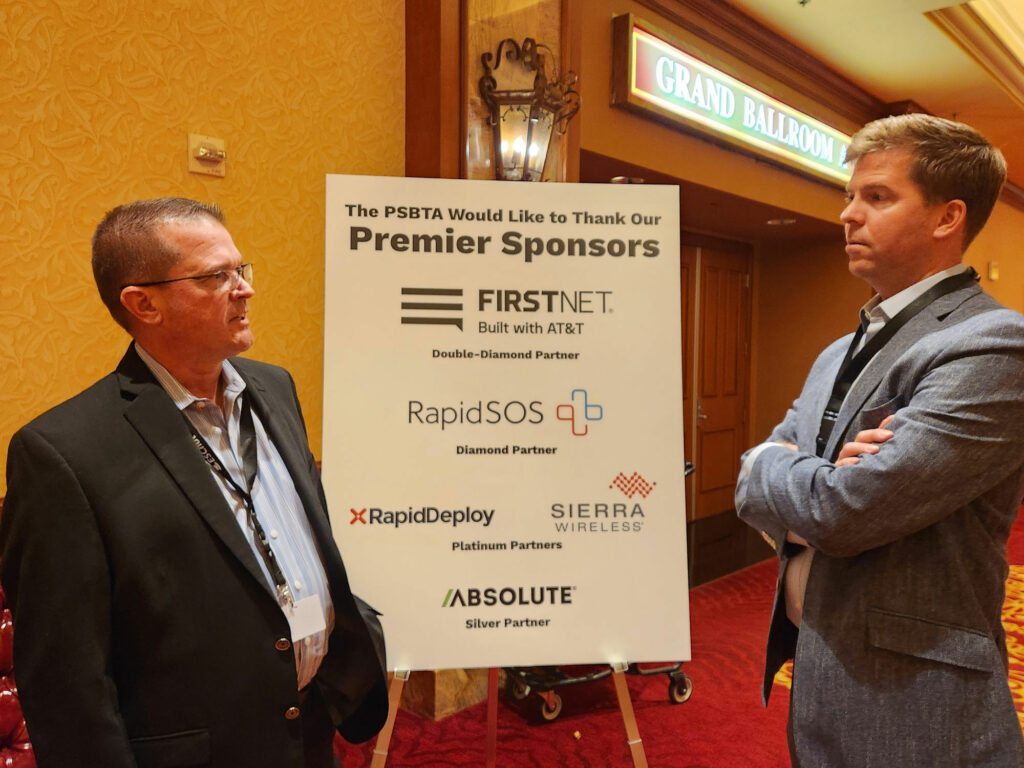 2023 marks the second year for this annual PSBTA Vision conference for FirstNet users, and the second year that Edward Parkinson has come to it. For him, it's a 'must attend' event, because of the mix of cutting-edge technology, educational sessions, social gatherings, and the chance to meet the most involved players in the FirstNet community.
"I'm looking forward to an in-depth agenda covering a wide variety of topics and to seeing really what's out there in terms of technology," he said. "There's some really interesting keynote discussions around all hazard multi-agency operations and response, which is pretty cool. I'm looking forward to hearing Karen Marquez from RapidSOS talk about 911 and what we do in terms of bringing the 911 community to the forefront of public safety. There's Band 14 and how it's continuing to be leveraged creatively by public safety. And then there's the health and wellness piece, which for me is often pretty unspoken. The importance of that program and how public safety is really now starting to think about post-traumatic stress and really stressful environments — to ensure that if you're out in the field or if you're taking calls, people are thinking about one's mental health — it's all covered, which is great."
Parkinson is also looking forward to hearing firsthand from FirstNet thought leaders such as
FirstNet Executive Director/CEO Joe Wassel, AT&T FirstNet Program President Jim Bugel, and International Association of Fire Chiefs' President and CEO Chief John Butler, among others. "You've got this depth of industry experts coming together to provide really those kinds sort of bespoke and personal conversations that other shows just simply can't get," he said. "It's tremendous to see, and that was one of the catalysts for me wanting to come back."
Edward Parkinson is also looking forward to reconnecting with colleagues and friends in the FirstNet community — and making business deals — at Vision 2023. "It's the hallway conversations, isn't it?" said Parkinson. "Just in the two or three hours I've been here, I've met some folks from Missouri, reconnected with some folks from Nevada and North Carolina and old friends from association days."
When Vision 2023 does wrap up on September 28th, Parkinson knows what he hopes to take home from the experience. "For me, it's twofold," he said. "Number One is understanding the thinking around where public safety communications is going as an industry. You can break that down into radio, you can break that down to broadband 911 or however you want to talk about it. But the thing about public safety communications is it's one ecosystem with those verticals underneath, and so how do they all fit together and what is that path going forward? Understanding what the larger vision is that you see from some of those folks, that's kind of key in terms of Step One."
"Step Two is really ensuring that people understand the story of RapidSOS being a 911 data intelligence safety platform," said Parkinson. "We provide that end-to-end solution that no other company does. And the products and services we provide does delve into broadband, does delve into obviously 911. It's my hope is that we're able to tell that story here at Vision 2023, and folks come away from this conference with a better understanding of what services and solution sets we can provide to help make their lives a bit safer and a bit easier."