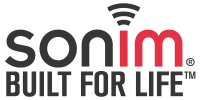 Contact Us
---
Sonim Technologies Inc.
1825 S. Grant Street Suite 200
San Mateo, CA 94402-USA
Tel : +1.650.378.8100
Fax : +1.650.378.8109
Sonim Technologies Inc. | Rugged Smartphones, LTE Smartphones, Critical Communication Solutions.Solutions
Sonim Technologies is the provider of the world's most rugged, water-submersible mobile phones designed specifically for workers in demanding and hazardous environments.
We specialize in workforce-critical communication tools for vertical industries including construction, security guarding, oil, gas and chemical operations, utilities, transportation and logistics, forestry, agriculture and defense.
Sonim has partnered with industry leading application developers to provide a suite of high-performance workforce-critical applications such as push-to-talk, lone worker/man-down safety services, mobile resource management and time and activity verification.Our solutions enable companies and governments to make their field workforces safe, efficient and accountable.
Sonim phones are backed by a three-year comprehensive warranty, covering not only manufacturing defects, but even accidental damage. Sonim is also the international leader in intrinsically safe phones, devices certified to operate in potentially explosive atmospheres.
The company is headquartered in San Mateo, California and offers its solutions through the world's leading mobile carriers.