PSBTA Vision 2022 conference in Las Vegas focussed on the people who use, support, and administer FirstNet
By James Careless
Billed as a "FirstNet Users summit", the inaugural Public Safety Broadband Technology Association (PSBTA) "Vision 2022" conference and trade show brought together the FirstNet user community for three days in the Las Vegas sun. About 200 people attended Vision 2022, which was held at the SouthPoint Hotel Casino & Spa on September 19-21, 2022. During the event, they took part in workshops that focused on FirstNet products and applications, heard wide-ranging discussions with industry leaders, and took part in hands-on product demonstrations. ("FirstNet" is the short name for the First Responder Network Authority. It manages 20 MHz in the 700 MHz mobile broadband services band, which Congress allocated exclusively to first responder communications.)
Vision 2022 was intentionally programmed and promoted to put FirstNet users front and center, in line with the PSBTA's focus on this group. This approach explains the kinds of people who chose to attend. They included FirstNet Eligible users (first responders, Dispatch, emergency planning and management personnel, hospitals, public utilities, and transportation), their Technical Support teams, and their administrators.
"It's really important to have a conference that is solely focused on public safety communications, given the increasing use of wireless broadband networks by police, fire and EMS," said Martha Ellis, the PSBTA's Executive Director. "At most public safety conferences, communications tends to be an add-on to the broader context of conferences."
"We've been working towards hosting this first-ever FirstNet Users conference for the past four years," she added. "I am pleased that we achieved the high turnout that we did."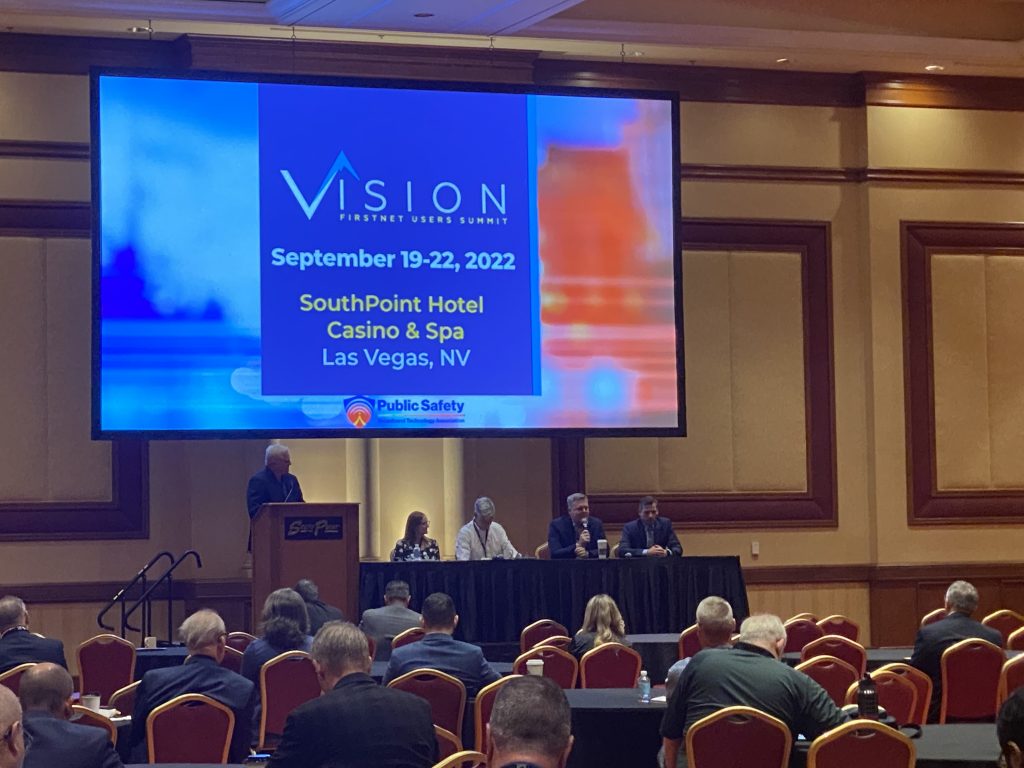 Serving Three FirstNet Groups
49 speakers took the stage during Vision 2022, covering a vast array of FirstNet-related topics. They included Dave Buchanan, FirstNet's Director of Public Safety Engagement; retired NYPD Assistant Police Chief Chuck Dowd; and AT&T FirstNet Program Director Ryan Fields-Spack, (Public Safety Strategy and Policy, Response Operations Group); among others.
The selection of the Vision 2022 speakers and sessions was made with three distinct FirstNet groups in mind, Ellis said. The first group were the end users of this public safety broadband network, who were also well-served by the hands-on training sessions aimed at police, fire and EMS personnel. The second group was the wireless app and hardware developers who design and build the equipment and services employed by the end users as they access FirstNet on the job. The final group were the administrators who manage the use of FirstNet within their public safety organizations and decide which of the second group's equipment and services to buy for their own end users.
"We crafted the Vision 2022 agenda to inform and engage these three groups, and to talk about topics that are very specific to FirstNet," Ellis said. "Our goal was to provide clarity in areas that can sometimes be confusing to FirstNet end users, developers/manufacturers and departmental managers."
Why They Attended
With the Vision 2022 conference offering so much to so many people, there were many different reasons and motivations for them to attend.
Chris Kindelspire is one of those people. As Director of Electronic Operations with Illinois' Grundy County Sheriff/9-1-1, he is the kind of FirstNet User that Vision 2022 was designed for.
So why did he attend? "With both FirstNet powered by AT&T and the FirstNet Authority participating in the event, I wanted to gain insight as to what was to come," Kindelspire replied. "With the network buildout near complete, coupled with reinvestment into the network by the Authority, I was very interested in what was to come in enhancements to FirstNet PTT, partnerships forged with other vendors and what services/APPs would be offered by FirstNet in the near and distant future."
Chief Jeffrey D. Johnson is Executive Director of the Western Fire Chiefs Association. Chief Johnson came to Vision 2022 because "FirstNet is a network built for and by public safety," he said. "A conference built around FirstNet capabilities and its future is critical to how we assist public safety here at the Western Fire Chiefs."
What Vision 2022 Gave Them
We know why these delegates attended PSBTA's Vision 2022 conference. So, what did they get out of the experience?
The one-word answer to this question is 'plenty'. Their actual answers are a lot more detailed.
"I was able to meet with FirstNet partners such as FirstNet Messaging," said Kindelspire. "I had an informative conversation with the AT&T partner versus hunting for and reading a webpage. I found great value in the sessions. I felt it was valuable having AT&T and FirstNet Authority representatives in the same room engaging the audience, which is something that we did not have during state consultations. "
"The sessions and vendor interactions were intimate and informative," Chief Johnson said. "The products emerging from the technology community will help public safety relieve cognitive load and improve situational awareness."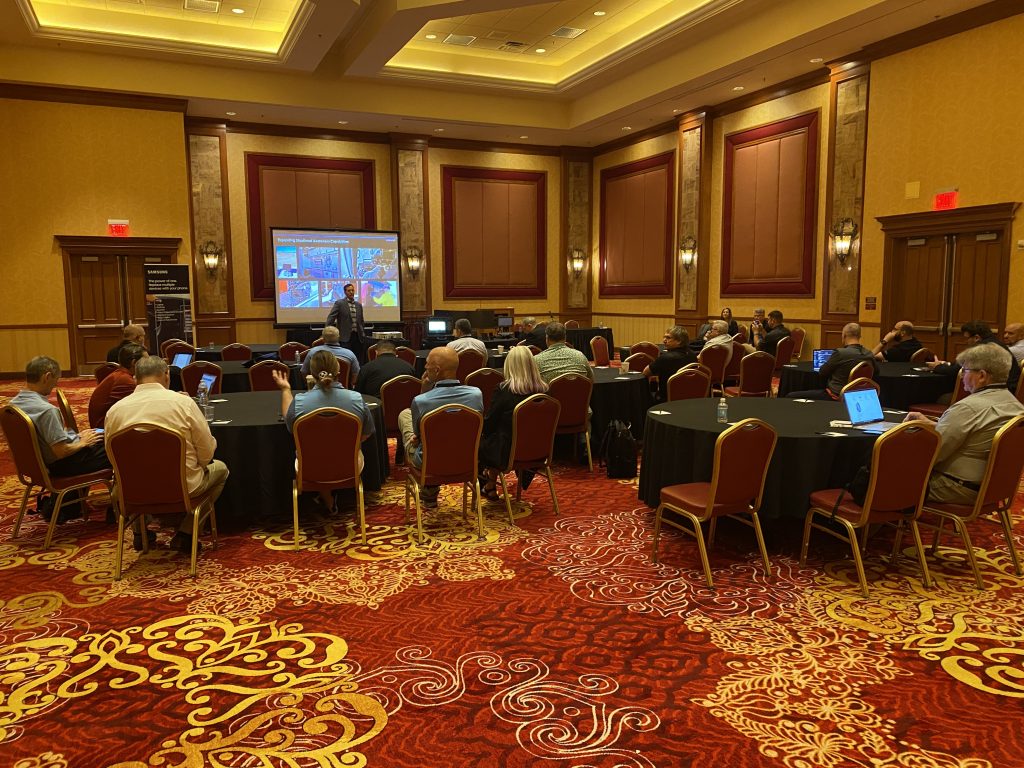 Chris Kindelspire was also inspired by the 'Big Picture' view of FirstNet that he gained at Vision 2022. "The drive and passion from both addressing growth and sustainability for the next twenty years as a team effort — while reinforcing the oversight from the FirstNet Authority — was reassuring," he said. "As well, the public/private partnership between First and AT&T, and their shared desire to build partnerships with public safety — and to build our network and get it right — was a great message to hear, and it finally feels like it has weight."
A Necessary Event
The driving rationale behind Vision 2022, as expressed by PSBTA Executive Director Martha Ellis, is that FirstNet users require their own focused event to address their specific needs and concerns. It's a point that was validated by people who attended the event.
"Explaining why this is so could take up a page full of reasons," said Kindelspire. "There are so many items from the roadmap alone, to the network, devices, IoT, NG9-1-1, and command and control dashboards. Then, with the foundation of the network having been built, we have shifted from planning to implementation, and everyone is learning as this goes. Finally, I do not look at FirstNet as if I am buying a service from AT&T. This is much more like the partnership I have with my P25 vendor."
"A FirstNet-only conference is critical because it cuts through all the wireless pretenders who promise public safety performance services that don't exist or can evaporate at the stroke of an executive pen," Chief Johnson observed. "FirstNet is a 25-year contract wherein ATT bet their company to serve public safety. That's the voice I want to hear from."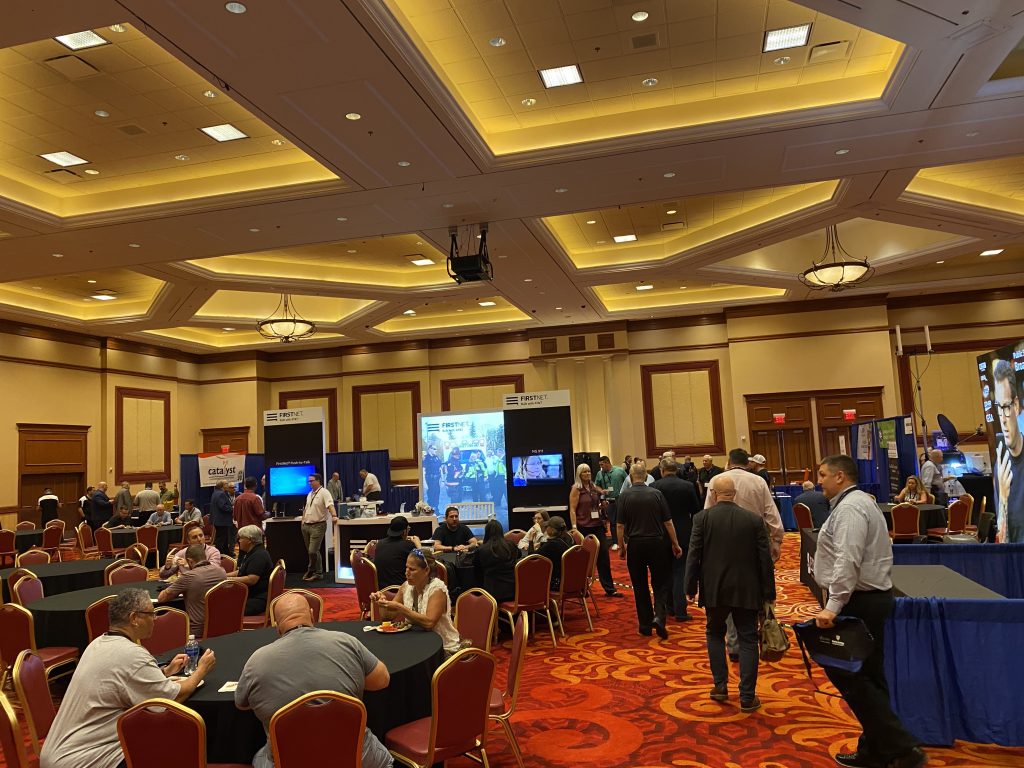 "We have an annual user group meeting for Land Mobile Radio, but Vision 2022 offers so much more," added Kindelspire. "This conference provided a dedicated event to showcase applications and products. More importantly it brought all of FirstNet together — users, AT&T and the Authority — providing us with the opportunity to ask and answer questions of one another. These are very exciting times, and this event can easily, in my view, stand on its own."
Martha Ellis certainly views FirstNet as a pivotal moment in the advancement of first responder communications, and one that deserves its own event. "I liken it to one of the more significant changes in public safety that rivals what happened when we went from horse to motorized vehicles," she said. "Judging on what I saw and heard during Vision 2022, other first responders feel the same way. This is why we are now working on Vision 2023, which will be held in this same location in September next year."